Parenthood Review: "One Step Forward, Two Steps Back" (Episode 4.14)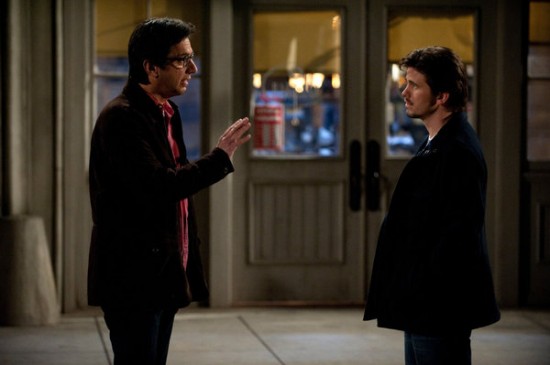 This season has been strenuous for the Braverman family. That's more than an understatement. Parenthood has thrown the gauntlet at every member of the family that it's hard to see the light at the end of the tunnel. "One Step Forward, Two Steps Back" deals with the family's persistence even when its members have their backs against the wall.
This episode notably continues Julia's painful battle over whether or not to officially adopt Victor. Last episode introduced the notion that she wants to back out; in this episode she's adamant that her son doesn't love her and she doesn't think she can go through with it. It's a side of adoption that television hasn't really seen before. We're used to a rich man adopting inner-city youth and everything turning out for the better. But what happens when it isn't? Julia's breakdowns throughout the episode bring out some of the best acting from the character in the show's run.
Crosby's plot continues to focus on his relationship with his overbearing mother-in-law. It's perhaps the tamest uphill battle the show has presented, but the writers do a good job of balancing really tough situations as well as everyday battles like this one. That's one of the reasons the show works so well: these little struggles present such a well-rounded effort. Kristina's cancer isn't really mentioned this time around, but she does fight for her son's vending machines that he so desperately wants to bring back to the school as president. She can control it, and that was a major theme of this week's episode—controlling as much as you can no matter how difficult life gets.
That's what happens in the love triangle of Mark-Sarah-Hank. (Go Mark!) Sarah really screwed things up with a great guy, but now Mark is going to win her back. It was expected, but it's what we all wanted. The recurring and Emmy-nominated character is perhaps one of the best and most underrated on television, and this week he really shines through. Josh Ritter deserves to be cast full-time if the show comes back for a fifth season. He adds something special, and while Ray Romano and Lauren Graham have undeniable chemistry, when Ritter and Graham are put together, magic happens. No, scratch that. Realness happens. And that's what good television is all about.
Next week is it for this shortened season, and it's expected to be a tearjerker. That's why this overall lighthearted episode works as a lead-in. One day you step forward, and the next you get knocked back. This week was a step forward for the Bravermans; next week looks to be two steps back.
Others Tagged With