Portlandia Review: "Take Back MTV/Missionaries" (Episodes 3.01/3.02)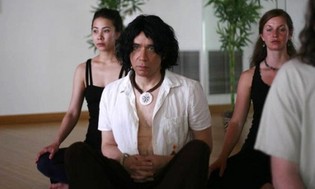 The highly anticipated (and much-publicized) third season of IFC's Portlandia opened tonight with two back-to-back episodes—"Take Back MTV" and "Missionaries"—with each taking different paths to mocking life in hipster enclaves everywhere.
The first episode,"Take Back MTV," opens with a song-and-dance routine with the millennial generation lamenting the economic downturn forcing them to move back home. The group looks to (ro)"Bot" Dylan and others to lead a protest song, but it quickly devolves in to a dubstep/dance party complete with a quick nod to Deadmau5. Instead of "Blowing in the Wind," this generation wants to "Change the world one party at a time."
The opener fell flat in comparison to other songs from earlier seasons. (We loved "Dream of the 1890s.") Other short segments didn't fare well either, except for Dave and Kath's production of a tent-pitching instructional video in the backyard. The creepy neighbor kid who kept photobombing the video (which pissed the duo off) saved the sketch.
Fred Armisen, Carrie Brownstein and director/collaborator Jonathan Krisel must have been waxing nostalgic through the development of the episode. The title refers to Spyke and Iris's takeover of the once music-focused network. While we were never big Spyke fans, we warmed up to him in this episode. He buys a TV while thrift shopping (of course he doesn't own one) and once home, he doesn't recognize MTV anymore: Teen Mom 2, 16 and Pregnant . He is repulsed by what he sees on the network, and frankly, we bet a lot of Portlandia fans share in his sentiment.
He and Iris develop a plan to wrest control from the tween network, restoring it to the glory days of the 1980s and '90s. As Spyke embarks on a capital campaign at a fundraising dinner, it's great to watch him meet all the major public television funders, including John D. and Catherine T. MacArthur, Anne E. Casey and Mr. Robert "Wood" Johnson. His host also introduces Spyke to a very important funder: Fjohűrs Lykkewe. "Everything is brought to you by Fjohűrs Lykkewe." (Pronounced: "viewers like you.")
The campaign raises a lot of money, so they recruit old MTV personalities—Kurt Loder, Tabitha Soren (who looks awesome!) and Matt Pinfield—to stake the astronaut's flag back in the New York offices. They bust into the offices of network president Skylar Tiffany Thomas, a dreaded tween, who tells them, "Music is dead." Spyke retorts, "Music is dead because you killed it."
The exchange continues on a funny-sad path: "We used to watch 120 Minutes to catch cool bands…like Sonic Youth." Snotty Skylar sets them straight, "Sonic Youth? The people are like 50 years old….Kim Gordon and Thurson Moore are divorced. And you're just the orphans they left behind." But just when things seem lost, Pinfield, Soren and Loder relaunch MTV.
While the season opener of Portlandia is a bit of a letdown despite the great cameos, the show's second offering, "Missionaries," fares much better than the first, returning to familiar Portlandian stomping grounds.
It opens with an infomercial for Mother's Sun deodorant, which Jonah (Armisen) and his mom (Brownstein) boast that they've removed all the chemical ingredients from the product, leaving in only the natural ones like oatmeal and chamomile. ("You know, the stuff that doesn't do anything.") There are other great lines throughout the commercial, and our spirits are much higher in the first five minutes than after viewing "Take Back MTV."
The episode transitions over to the mayor's office (Kyle MacLachan), where the mayor laments that Seattle is once again featured on the cover of Portland Monthly. "When are we going to be on the cover of Portland Monthly?" he whines. He tasks Fred and Carrie with starting a guerrilla, door-to-door movement in Seattle to tell the communities about how great Portland is.
The duo become missionaries for the city, using the tactics employed by Mormons and Jehovah's Witnesses, like uniforms and preaching door-to-door. They interrupt a roommate meeting at one stop, and while Fred extolls the virtues of Portland, one of the residents argues for Seattle, home of the Space Needle, the Seahawks and, of course, Kurt Cobain. Another roommate Alexandra (Chloë Sevigny) is impressed with what she hears, and she leaves the Emerald City for the City of Roses. (We have a feeling that we'll be seeing the Seattle transplant in a few more episodes.)
Jeff Goldblum, the knot store owner from last season, returns, but he's now selling doilies. Goldblum is sublimely funny, and it looked like he and Armisen were about to crack up in the scene, but the storyline felt like too much of a re-hash from the knot store. Also treading familiar territory is a "Spoiler Alert" segment, which was similar to the reading one-upmanship dialogue from the "Mayor is Missing" episode from the first season. (We don't think the show is running out of ideas…just yet.)
There were two skits we did like, the first being a pedicab hustler who couldn't muster any business. His only fare for the day turns out to be a heavy-set woman who needs a ride to the airport. Armisen's physical comedy was great. And finally, the episode ends at the Women & Women First Bookstore. Candice and Toni get a one-star Yelp review and interrogate every customer about whether they're the ones responsible for the "Women and Women…Worst?" post about the store's bad service.
They're indignant and track down the poster to her favorite hangout—a sports bar. What kind of woman frequents a feminist bookstore and a sports bar? None other than tennis great Martina Navratilova. They're fans, of course, but take her to task about Yelp, telling her that "feminism is about good reviews."
We love that Candice and Toni are so over-the-top. Portlandia seems to fire on all cylinders when it takes on social satire from an absurdist standpoint. We hope the season brings us more missionaries and Women & Women First segments, but if we have to watch more skits about the good old days, we just hope that Brownstein and Armisen keep viewers laughing and not reaching for the anti-depressants. If we wanted a downer when watching TV, we'd just turn on the latest episode of Snooki and JWOWW.
Others Tagged With