Rare Bob Dylan Outtakes Released in Europe Due to Copyright Laws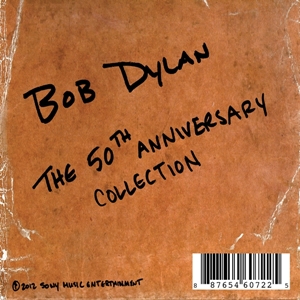 Thanks to a new copyright law, Bob Dylan's European fans were recently able to get their hands on rare, never-before-released outtakes in a four-disc collection. The official Sony release was done so to combat a recent copyright provision that would've put his songs in the public domain allowing people to use them without his consent.
"This isn't a scheme to make money," a Sony Music source told Rolling Stone. "The copyright law in Europe was recently extended from 50 to 70 years for everything recorded in 1963 and beyond. With everything before that, there's a new 'Use It or Lose It' provision. It basically said, 'If you haven't used the recordings in the first 50 years, you aren't going to get any more.'"
The 50th Anniversary Collection, already selling on eBay for over $1,000, gathers 86 tracks including numerous renditions of "Mixed Up Confusion," "Sally Gal," "That's All Right, Mama" and "Baby, Please Don't Go"—all from 1962. Random record stores in Europe were given roughly 100 copies and fans who visited the musician's website near the end of last year were able to download the collection for 100 Euros.
"This isn't every shred," the source said. "But these are all fully realized songs and the kind of things fans would enjoy. Some takes were just 90 seconds or so long, and we didn't release those."
Other significant European artists such as The Rolling Stones and The Beatles are also dealing with this new measure, pressuring lawmakers to revise the law before they lose the rights to their own work.
Got news tips for Paste? Email news@pastemagazine.com.
Others Tagged With