The Good Wife Review: "Je Ne Sais What?" (Episode 4.12)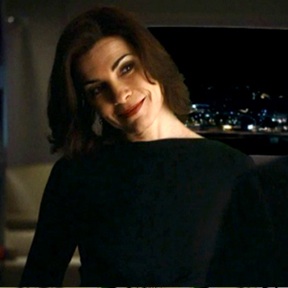 Oh-la-la!
The Good Wife said oui oui to another steamy sex scene between Alicia and Peter in "Je Ne Sais What?" The episode opened with Alicia remembering her last encounter with Peter (or maybe her last encounter with Will? Or her last encounter with someone we don't even know? Is Alicia keeping secrets from us?) while making breakfast for her children. Later she stops by his campaign bus and the pair has a quickie (it was longer than a "campaign minute," that much we know). A pleased but somewhat baffled Peter asks, "Do I have to ask how we're doing?" "No," Alicia replies.
When Alicia leaves the bus and encounters Eli outside the door, she blithely says, "Don't worry, just the wife." Alicia has taken back the control of her relationship with Peter. Let's call it what it is—she's using him for sex. After being the victim of his antics for so many years, she is now the one with the real power in the relationship. I'm still not sure I want the pair to reconcile, but I'm amused by this storyline.
As a side note, I think it's weird that we haven't heard about Indira Starr for a while. Especially since this is the first time we've seen Maddie Hayward (guest star Maura Tierney) since Kalinda discovered that Maddie is behind the whole scandal. Sometimes I think the show has so many storylines going they lose track of what they should be talking about.
But the show hasn't forgotten how upset Geneva was when Peter passed her over for a promotion in favor of Cary. Zach discovers documents that indicate Maddie Hayward is about to accuse Peter of being racially biased and that two of Peter's ADAs are going to go on record about his racial bias. This whole "Zach is a computer genius" angle really just seems like a way to work Alicia's children into the show's bigger storylines. But I do love the conversations between Zach and Eli. "When did you start talking to me like I was a peer?" Eli wonders.
Eli and Jordan don't agree on the direction of Peter's campaign. Eli wants him to get out in front of the racial bias story. Jordan wants him to ignore it. Eli wants one debate between Peter and Maddie. Jordan agrees to three. The series would do well to show how Jordan is a political wunderkind instead of just telling us about it. So far T.R. Knight's character hasn't made much of an impression.
Carrie Preston returned as the delightful Elsbeth Tascioni, otherwise known as the lawyer who saved Will's career. This time it's Elsbeth who needs the firm's help. She's defending Anna, an Olympic runner who's trying to get a shoe company to pay up on their endorsement deal. But Elsbeth has been arrested for harassing the shoe company's CEO and is in jail in Skokie.
Of course on The Good Wife, cases always zig in unexpected directions and suddenly Will is in front of the Olympic committee defending Anna against doping charges—a committee that intends to conduct the entire hearing in French. Thankfully Diane knows French and is able to charm the committee members. At the last moment, Alicia gets Elsbeth out on bail and she's able save Anna with her brilliant legal savvy.
The episode served as a wonderful showcase for Preston, who is uproarious yet so believable as the fast-talking, excitable lawyer who is crazy in the best possible way. The conversation between Alicia and Elsbeth where Alicia tries to explain to her how to pass her psych evaluation was hilarious. As was Kalinda's conversation with Elsbeth in jail. By the end of the episode, Eli is coming to Elsbeth because he needs her help. That's great news for Eli and great news for the show. The more Elsbeth, the better.
A few other random thoughts on the episode:
• In general, I'm just not pleased when we have a Cary-free episode.
• I'm fine, however, with a Hayden-free episode.
• How fun was it to have Vincent Curatola, Johnny "Sack" on The Sopranos, guest star as a judge? "When the law's an ass, someone has to kick it."
• Seriously, I need to know who Alicia was daydreaming about.
Others Tagged With