The WWE Encyclopedia: Updated and Expanded the Definitive Guide to WWE by Brian Shields and Kevin Sullivan
Lost in the WWE Universe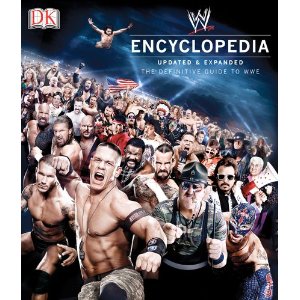 Since the beginnings of man, wrestling has been a staple of the human disposition. When conflict arose between two parties, it got settled one-on-one in a test of strength. Two men entered. One man left. To the victor, of course, went bragging rights.
Fast-forward to the 21st century, and you will see that wrestling today follows that same simple formula … only ritualized, formalized and showbized.
The organization known as WWE (World Wrestling Entertainment) features raw athleticism, elaborate costumes, fireworks, storylines and thousands of screaming fans that show up to jam-packed arenas all over the world every Monday night. These faithful share the cultural phenomenon known as the WWE Universe.
As with any form of entertainment that features competitive violence, the WWE and professional wrestling have their detractors. Many highbrow citizens consider wrestling primitive, a sort of low-culture bread-for-the-masses entertainment with farcical, predetermined outcomes. Some don't even consider wrestling a sport at all.
Outright enemies of "sports entertainment" consider the genre mind-numbing and brain-dumbing … or even sleazy, due to the nature of certain storylines. (One of the most controversial of these emerged when legendary woman wrestler/senior citizen Mae Young had relations with wrestler Mark Henry and they purportedly gave birth to a …. hand. That's right—a human hand. Professional wrestling folk still talk about this as among the strangest stories in the lore of the sport.)
Elitists can hate on professional wrestling all they want. They just don't get it.
Picasso got it. The master of another kind of canvas spent his final years drawn to wrestling on television, which he considered grand theater, a morality pageant where good went against evil and (almost) always won. Hollywood seems to get it too—look at the number and quality of movies focused on professional wrestling: The Wrestler. The One and Only. Nacho Libre. Ready to Rumble.
Even some of our favorite celebrities get it. Through the years, you could look out into the WWE Universe crowd and see known wrestling fans—Jackie Gleason, Mike Tyson, Billy Corgan (of Smashing Pumpkins), Diane Keaton, Wade Boggs, Debbie Harry and even Bill Clinton—cheering for the good guys and booing the bad.
Some celebrities even got involved in the action themselves. One of the all-time greatest Wrestler vs. Celebrity altercations? Jerry "The King" Lawler doing battle with comedian and Taxi star Andy Kaufman. The two aggravated each other in squared circles all over Memphis, letting the heat between them build to a big showdown match.
Kaufman thought he could hang with the pros. He ended up eating a piledriver for his efforts.
A 16-year member of the WWE Universe, I distinctly remember how I discovered professional wrestling. Age seven, channel surfing with my friends after a long and arduous battle with Nerf guns, we flopped down to relax. I was chubby and had asthma at the time.
Between puffs of my inhaler, I found my first love.
An episode of WWE (WWF at the time) called Sunday Night Heat featured a vampiresque character named Gangrel doing battle with Japanese high-flyer Taka Michinoku. I had no idea why these two men would be fighting one another, but I knew a comic-book-come-to-life when I saw one. These men and women dressed in tights and flew through the air without actually having powers. Stunned, hooked, enthralled … that moment, my life changed.
The next day, I started a mission to learn everything I could about wrestling. I educated myself on the characters, catch-phrases, and culture of the sport … and found wrestlers with whom I could identify.
I grew less shy about myself and my bulk. I became more outspoken, like my heroes. I emulated The Rock and Stone Cold Steve Austin, holding back a tiny bit so my mother wouldn't wash my mouth out with soap.
As I grew older, I identified with the bad guys more—they helped me get in touch with my inner smart-aleck. But I could also identify with many different characters in wrestling … and cheer for the ones I wanted. They could be babyfaces (good guys) or heels (bad guys). When I saw myself in a character, I wanted to follow that wrestler's journey. Positive or negative outcome, I basked in the exploits of wrestlers with other fans, and together we reacted as a community—the WWE Universe. We cheered or booed as if it really affected the outcome of every match.
Opening the WWE Encyclopedia brought back those memories and moments, documented in one giant volume of wrestling knowledge. Boasting hundreds of pictures, profiles and tales from the wrestlers themselves, this encyclopedia hero-journeys through the WWE's 61-year history. It tells us of the stars that brought fans to the arenas from early days (as the World Wide Wrestling Federation) to glory days (the World Wrestling Federation) on to today's sports entertainment heavyweight now known as WWE.
It's amazing and rewarding to me to see wrestlers I have interviewed, those I have watched develop on the independent circuit to become megastars and grace the pages of this encyclopedia. Current WWE Champion CM Punk paid his dues and busted his ass to pay his dues. The guy used to wrestle in low-budget independent promotions all over the world. He picked the brains of veterans. He drove hours in his car to shows thousands of miles from home. He's now one of the best … if not THE best in the world.
The book offers a pictured A-Z account of CM Punk and every other wrestler, tag team, diva, manager or announcer that has been through the WWE locker room. The pages grapple with megastars such as Hulk Hogan, Macho Man Randy Savage, Triple H and Shawn Michaels. The book pins minor characters like The Brooklyn Brawler, Gillberg and Tiger Ali Singh.
I have one complaint as a diehard fan—the book misses a few key wrestlers who haven't competed in the WWE. Guys like Sting, Tommy Rich and New Jack don't make these pages. As one who follows all things wrestling, I lobby for their inclusion in revised editions.
I also think the WWE Encyclopedia could feature more results of past events. The book touches on important wrestling moments like Wrestlemania and Summerslam, but it would be a more comprehensive guide with all results of pay-per-view broadcasts and major shows.
Do you have a wrestling fan in your life? This encyclopedia makes a great gift. Beneficiaries can proudly display it on a bookshelf right beside the other art books … especially the ones by Picasso.
Steve Urena is a journalist based in Flanders, N.J. His work has been featured in Steppin Out Magazine, Bloody-Disgusting.com, The New Jersey Herald, The Daily Record and on WRNJ radio. Email: Steve @ Surena6189@gmail.com.
Others Tagged With