TV Critics Association Press Tour: Arrested Development Cast Gives Update on New Season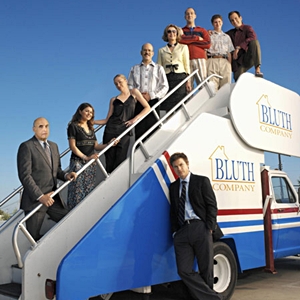 There is still money in the banana stand.
The majority of the cast (only David Cross and Tony Hale were absent) of Arrested Development reunited for the Television Critics Association Press Tour in Pasadena today. Fourteen new episodes of the series will be simultaneously released in May on Netflix to provide the "binge viewing" viewing experience the show's fans crave.
Star Jason Bateman, who plays the Bluth's family's most rational member Michael, will be the only character to appear in each of the 14 episodes. But Bateman stressed that viewers shouldn't expect these new episodes to be the fourth season of the series which ended in 2006. The episodes, which will each be told from a different character's perspective, will really serve as the first act of the Arrested Development movie they all hope to make.
Executive producer Mitch Hurwitz said the 14 episodes should be thought of as "one giant Arrested Development" that will be a bit like a "choose your own adventure" novel that will allow viewers to hop from episode to episode to see a different point of view of the same scene. They've just started post-production now and Hurwitz aims to keep each episode under 30 minutes.
Hurwitz declined to talk about what might happen to the Bluth family in these new episodes. He wants the plot twists to be a surprise. "We want to reward the fans for sticking with us," he said. Hurwitz has been so intent on keeping these new episodes under wrap, this is the first time he confirmed there will be 14 episodes even though he said they always knew that would be the number of episodes.
Hurwitz did make available a hilarious clip, which he said won't make it into the new episodes. In the clip, Lucille (Jessica Walter) blows smoke into her son Buster's (Tony Hale) mouth. Buster would then blow the smoke outside. They repeated this, in an uninterrupted take, several times. It was uproarious. If this is what the show is leaving on the cutting room floor, fans are going to be very happy.
Got news tips for Paste? Email news@pastemagazine.com.
Others Tagged With