Watch Big Boi on Letterman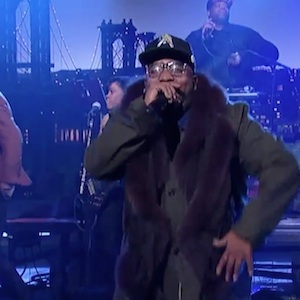 Last night, hip-hop artist Big Boi performed on Late Show with David Letterman. The award-winning member of Atlanta rap duo Outkast performed "Apple of My Eye," a track from his December release Vicious Lies and Dangerous Rumors. As Letterman's first musical performance of the new year, Big Boi brought along special guest Jake Troth and performed in a fur-trimmed outfit complete with sharp glasses.
Watch Big Boi perform "Apple of My Eye" with Jake Troth below.