Watch The Flaming Lips' Superbowl Commercial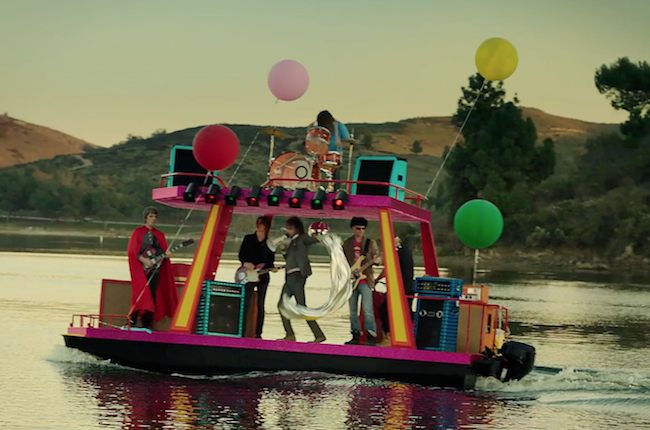 Can it truly be selling out if the selling out in question is this much fun?
A few days ago, The Flaming Lips released "Sun Blows Up Today" in preparation for their upcoming album The Terror. A non-album track, it was widely reported that the song was being written for a Superbowl ad. We now have that ad.
Advertising Hyundai's Santa Fe, the spot—called "Epic Playdate" — depicts a seemingly normal family (albeit with a huge stack of pancakes adorning their table) sitting around for breakfast. One of the young boys asks, "what are we going to do today?" Wayne Coyne and co. then appear on-screen and launch into the aforementioned song. We then follow the family as they run through a series of epic adventure, including posing with cavemen in a museum, being chased by a crazed ostrich and playing an unorthodox game of bowling with the famed plastic bubble that Coyne is prone to using in live performances.
In an interview with Billboard, Hyundai VP of Marketing Steve Shannon talked about how the band was an ideal choice to represent the company.
"The Flaming Lips are very much like Hyundai," Shannon said. "They're a little offbeat. They've been around a long time and they continue to reinvent themselves."
The Terror is due out April 2 on Warner Bros. Records.
The spot can be viewed here.
Got news tips for Paste? Email news@pastemagazine.com.
Others Tagged With