Westbrook White Thai Witbier Review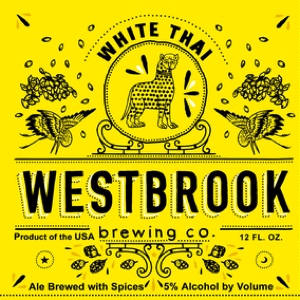 Before assessing the particulars of Westbrook Brewing Company's White Thai Witbier, we should address its packaging. If ever a beer was designed to appear in Jason Schwartzman's hand as directed by Wes Anderson, it's surely this South Carolina brewery's Southeast Asian take on the Northern European standard.
The idiosyncratic hand-penned lion beast, bird and hops characters that appear on the label are so goofily cute that only a man-child auteur like Anderson could craft them.
But discussing the brew's taste would fall far short of the detailed quality of the director's 90-minute, odd, character-driven films.
Westbrook White Thai's profile boasts a nontraditional riff on the classic Belgian white beer. In place of the genre's classic coriander and orange flavors, Westbrook adds lemongrass, ginger root and a "dash" of Japanese Sorachi ace hops.
What Westbrook is going for is a curry version of a Belgian classic. Thing is, though, there's nothing spicy or piquant to suggest anything other than European brewery normalcy. You'll get the lemon, for sure, but it won't have you buying tickets to Bangkok.
But that's not to say White Thai is a bad beer, only just a tame one. Replace the orange-heavy slickness of most witbiers with Westbrook's light lemony drinkability and you're left with a tingling tongue but little memory of what made it so jumpy.
Despite its lofty attempts, Westbrook is merely a lightweight, better version of a pedestrian wheat beer like Shock Top, but the flavors are clean enough to accurately pair with food.
Maybe even Thai food.
Just the facts
Brewery: Westbrook Brewing Company
City: Mt. Pleasant, S.C.
Style: White Beer
ABV: 5%
Others Tagged With