World's Eighth Trappist Brewery Launches in Austria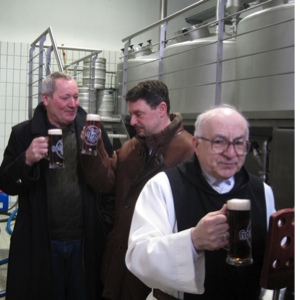 Trappist monks in Belgium and the Netherlands have developed a reputation as some of the world's best brewers. Sustaining their monasteries and supporting the less fortunate by making and selling beer (along with other goods like cheeses and chocolates), some of these abbeys have been around for centuries. The Westvleteren 12, created in 1940 at the Abbey of St. Sixtus in Belgium, is considered by many to be the best beer in the world (I've certainly never tasted better).
Now, in addition to Chimay, Orval, Rochefort, Westmalle, Westvleteren, Achel (all in Belgium) and La Trappe in the Netherlands, comes a pair of beers from one of Austria's Trappist monasteries, Stift Engelszell. The International Trappist Association approved Engelszell, founded in 1293, to use the Trappist seal last May, and two beers—a darker beer called Gregorius and an amber-colored Benno—are now available for sale.
It's also possible that Americans could one day drink domestic Trappist ale. St. Joseph's Abbey, a Trappist monastery in Spencer, Mass., has joined the ITA, making it the 19th member and the first outside of Europe. No plans for a brewery have been announced, but you can buy American Trappist jams, jellies and marmalades.
Got news tips for Paste? Email news@pastemagazine.com.
Others Tagged With