Beck Teaming with Chris Milk on Re-Imagining of David Bowie's "Sound and Vision"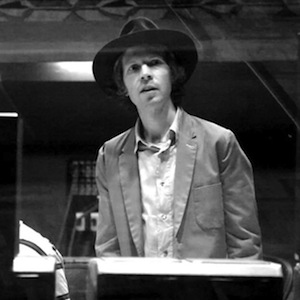 Late last year, Beck teased us with the hopes that he might be recording a new album in the near future, but a collaboration with automobile manufacturer Lincoln seems to have sidetracked him in an awesome way.
The concept is anything but simple. Beck is re-imagining David Bowie's 1977 track "Sound and Vision" for a special performance collaboration with Chris Milk, the man behind the groundbreaking videos for Arcade Fire's "We Used To Wait" and "3 Dreams of Black" from Rome, as well as Arcade Fire's Coachella performance with the glowing balls.
According to Beck's website, the performance will include "an orchestra of "170 musicians playing on a specially constructed circular stage and working within a multi-directional sound environment, the performance will experiment with the possibilities of perspective and sound movement surrounding the audience." It will also be recorded using 360º equipment for a Feb. 10 internet unveiling, with viewers able to move freely in the filmed environment.
Lincoln's website has a teaser for the whole project, which you can check out below, as well as some additional words about Beck's endeavor, which they seem to be backing. And, possibly related, Beck was recently giving away tickets to a private show on Feb. 5, which now seems likely to be this recording. All in all, this sounds like something that shouldn't be missed.
Got news tips for Paste? Email news@pastemagazine.com.
Others Tagged With