Chris Rock, Dave Chappelle Perform Together, Tease Future Joint Tour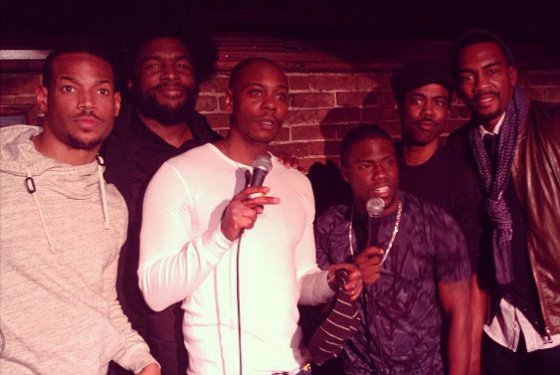 After walking away from his mega successful Comedy Central show almost seven years ago and firmly establishing himself as the J.D. Salinger of megastar comedians, Dave Chappelle's public appearances are by now so rare that whenever he does decide to take the stage, there's huge buzz surrounding it—even if he only stands on stage and checks his text messages for 40 minutes.
Well, The Hollywood Reporter has now revealed that Chappelle might now be on the cusp of something very monumental.
While performing a set at New York City's Comedy Cellar late Tuesday night (the venue where the fictional "Louie C.K." is often seen performing stand up on Louie), Chappelle was unexpectantly joined on-stage by Chris Rock.
According to a report on The Comic's Comic website, the two proceeded to banter back and forth about random topics, ranging from Seth MacFarlane hosting to Oscars to President Obama to Prince. Rock even texted Jay-Z during the set and asked if he wanted to get noodles. Upon hearing no response, the two then called and left voice mail message for Arsenio Hall and Lenny Kravitz.
In perhaps the most news-worthy section of this appearance, however, the two brought up the idea of doing a joint tour.
"After next Tuesday, I'm free for like 11 years," Chappelle reportedly said.
Rock responded that "by Halloween, [he] could do dates."
If that weren't enough, Vulture reported that, last night, Chappelle and Rock reunited on stage again and were then joined by Kevin Hart, Bill Bellamy, Marlon Wayans and Questlove.
Representatives from Rock's or Chappelle's camp have yet to confirm or comment on these comments, so — for now — it remains a loose plan at best.
Got news tips for Paste? Email news@pastemagazine.com.
Others Tagged With