Feeding People: Island Universe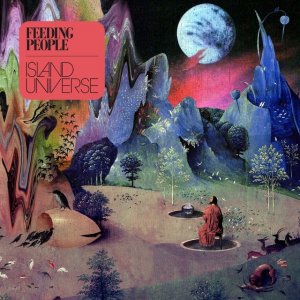 When a press release is so bold as to liken a young singer to Grace Slick, Billie Holiday and Janis Joplin, skepticism is natural. In the case of Jessie Jones, frontwoman for the Orange County garage-psych outfit Feeding People, comparisons to these legends have some merit, but they are also an unfair standard for a singer and band just out of the gate, pitting the 19-year old wailer against her best possible outcome to her career as a performer. These unrealistic entry points are furthered by the shared tale of being the second band to ever play the famed Low End Theory, sharing the stage with Thom Yorke.
The band being displayed on Island Universe is not Jefferson Airplane or Radiohead; rather, they sound like the kids that they are, full of potential but still wet behind the ears. Though the invite to Low End Theory is impressive, it is just a small club with a stage fit for a DJ. The prestige may be immense, but the gig fit their Burger Records-graduate aesthetic, their reach most comfortable in their parents' garage or closet-turned-recording space.
That's not to say the band isn't growing out of these confines. As their second full-length, Island Universe pulls from both their previous album and EP, combining the best of their past work with new compositions. As such, this might as well be Feeding People's debut, spruced by a proper release from hot Los Angeles indie Innovative Leisure, home of fellow area rising acts Allah-Las, Nick Waterhouse, Rhye and Superhumanoids. The desired audience is identified from the opening of lead song "Silent Violent," which despite multiple structural and tonal turns directly marks its prey as the cassette collectors, club rats, recreational drug users and leery, engaged pundits that demand particulars from their music—spontaneity and volume and sweat that smells like whiskey.
As a coming-out party, Island Universe is an effective offering, rightfully confident in its demonstrations of range, from maniacal, adrenaline-fueled romps like "Big Mother" and "Other Side," to spare and unsettling on "The Cat's Song (Secrets of Luna)" and the cottony title track. Also key is the record's service to Feeding People's live show, the presumed backbone of any psych outfit worth its weight. "Each His Own" takes this responsibility with pride, imparting a vision of Louis Filliger's blown-out guitar wrenching the audience into a pile of salt.
The album's rough edges are never masked, apparent in the record's first notes; guitar plucks tense enough to make concentration audible. If overdubs are not an option, the audience shouldn't be aware of both in the need for them and the stiffness this causes. Such a live-feel to a garage rock recording isn't uncommon, but there is room for improvement, with the hope to capture a concert's energy without sacrificing sonically, with Feeding People lacking the experience and resources at this time.
The album might be best condensed in the choices within "Silent Violent," both in the noodle-throwing vocal delay and pop-song coda. Each is capable on its own, but they diminish the song's heavy, focused center, not a surprising oversight from a band of teens with too many ideas. Right now it might be their achilles heel, but soon this fearlessness and creativity will be their greatest attribute.
Others Tagged With