Holly Williams: The Highway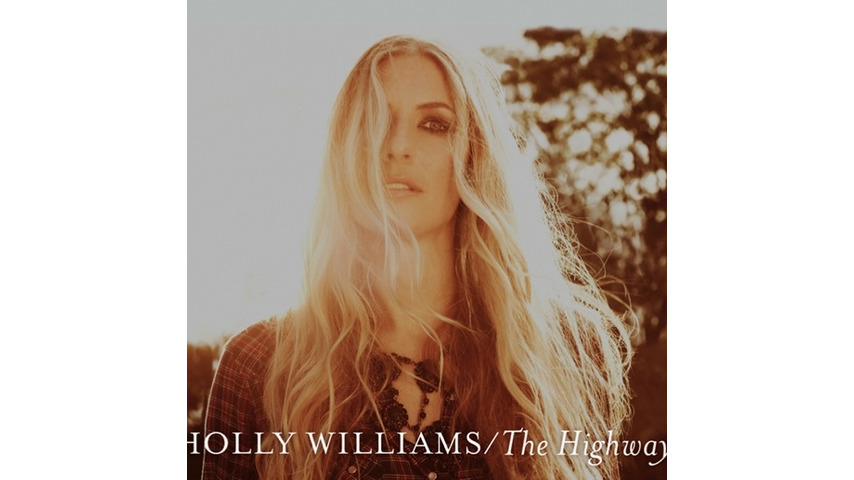 Holly Williams has wrassled all kinds of mainstream Nashville fringe: hippie country, postmodern country, even "kinda sorta" country. But all those records from the Nordic blonde seemed somehow composed, structured for something slightly at odds with the singer/songwriter's essence.
After a pair of major label albums, Hank Williams' (grand)daughter decided to take matters into her own hands. Working with producer Charlie Peacock (Civil Wars, The Lone Bellow), she scraped away what is expected and excavated soundscapes that left plenty of room for the ragged edges of her voice—aching and rough where the emotions set in—to stand out.
Sweeping cocktail drums gently move these songs along; fiddles swoop in, and steel guitars wind around the basic melody line. That simplicity leaves the songs naked enough to let the images rise and the stories emerge with their own resonance.
"Waiting On June" is the moist-palmed expectation of young love that turns into a life that leads to sleeping in separate rooms in an old folks' home, the joy of that connection never extinguished by life's inevitable dimming. "Giving Up" offers up the shadowy parade of realizations, images and moments of surrendering to alcoholism's costs and the innocent places it invades.
"A Good Man" is homespun perfection. Over an a capella opening, Williams brings a slow-burning passion to what abiding love can mean. With a cello underneath, she sings, "Love is not as simple as it seems, but I have learned to trust the space between…" about what truly matters in her journey through this life. Restrained, the palpability of declaration defines this collection of sketches from real life.
Even the gently accusatory "Drinkin'," which opens The Highway, is seductive as it calls out the drunkard before the singer tumbles down the same abyss. Tempering her enjoinder with enough wide-open questioning of how it all comes to this, the hushed reckoning draws the broken and the devastated into a subdued shuffle that bobs and weaves with the momentum of what's lost in these endless cycles of pain.
In the end, the pain and the love are all part of the journey. With a strong emphasis on churchy B-3, the warmth of a good acoustic guitar and the moan of a steel guitar, Williams finds her salvation in that showman's refuge of "The Highway," where the pull of creation is as much a comfort as home. That comfort in the cracks is the best we can hope for, and Williams' songs suggest that's not just plenty, but it's right where we are if we'll just listen.
Others Tagged With