Introducing Paste's New Digital Publication: PASTE.COM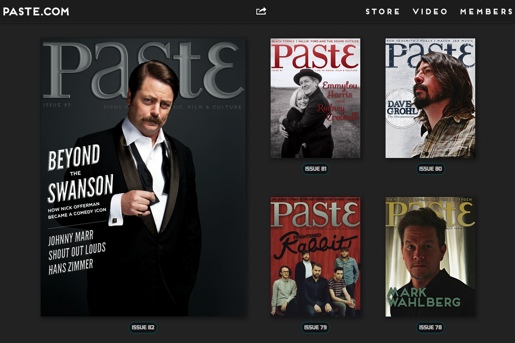 It was almost 15 years ago that we launched our first Paste website, selling CDs from some of our favorite musicians. Then, in 2002, we launched Paste magazine, a quarterly print magazine focused on what we called "Signs of Life in Music, Film & Culture." When the print magazine went away, we continued that mission online here at PasteMagazine.com.
Today, we're proud to announce the latest chapter in our search for the best of pop culture with the launch of PASTE.COM, a new members-only digital magazine reviving the tradition of our print magazine (published 2002-2010) in a new online format. PASTE.COM is ideal for longer reads, listening to new music and enjoying exclusive video. We hope the introduction of PASTE.COM will continue to evolve the landscape of entertainment journalism.
PASTE.COM fulfills a vision for the natural integration of visual and audio content with text, an essential integration that was impossible with print. Each weekly issue will deliver premium-content every Tuesday, along with the acclaimed Paste New Music Sampler (featuring seven weekly downloads to complement the editorial features). We hope you'll find that PASTE.COM combines the romance of print with the sensory experience of online.
"In the days of our print magazine, we always wanted to show in addition to tell—and the integration of video, music and photo galleries delivered through PASTE.COM finally gives us an opportunity to fulfill that vision for what an entertainment magazine really should be," explains Paste founding editor-in-chief Josh Jackson.
Nick Offerman graces the cover of our first PASTE.COM issue. Parks and Recreation's Ron Swanson has become one of the best characters on TV, but Offerman—the man behind the mustachioed, meat-loving, wood-working director of Pawnee's parks department—does a lot more than just warm our hearts on Thursday nights. He has four different movies coming out this year, beginning with Somebody Up There Likes Me, releasing next week on demand, and his memoir Paddle Your Own Canoe: Nick Offerman's Fundamentals for Delicious Living is due out this fall. Our inaugural issue also includes features on former Smiths guitarist Johnny Marr, who's releasing his first solo album; Hans Zimmer and Pharrell, who've developed an app that brings the power of Hollywood studio music-scoring to mobile users; Swedish band Shout Out Louds; and the Creators Project, a collective that marries boundary-pushing visuals to music in both live settings (Arcade Fire's glowing balls at Coachella) and online (music videos for the likes of Passion Pit and M83). As always, the issue will also include insightful commentary on the latest movies, albums, TV shows, books, videogames and more; the Paste music sampler (seven free downloadable mp3s) and exclusive video from Paste's intimate sessions with some of our favorite artists.
You guys—our PasteMagazine.com audience—and your demand for authenticity and creativity are the catalyst for the launch of PASTE.COM. We're now getting nearly three million unique monthly visitors every month.
"We are eager to now share one of most amazing features of PASTE.COM – our incredible video library – to further enhance our readers' experience," said founding publisher Nick Purdy. "We have vintage live video from our sister company Concert Vault including legends like The Band, Joni Mitchell and Miles Davis, plus exclusive performances from recent Paste events and special festival sessions featuring groups like The Lumineers, The Civil Wars and Of Monsters & Men."
PASTE.COM is delivered via web browsers rather than an app and is optimized for Apple iPads and Android tablets like Google's Nexus 7 and Amazon's Kindle Fire, making PASTE.COM content extremely simple to share via Facebook, Twitter and Email. All of Paste's digital back issues, going back to 2010 are accessible in the new format as well.
Members can enjoy PASTE.COM for $2.99 per month or $35.88 per year. Those who purchase an annual membership by March 26th will also receive an exclusive DVD featuring live performances from The Civil Wars, Vintage Trouble and Rubblebucket, all recorded at Paste's showcases during SXSW. Visitors to PASTE.COM will have access to a free 7-day trial of the digital magazine.
Got news tips for Paste? Email news@pastemagazine.com.
Others Tagged With