Mount Moriah: Miracle Temple
[Merge Records]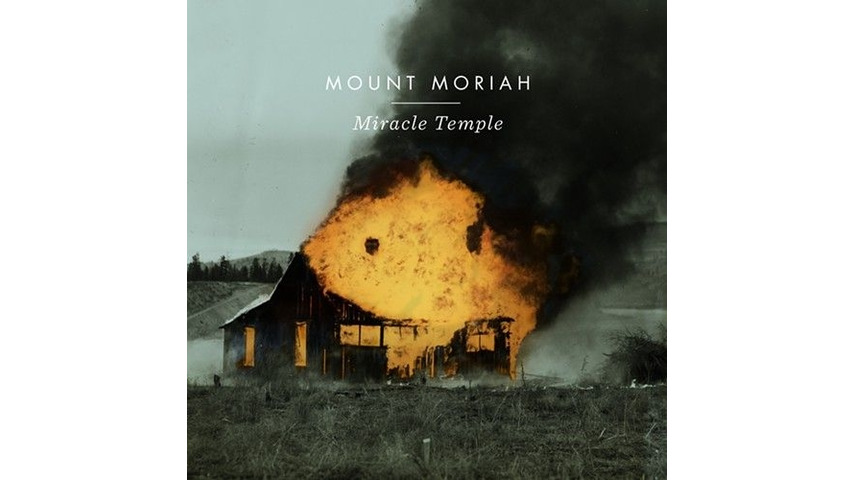 Miracle Temple is a textbook example of a great sophomore effort: Mount Moriah dishes out a bigger and more powerful helping of alt-country rock that may be bit of a surprise based on their previous release. But as they shift toward more traditional, soulful sounds and bigger arrangements, they pull it off wonderfully and build firmly upon what they've already done.
The first thing you should notice when you press play on Miracle Temple is how effortlessly Heather McEntire sings these achingly beautiful melodies accented by gospel-tinged background vocals performed by a handful of guests. Jenks Miller and McEntire's guitar work dances with the vocals, taking the lead from time to time but always sharing the spotlight while bassist Casey Toll and multi-instrumentalist James Wallace lay down a strong foundation for it all to rest on.
For the most part, Miracle Temple is an uptempo album that only slows for a few tracks such as "I Built A Town" or "Connecticut To Carolina." Even these moments don't skimp on the arrangements, but they continue to utilize players like Daniel Hart (violin) and Allyn Love (pedal steel) as well as Wallace's piano and organ playing—whose performances add exponentially to the end product. While there truly isn't a weak song on the album, tracks like "Eureka Springs," "White Sands," "Rosemary," "Swannanoa" and "Telling The Hour" are where Miracle Temple truly shines, exemplifying what the band brings to the table.
My only real issue with the album is that there are a few stretches of McEntire's delivery that I find difficult to understand. Maybe that's just a result of too many rock shows, and granted, it's not nearly as indecipherable as Justin Vernon's vocal style or any Sigur Rós album, but I would hope to find the lyrics packaged with this album for some added clarity. At the same time, there are too many lines worth quoting to include here, but my favorite continues to be one from "White Sands": "Blackwater River, cobblestone streets / Seaweed crowns, wine stains on my teeth / Just a couple of kids hungry for everything / Honey, that little girl is still alive inside me."
Mount Moriah has certainly found more confidence in their identity, and Miracle Temple will be what defines them moving forward.
Others Tagged With