Portlandia Review: "The Temp" (Episode 3.06)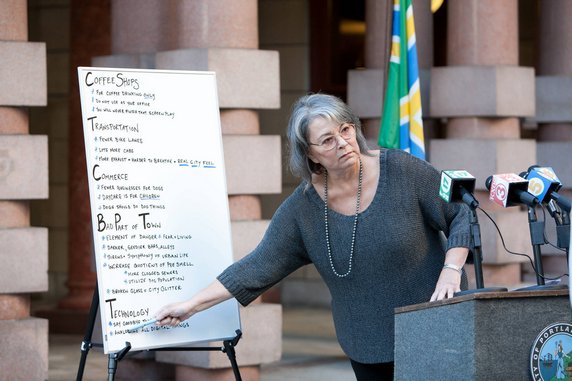 Full disclosure: When I saw that Roseanne Barr was a special guest star in this week's Portlandia episode, "The Temp," I did a few Liz Lemon-worthy eye rolls. Roseanne's comedy style (and oh, that voice) has never quite jibed with my own preferences. So I tried to set aside my preconceptions and be as open-minded as possible when watching her take over as Portland's fill-in mayor.
And lo and behold: Roseanne Barr was perfect for the role. She dialed back her over-the-top blue collar shtick to play an anti-counterculture bureaucrat who wants to bring a more suburban lifestyle to hipsterville. Could she be Portland's Godzilla?
If you remember from last week's episode, "Off the Grid," the Mayor (Kyle Maclachlan) stepped down because of an environmental scandal, so the temp agency that fills government jobs everywhere calls Roseanne offering her gigs as a comptroller, water commissioner or mayor of Portland. "I've been doing a lot of water commissioning stuff lately," she tells the agency and opts for the Portland gig.
Fred (Armisen) and Carrie (Brownstein) serve as unofficial mayoral advisors, taking the temp on a tour of the city. The city confuses her suburban/midwestern/non-hipster sensibility: Why are there so many bikes? Where are all the malls and big box stores? How many screens does this movie theater have? (It's only playing Rosemary's Baby.) Sweaters and eyewear for dogs? That guy is like 48 and on a skateboard. You get the picture.
The storyline is woven throughout the episode's other sketches until the temp mayor shows her true colors. Roseanne sounds the air raid sirens—waking up the entire city—to call a press conference on how she's going to "make Portland a real city…cities need to be active and busy…or at least pretend to be."
She rattles off her plans and issues a few mandates: Coffee shops are for drinking coffee only (no more faux offices). There are to be fewer bike lanes, more honking, fewer businesses that cater to dogs, less films and more movies (à la Miley Cyrus in Rosemary's Baby 3D) and of course, a city's gotta have the "pee smell" especially when it's hot. We watch as city workers dump buckets of urine in streets and alleys. She also cuts off wireless in the Internet-addicted city, and tells her constituents to "be less white…flip the bird and swear…"
Yep. She really did go there.
Fred and Carrie save the city with a phone call. They masquerade as the temp agency ending her assignment, so she leaves in the middle of her press conference. Portlandians are free to embrace the weird for another day.
The other sketches in this episode were hit-or-miss. The drum circle hippie who was secretly leaving to go to the gym was amusing, as were the city rats creating their own book to rail against humans. The gathering of baristas to create the coffee house manifesto was great, touching on all those annoying habits of (other) customers: talking on the cellphone or chatting in line when the coffee artist is ready to take the order, asking questions about the menu or using the bathroom before ordering. Fred's character says, "Don't even bother knocking on the bathroom door…of course someone is taking a huge shit…we make coffee."
Unfortunately, annoying Kath and Dave were back, this time complaining about the lack of shade at the Shady Cafe. The skit wasn't that funny, and I realized that through this episode—and for most of this season—it's Armisen who's been taking center stage. I'm not sure if this is intentional, but it's something to keep an eye on.
Watching the Roseanne storyline was refreshing because she brought in a little conflict as the city's public enemy number one. The more cohesive narrative format is helping the show evolve from its usual collection of loosely linked stories. Some of the sketches this season have seemed repetitive, and I'm afraid that if Portlandia doesn't change just slightly, the originality of the show will fade as quickly as Roseanne's mayoral term.
Others Tagged With