Roll Me Up and Smoke Me When I Die by Willie Nelson
Rolling … with an outlaw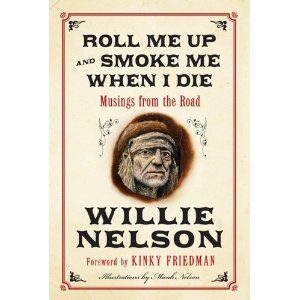 Willie Nelson's new book, Roll Me Up And Smoke Me When I Die, takes us on an amusing romp through the past and present of one of country music's oldest living stars. The memoir reflects the buoyant and straightforward, if slightly quirky, musical style of its writer … and it covers a lot of ground quickly and simply.
Sick of making his money by picking cotton in Abbott, Texas, Nelson started playing guitar. He performed everywhere and anywhere he could get a gig. He eventually headed to Nashville—"it was the marketplace," he writes, for country music in the early '60s.
Nelson wrote a number of hits, scoring for Faron Young, Billy Walker and Patsy Cline. But Nashville focused on churning out soft, highly polished, heavily produced tunes that didn't fit with the ascendant counterculture. Nelson's pool of hits for others dried up, and he left Music City at the end of the '60s. He even left music for a while … and went into hog-farming.
"Why hogs?" asks Nelson, anticipating your—and any reader's—question. As he tells it, "I had been raising hogs all my life. . . even won some blue ribbons."
Maybe his heart wasn't in it this time around. The animals escaped. He had to track them down one by one. Then he committed the mortal sin of "having the hog feeders and the water trough too close together in the hog pen."
Let's just say he wasn't successful with his pigs.
But Willie Nelson could still write songs. In the early '70s, he helped spearhead a musical insurrection known as "outlaw country." The Outlaws pointedly created a different sound from Nashville's, a more bare-boned, less slickly produced music. With comrades-at-arms like Waylon Jennings, Nelson and the Outlaws also began to take full ownership of their creative process and produce their own albums.
With his image change and new freedom, Nelson's work took on new vitality. In 1975, he released Red Headed Stranger, a remarkable concept album of sorts, complete with recycling themes. Most of the songs involve only Nelson's clear, natural, slightly worn voice and guitar. By removing virtually every bit of extraneous sound, Nelson demonstrated the beauty that stems from simplicity. Many of the songs are so spare that when other instruments do appear—or even more surprising, other voices, suddenly flanking Nelson on a song like "Can I Sleep In Your Arms"—the listener finds a new richness in harmonica, piano or vocal harmony.
America loves its rebels, so it's no surprise Outlaw country turned out to be a highly successful commercial move. Nelson and his friends consistently cracked the country Top 40. They occasionally crossed over to the pop charts too, and several of Nelson's albums sold more than a million copies. Nelson showed a knack for successful collaborations (with country stars like Merle Haggard and Johnny Cash … and even pop stars like Julio Iglesias) and unusual ideas. He recorded Stardust, a collection of old standards, with the help of famed Memphis soul man Booker T. Jones.
During the next few decades, Nelson acted in movies and recorded at a prolific rate—in his lifetime, he's put out more than 100 albums. His career encountered a hiccup when the IRS came looking for millions of dollars in unpaid taxes, but unlike The Rolling Stones, forced to flee England to avoid the taxman, Nelson stayed put (though he gave up a lot of his possessions). He kept recording, paid off his debts. Though his Outlaw affiliation made him a star, when bad times came, he used less romantic attributes—persistence, hard work, building relationships—to weather the storm.
Unlike many of those who give us pop star autobiographies or memoirs, Nelson pens a slim volume at 169 pages. He writes informally, talking about whatever pops into his head. If the reader doesn't like something, he or she needn't worry—Nelson will jump to something else shortly. He excels at free association, in fact. At one point, he starts a story about covering the Beatles' song "Yesterday," then moves along to tales about Julio Iglesias to Ray Charles to Leon Russell, all before you can say "outlaw."
The book combines short biographical stories, anecdotes about country music and self-help advice. Nelson inserts thoughts of the day ("If it ain't broke, break it!"), and mildly philosophical bits, like "Living is hard enough, dying really sucks, and I don't know, do the good times outweigh the bad? Fuck, I hope so." He throws in pieces of a travelogue from a recent tour, photographs and a list of favorite guitar players. Song lyrics show up often, as do contributions from many of Nelson's family members.
Roll Me Up contains plenty of politics too. Nelson loves Howard Zinn (a progressive historian and activist). He's pro-99 percent. He wants to bring the troops home.
"We have hydro, solar, wind, and biodiesel, not to mention all the oil and gas still in the ground, but we are ignoring it to go around the world starting wars. . .," he writes. Willie Nelson—spoiler alert here—favors legalizing, taxing and regulating marijuana. His own famous weed habit gets plenty of play (including the quip in the book's title). As Nelson tells it, he picked up drinking and Camel cigarettes by age six, but eventually "quit everything but pot."
Health reasons, no doubt.
The politics never drags Nelson into self-importance. He loves jokes, such as: "A drunk fell out of a second-floor window. A guy came running over and asked, 'What happened?' The drunk said, 'I don't know, I just got here.'" Or: "The bank robber said, 'Stick 'em up.' The clerk said, 'Stick what up?' The bank robber said, 'Don't confuse me, this my first job.'" (Here's a real spoiler alert: Most of the jokes tend towards the dirty side of the spectrum.)
Roll Me Up offers an alternate route for any musician-turned-author. Recent books like Pete Townshend's Who I Am try to record the entirety of a life, starting with childhood and getting all the way to the present, flying past 500 pages with ease. Neil Young's Waging Heavy Peace reached a similar length, but that book ignored chronology and completeness in favor of non-musical passion projects and sales pitches.
Above all, Nelson values brevity. He briefly and amusingly sketches out some events in his life we might consider trivial, like his foray into pig farming (not trivial for the pigs). But he does not attempt to catalog every moment of his life in meticulous detail. He uses a rapid-fire, everything-but-the-kitchen-sink approach. A reader doesn't get to be a fly on the wall during the Red Headed Stranger recording sessions, but the book feels carefree, and it never crumbles under its own weight.
Roll Me Up And Smoke Me When I Die feels like Willie Nelson. It's funny, and it tells a good yarn. It gives the concise example at the right time, and it effectively conveys the wildness of a long career in popular music.
He's not working in his principal medium here, but Willie Nelson remembers the value of entertainment.
Elias Leight is getting a Ph.D. at Princeton in politics. He is from Northampton, Massachusetts, and writes about music at signothetimesblog.
Others Tagged With