Shameless Review: "The Helpful Gallaghers" (Episode 3.04)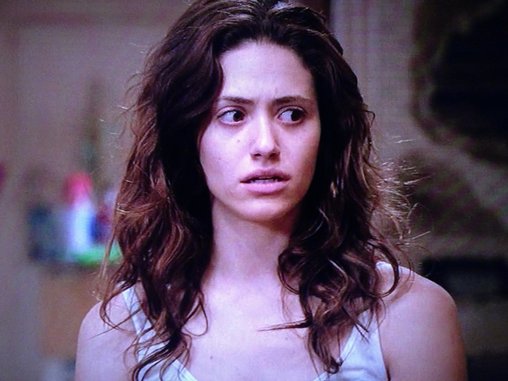 Hello, everyone. I'm John Vilanova, and I'll be taking you through the remainder of the third season of Showtime's Shameless. Before we get to last night's "The Helpful Gallaghers," the strongest episode of the show's young third season, here's a quick update on what's happened so far. You probably won't need it though because, as the cast likes to remind us before each new episode, if you were doing anything other than watching Shameless, you suck. Or something like that.
Things are as desperate as ever in the cash-strapped Gallagher home in Chicago's South Side. Fiona (Emmy Rossum) is still just barely keeping her house in order and providing for her five younger siblings, but she remains a dreamer trying (and failing) to break through the glass ceilings of crippling poverty and poor education. A recent attempt at managing a club rather than serving drinks at it failed and resulted in a dressing-down from Lip (Jeremy Allan White). "The only way to get money when you're poor is to steal it or scam it," he spits at her in disgust.
The eldest male Gallagher spawn is disappointed in Fiona's naïve attempts to improve her station while, at the same time, willfully ignoring the fact that his intelligence makes him the only Gallagher kid who could. The neighborhood's pull is strongest on him, even as others try to get him to consider college and a future away from the slums. Chief among them is growing love interest Mandy Milkovich (Emma Greenwell), whose Lady Macbeth whispers are driving a wedge even further between Lip and Fiona. His caustic attitude undergirds the "will he become his father" questions that have nagged at him for more than a year, it seems.
After a few months away from the city, Frank (William H. Macy) has barreled back into the family home, disrupting the cautious peace his children have preserved in his absence. After praying for his return and counting the days since he left, Debbie (Emma Kenney) finally snaps to her senses and becomes angry with her failing father, beating him in a tantrum of disappointment before the rest of her siblings throw him out again. That hasn't stopped Frank from shaving Carl (Ethan Cutkosky)'s head and convincing him that he is dying of cancer to scam his way into Make-A-Wish gifts to sell for profit. For a character bent on stooping to new lows each week, Macy's Frank has hit another one here.
"Steve" (Justin Chatwin) is going by Jimmy full-time now and has moved in with the Gallagher family. His happy homemaker performance is interrupted, however, by the return of his wife Estefania (Stephanie Fantauzzi) and, more specifically, her drug lord father, Nando, who is bent on having Jimmy marry her to guarantee her American citizenship. Ian (Cameron Monaghan) is still secretly seeing Jimmy's father, though Ian's older paramour and boyfriend Mickey Milkovich (Noel Fisher) literally butted heads over Ian in the street last week.
After a rocky visit from Kevin (Steve Howie)'s ex-wife last week, he and Veronica (Shanola Hampton) are back to work trying to have a child of their own; Kevin's concern about how their unborn (and un-conceived, for that matter) child will turn out may be affected by too-rough sex is another in a long line of endearing qualities that make him and his wife so likeable. A few blocks away, Sheila (Emmy-nominated Joan Cusack) and Jody (Zach McGowan) are raising Sheila's departed daughter Karen's Down's Syndrome-afflicted child, Jaime. Frank has talked his way into a spot on their couch while he acts as a nurse, plying the crying baby with valium, and bedroom counselor to Jody, a recovering sex addict who needs to love Sheila to satisfy her carnal proclivities.
As for last night's episode, as its title suggests, on many levels it is about the Gallagher family's attempts to do good for others and the complications that come as a result. After a call from Mandy's half-sister Molly, whose mother has died of an overdose, Lip goes into hero mode, driving to Milwaukee with Mandy in tow to rescue the girl from foster care. For all the cynicism he displays when it comes to his own family, he's an all-too-willing hero for everyone else around him. With Karen last year, Lip's devotion to her tore at him, throwing him the farthest off the rails yet. As he and Mandy grow closer, Ian and Fiona are rightly concerned he's been blinded by his own very real (and in the capable hands of actor Black very believable) desire to do right by Mandy, even to his own inevitable detriment.
Shipped off to Camp Happy Hopes, a refuge for terminal cancer-afflicted children, Carl complains about the dual disappointments of a lack of a shooting range and a cafeteria menu without chicken nuggets. It's unclear whether he truly believes that he has cancer or not, but he understands that the other children are dying and ultimately finds a way to grant other campers a few wishes of their own. Like his older sister Debbie, Cutkowski's Carl has slowly deepened over the series' 25 episodes; taking him outside of Chicago even for a short time held its own as a funny B-plot mirror of Fiona's fomenting revolution back home.
After learning that all of the other women who work at the supermarket are forced to provide the manager, Bobby (a slimy Eric Edelstein), with sexual favors in order to keep their jobs, Fiona invites them to her home for what one rightly calls a "Blowjob Town Hall." Fiona's righteous indignation is played well by Rossum, who rages against what poverty forces others to need to accept. Though she's no Ignatius Reilly, the bombastic protagonist of John Kennedy Toole's Confederacy of Dunces, her desires for collective action and issues with the corporate workplace mirror his. "Apparently I lack some particular perversion which today's employer is seeking," he spouts.
To Fiona's dismay, most of the women suggest that Bobby's abuse is not all that bad and that the alternative, should they speak up, could be worse. This conservatism—even in the face of sexual assault—speaks to the double bind these women around her are stuck in. Either they earn a meager wage and stomach the indignity of abuse or they risk having no jobs at all. Fiona's always been able to get by without resorting to prostituting herself, but, in this case, that only creates separation between her and the people she wants desperately to help.
In spite of its usual absurdity, which was for the most part kept in check this episode, the show's strength has always been its unflinching willingness to grapple with the realities the urban poor confront. Last night highlighted one of the reasons why we enjoy spending time with the Gallaghers in the first place—they're the heroes of this drama, after all, and their ideas about street morality and doing right by others make sense. It's what we like to think we'd do, too. But when push comes to shove, even the best intentions can't put food on the table.