Small-Batch Bourbon Review: Belle Meade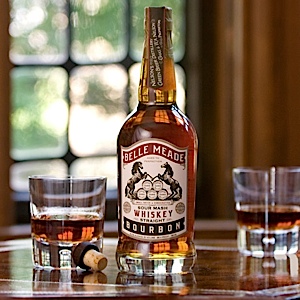 The first in a series of small-batch bourbon reviews, Wendell Brock tries Belle Meade, an upstart brand steeped in history.
Over the holidays, I decided to give a special person a bottle of a favorite small-batch bourbon. But when I went down to my local booze shop to pick up a bottle, the shelf was empty. FML! Only four shopping days left. Don't pull a Pappy Van Winkle on me and tell me I have to get on a waiting list.
Out of nowhere, this guy, this shop clerk, this angel of the Lord appeared to nudge me toward an elegantly proportioned bottle with a light amber glow, a handsome label and a name that has a kind of Tennessee Williams sound to it. Belle Meade. Very tempting. But I passed.
Proceeding to another store, I found the whiskey I wanted, but I couldn't take my eye off the Belle Meade and its historic-looking insignia: a bookended pair of thoroughbred racehorses rearing up over a stack of barrels bearing the words: "Straight bourbon whiskey." As I stood there dreaming, the scene from the previous store replayed itself—like a "Groundhog Day" moment. An employee—this time a merry elderly fellow—stops by to bray about Belle Meade, a 90.4 proof sour mash with a Tennessee pedigree.
Belle Meade, as I eventually discovered, is the handiwork of Charles and W.A. Nelson, great-great-great-grandsons of one Charles Nelson, a pre-Prohibition legend who, according to his progeny, made the first Tennessee whiskey. On a quest to honor their heritage, the siblings released Belle Meade bourbon in March 2012. Each batch consists of only four hand-selected barrels. "We spent around a year working on the taste profile of Belle Meade Bourbon," Charles "Charlie" Nelson told me via email, "sampling different barrels, mash bills, ages, yeast strains, at different proofs, etc." The brothers hope to begin making their ancestor's Tennessee whiskey later this year. "We have the original recipe for it and a trademark dating back to 1860," Nelson said. "Jack Daniels was established in 1866."
But back to the bourbon: I have nearly finished off my first bottle of Belle Meade and am looking forward to my second. As bourbons go, this one has a remarkably sweet nose with beguiling vanilla notes. The first sip packs a bracing astringency that nips at the tongue like a fine rye or superbly aged Caribbean rum. (In fact, Belle Meade is about 30 percent rye.) Give it a swirl. Let it breathe a few minutes. And you get a delicious payoff: a mellow caramel finish redolent of peat, oak, spice and Calvados. It's a good drink for a contemplative sip. A cube of ice or a drop or two of cold water turns it into a gentle pillow. Hell, I'm not ashamed to admit that I like Belle Meade with a glug or two of ginger ale and "plenty of chipped ice," as Blanche DuBois might say.
And so a journey that began with an empty shelf and a near freak-out ends on a high note. I'm pretty happy about it.
Just the facts
Distillery: Nelson's Green Brier Distillery
City: Nashville, Tenn. (Currently distilled in Indiana, bottled in Nashville.)
Proof: 90.4
Suggested price: $39.99
Others Tagged With