Sony May Cut Daniel Craig Out of Girl with the Dragon Tattoo Sequel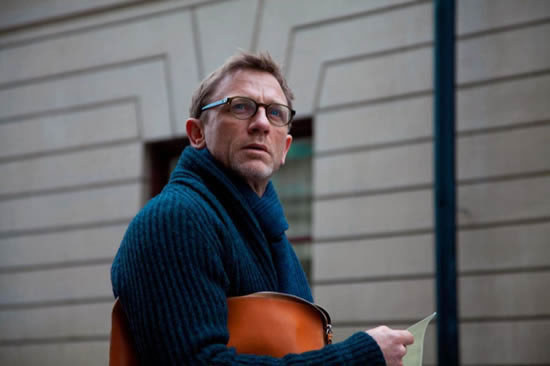 Update: In an interview with MTV, Rooney Mara firmly denied that Craig's character will be written out of the sequel.
"I've been talking a lot with David [Fincher] about the sequel, and I don't know where that rumor was started — that would never be a possibility," Mara stated. "He wouldn't be written out."
As to whether Fincher would be involved, Mara seemed less sure.
"I would hope that he would," Mara said. "But no matter what, he'll definitely have some sort of involvement."
Original Text:
Though Sony still insists that it will continue on with its follow-up to the David Fincher-directed adaptation of The Girl with the Dragon Tattoo, the project now looks to be in major flux, according to a report by The Hollywood Reporter.
Adapted from the first novel in the megahit book series by Stieg Larsson, 2011's The Girl with the Dragon Tattoo was nominated for five Oscar nominations (including one for lead actress Rooney Mara) and grossed an impressive $233 million worldwide upon its initial release. Though quite the accomplishment for a nearly three hour, R-rated movie released around the Christmas season, the film's $90 million dollar budget had kept from being considered a noticeable hit by the industry.
As such, the studios are looking to now cut major costs for its adaptation of The Girl Who Played with Fire, the second installment of the series.
Due to the studio's newly frugal approach, the big holdup for the sequels is lead actor Daniel Craig. In the wake of the success of his latest Bond entry Skyfall, Craig is reportedly requesting a pay raise. Though a rep for Craig says the actor wishes to reprise his role as journalist Mikael Blomkvist, the studio has considered excising the role if need be.
Fincher is also up in the air for returning. Between his current work on Disney's 20,000 Leagues Under the Sea and a potential future job directing the adaptation of Gillian Flynn's novel Gone Girl, Fincher's plate is looking very full. Nevertheless, a studio rep says they are determined to get Fincher back for both the sequel and the final entry in the trilogy, The Girl Who Shook the Hornet's Nest.
Rooney Mara, however, is apparently on board to return as series superheroine Lisbeth Salander.
Got news tips for Paste? Email news@pastemagazine.com.
Others Tagged With