The Olympia Le-Tan Book Clutch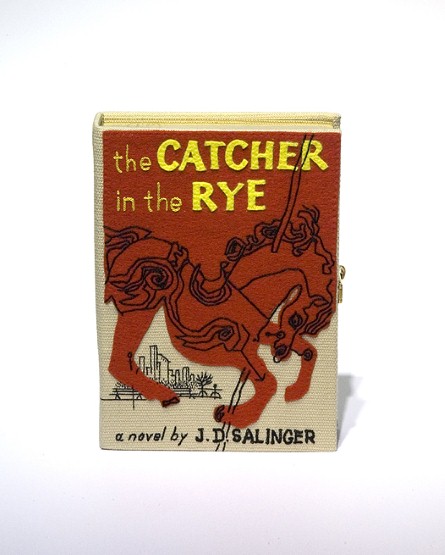 The names of bands, ski resorts and athletes have been slapped across the fronts of t- shirts and bags for decades. Attire knows no limits when it comes to idolizing proper nouns.
Independent French designer Olympia Le-Tan is paying a long-overdue homage to a more quiet entertainer: The novel. And not just any novel, but the classic novel.
Le-Tan has created a line of small clutch purses that have been embroidered to resemble vintage and original covers of many famous and well-loved books. She tends to feature darker, more intense novels, such as Mary Shelley's Dracula and Truman Capote's In Cold Blood.
The purses are made in Le-Tan's small Paris studio using liberty felt, silk thread and a felt appliqué. Only 16 of each are made, making them highly sought after.
Le-Tan was originally inspired by many of the old books her father, illustrator Pierre Le-Tan, kept around the house.
"I was thinking there were all these beautiful books around and they were being forgotten with everybody on the Internet, so I made it so that you can carry them around," Le-Tan said at Paris Fashion week in 2009, when she first debuted her line of book clutches.
The purses are just big enough to accommodate your phone, keys and a wallet. Sometimes it's nice to know you can only carry so much, or so little in this case. Regardless of what you manage to squeeze into the clutch, it will seem as though you're only carrying a timeless work of literature with you about the town. Just be careful not to snag the delicate embroidery of the cover.
Le-Tan's current collection of purses and clutches are available on her site and in small boutiques across the world for about 1200 euro (or roughly $1628) a pop. Whether or not you're able to snag one of these gems, keep in mind the novel idea of wearing your favorite book on your sleeve.
Check out a few of the clutches in the gallery below, or click here for more images and information.
Others Tagged With