A Short Ride: Remembering Barry Hannah by Louis Bourgeois, Adam Young and J.W. Young
Telling Tales of Barry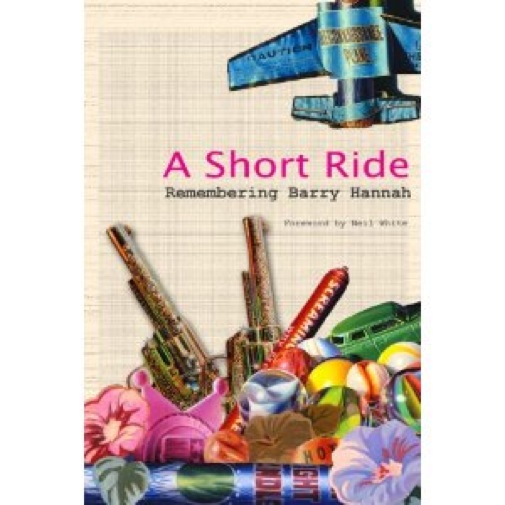 Barry Hannah hunched over the stack of short stories. "OK, here's one," he said, pulling out a couple of pages, squinting through the swirling smoke of a cigarette.
A dozen scruffy undergrads squirmed in their chairs. We never knew what to expect when Barry raised his head to read. He'd either have the comforting countenance of a benevolent uncle, or the unsettling expression of a grinning jack-o-lantern. It all depended on how he felt that morning, how much he'd been drinking the night before—and whether the story was worth a damn.
It was the winter of 1976, and as a junior at the University of Alabama I was taking Barry's creative writing class. Every other week a group of novice novelists gathered around a long wooden table in chilly Woods Hall, trying to catch, or avoid, the author's wandering, watery eyes. His critiques often cut to the bone, slicing off fatty sentences and overused symbols—honest praise mixed with pointed asides ("not even going to waste your time reading this"). A good class meant Barry liked what he saw; a better class meant he liked it so much we moved the session to a local bar.
The Mississippi native had come to Tuscaloosa after teaching for six years at Clemson University in South Carolina and freezing for 12 months at Middlebury College in Vermont. When Barry returned to Dixie, he was riding high. His first novel, Geronimo Rex, won the William Faulkner Prize in 1973, while his second, Nightwatchmen, came out to good reviews a year later. He published one story after another in Esquire.
But success seemed to rub the rough-edged writer the wrong way. After two divorces and one more book—the well-received short story collection Airships—Barry left Tuscaloosa (or was asked to leave, the stories differ) in 1980. He headed to Hollywood to write scripts for Robert Altman and then bounced around the country, serving as the writer-in-residence at universities in Iowa, Mississippi and Montana. He eventually returned to the University of Mississippi in Oxford, where he died in 2010.
Along the way, he turned out several more novels and short story collections including Ray (1980); The Tennis Handsome (1983); Captain Maximus (1985); Hey Jack! (1987); Boomerang (1989); Never Die (1991); Bats Out of Hell (1993); High Lonesome (1996), and Yonder Stands Your Orphan (2001). His gothic-gonzo tales of gay Confederates, African-American band directors, crazy aunts and ex-biker preachers mingled lust, longing, violence and humor. Reading Barry's novels and stories, you felt like a grateful hitchhiker climbing into the warm passenger side of a waiting pickup truck and then noticing the driver's crazy eyes and the gleaming .45 by his side. Even a simple scene, such as one in Geronimo Rex where narrator Harry Monroe sneaks in to watch an African-American high school band practice, takes an unexpected turn off the highway. "The fact probably was, by what I saw and heard that afternoon hiding under the bleachers at the colored football field, Dream of Pines was the best high school band in at least the world. . .They made you want to pick up a rifle and just get killed somewhere."
Throughout his writing career Barry continued to teach. Some of his students, such as fellow Mississippians Larry Brown and Donna Tartt, and my University of Alabama classmate Mark Childress, became novelists. Others turned to poetry or journalism. But even those who ended up as bartenders, bikers or bookies learned to love great writing, and endure the sweat-drenching work it takes… because of Barry Hannah.
Last year, Louis Bourgeois, founder of the Oxford, Miss.-based Vox Press, asked 35 of Barry's former students and sidekicks to put down their memories of the teacher, friend and sometimes asshole they had known. The collection of their essays, A Short Ride: Remembering Barry Hannah paints an eclectic portrait of a talented, occasionally tormented man who loved attractive women, semi-automatic pistols, Jack-and-Coke and Kawasaki motorcycles.
Many contributors talk about his rough but reasonable teaching techniques.
"If you were willing and able to get into and stay in the ring with the man, if you realized it actually was a kind of fight (a fair fight, but a fight) and not a beauty or popularity contest. . .you were okay," says Brad Watson, a professor at the University of Wyoming, on Barry's classes at Alabama.
Poet Anna Baker quit her job as a security guard in Montana and moved to Mississippi to take his class. "Barry always said that flaws made good writing—it's your flaws that are going to save you." Oxford writer and frequent tennis partner Neil White recalls the seemingly simple (but hard to achieve) advice his teacher gave him about writing short stories. "A story has a beginning, middle and end. And thrill me."
Others remember Barry during his later years in Oxford, hanging out at Square Books or riding around town on a purple motorcycle.
"He was a dresser. He was glamorous even, just shy of dandy—a man for all threads, be it biking leather, Hawaiian prints, or tennis gear," writes Jim Dees, host of the Thacker Mountain Radio show. Attorney Humphreys McGee was standing outside his office one day when the man he barely knew drove by. "I did not know we were friends until a good year after I'd completed his workshop, when he snatched me off the Courthouse Square…and we rode around Lafayette County in his green Cherokee, him telling me he liked me because I'd never tried to kiss his ass."
Even those who disliked him at first have to admit that Barry eventually won them over. Richmond writer Robin Rushing remembers the time she booked a "deconstructed blues band" to play in a Jackson, Miss. bar. It didn't go as planned.
"It was sweltering, the staff and audience were complaining, and each band member seemed to be playing a song of his own choosing," she writes. Just as things were going from bad to worse, Barry showed up, insisting he didn't have to pay a cover charge. "Fuck!" Robin writes. "He's not a friend of mine! Who does he think he is?"
Robin left the music booking business to study English Literature at Millsaps College (where she had to read a little Barry), and had barely thought about the brash barfly for 15 years until she got a call.
"I was working for actor Morgan Freeman and his business partner, Bill Luckett, in Clarksdale," she writes. "Part of my job was to handle interview requests. One day I picked up the phone to hear, 'Miss Rushing? You don't know me, but my name is Barry Hannah. I am a writer.'"
She arranged for Barry to interview Freeman and Luckett at their Ground Zero Blues Club—and a few days later a flower arrangement arrived. "I thought my boyfriend had lost his mind, but the card contained the following message: It's not often people are really good at what they do. Thank you for helping me be good at what I do. It was signed Barry Hannah. That asshole sent me flowers! What a lovely man."
I lost touch with Barry after that semester in Tuscaloosa, though I heard stories through the years: the sultry Tuscaloosa afternoon he spent throwing knives at a wall while drinking vodka and instant Lipton tea; shooting holes in the floor of his MG convertible to drain it after a heavy rain; fishing for tourists with a rod and reel from the balcony of a French Quarter hotel.
I don't know if they're true—but like those flowers, every time I remember Barry or read one of his stories, it's as if I've received an unexpected (albeit slightly weird) gift from a benevolent uncle sitting at the head of the table, grinning like a jack-o-lantern, ready to teach me again.
James T. Black is a former writer and editor with Southern Living magazine and the Birmingham News. He lives in Birmingham with his wife, Patricia, and their rat terrier, Ricky.
Others Tagged With