Best of What's Next (SXSW 2013 Edition): The Eastern Sea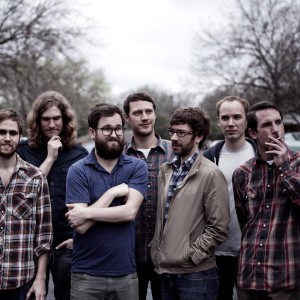 In celebration of the start of this week's music section of South By Southwest, we're taking a deeper look at some of our favorite artists set to appear in Austin. Below, you can check out a preview of one of Austin's own, The Eastern Sea.
For Fans of: Death Cab for Cutie, Explosions in the Sky
"I used to hear the birch leaves rattle through my spine," frontman Matthew Hines sings on the opener to Plague, his stunning full-length debut with The Eastern Sea, an eclectic rock band from Austin, Texas.
The line is a fittingly poetic opening for a poetic album: Plague's lyrics are so finely composed you could almost call it for a long-form poem set to music. Back in 2005, The Eastern Sea was but a small, one-man project based out of Hines' bedroom. But Plague is a seven-man effort, the result of two years of piecing together sessions in condemned complexes, private studios and houses in Central Texas.
There's never much ice in the band's home state, but a glacial layer—engineered by Jeff Lipton, who has mastered recordings for Bon Iver and Andrew Bird—coats all twelve tracks. Plague's dense lyrics and denser arrangements seem to pick up somewhere between the space Explosions in the Sky and Death Cab For Cutie last left off. That's a pretty cool place to be for a band this young. Here's hoping the hometown advantage serves them well as they take the stage this year's SXSW.
Listen to their full-length debut Plague below.
Got news tips for Paste? Email news@pastemagazine.com.