Comic Relief with Constantine & Green Arrow Writer Jeff Lemire
Page 2 of 2
Paste: Congratulations on your new gig on Constantine with Ray Fawkes. You both have also been writing the character in JLA Dark. Did you actively seek John Constantine out or was he initially pitched to you?
Lemire: Well Constantine's probably my favorite comic character, and that goes back to my love of Alan Moore's Swamp Thing. I was a really avid Hellblazer reader, probably the only comic I made sure I read every month in floppy format. I think I have all 300 issues. So I loved the character. I can't say I actively sought out writing him. When DC launched the New 52, I went after Frankenstein and Animal Man; I felt too close to Constantine to go after him. At the same time, Pete Milligan was writing him, so there wasn't an opportunity for me to write Constantine. But things shifted after the first year, and I got JLA Dark, and it was really fun writing the DC-version of Constantine. Dragging him into the larger DC Universe was really fun to do, and then when they decided to launch the solo book (titled Constantine), Ray and I actually weren't attached to write. It was actually another friend of mine, Robert Venditti, who was supposed to write the book. His schedule became too crazy because he took on Green Lantern, and there was the opportunity there for Ray and I to step up and take it. It was too good to pass up, because we both love the character.
Having said that, Constantine really is Ray Fawkes. I'm just co-plotting and planning the bigger picture. The actual script is all him and he's doing a great job.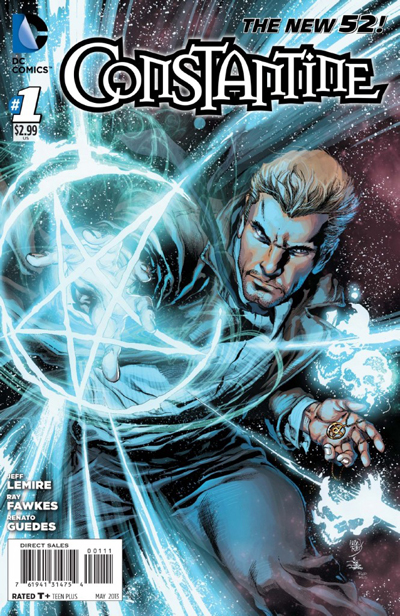 Paste: As he's your favorite character, what about John Constantine's character do you find so appealing?
Lemire: I think it goes back to me being an angry teenager, and at the time he was this character I found when I was 15 or 16. It's his punk rock attitude; he's just a cool character who was a good escape for me. I was an angry kid living in a small town, and I think he was everything I wasn't. He was the ultimate badass cool character. I think I really associated with that as a kid, and then I later admired the political edge of Constantine, especially in Jamie Delano's stuff. He's such a deep character, and as I grew up in comics he was always there in different ways as this sophisticated horror comic that you could always turn to.
Paste: Within the 300 issues, what are some of your favorite story arcs?
Lemire: I have a real soft spot for the Garth Ennis and Steve Dillon run. That was the stuff I read first and really loved when I was a teenager. And then when I got a little bit older I went back and reread the Jamie Delano stuff, the first 30-40 issues, which I found really rich. I found the political edge interesting. Delano made Constantine a 3-dimensional character. Whenever I think of Constantine, those are the two runs I associate most with it. But Vertigo had some other great runs and writers on that book. I really liked the Azzarello stuff, and the Mike Carey run was brilliant as well.
Paste: Constantine's an interesting character, in that he tends to take on some of the politics and regional flavor of the writers who write him. For example, many of the British writers incorporated Thatcher-era politics, Ennis brought in some Irish elements with the character of Kit, and Azzarello introduced the character to backwoods America. To the best of my knowledge, you and Fawkes are the first two Canadian writers to tackle the character. Is that going to influence his trajectory at all?
Lemire: Yeah, he's going to be really polite and play hockey (laughs).
Paste: So no local politics or frozen Canadian myths?
Lemire: It's kind of a different situation to be totally honest, because unlike those guys, we're incorporating him back into the DC Universe, so I think that's really going to influence the direction we take with the character. We're figuring out how magic works in this revamped DC Universe and making the new rules, and Constantine's the center of that. That's the focus. The political stuff is going to be in there, but we want it to be organic. We don't want to force it in there. Our first thought is reestablishing him in the DC Universe, than after that, I think Ray's really going to take the reigns. And I'm sure his personality is really going to come through in the character more.
Paste: So how long are you going to be on Constantine if your time is finite?
Lemire: I'm not exactly sure the issue yet, but I'm co-plotting the first arc with Ray, and then I can't answer the question fully without spoiling something, but something's coming at the end of the first arc that's a really big deal for the DC Universe. It's going to really change things, then after that I would think it would be Ray on his own.
Paste: There was some concern that the character would lose his edge after transferring from the DCU to Vertigo. Reading the first issue and those last few panels, the new book definitely establishes Constantine as a sociopathic bastard. What, if any, are going to be the differences between the Vertigo Constantine and the DCU Constantine?
Lemire: Well, obviously we're seeing him interact with the DCU more, so that's the big difference. But he's also in New York now, instead of London, which is a huge difference, but again we created a story reason for that. In issue #3 we go back to London and learn there was a reason why he had to leave. It's not just an arbitrary change. Really, the character is the character. There are certain words we can't use, but otherwise the character's the same guy, he's just reacting to different situations. I think as long as we're careful, we'll keep the character true to who he was. It's like Jonah Hex. He's such a strong character that it doesn't matter what situation you put him in, he's just reacting to different things. Hopefully it's the same character, he's just a bit younger and part of the bigger DC mythology now.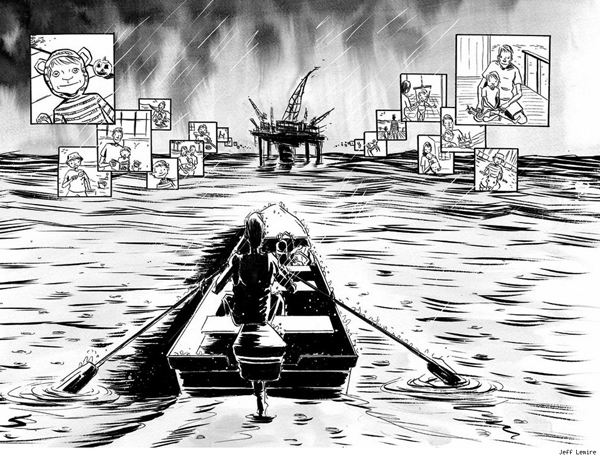 Interior art from The Underwater Welder
Paste: Looking on your history of characterization, and now with Constantine, it seems like you have an affinity for self-destructive characters. Whether it's Jack from The Underwater Welder or Griffen from The Nobody, they definitely seem to embrace their imperfections. What attracts you to characters with such marked flaws?
Lemire: Well, let's be honest, they're both more interesting to read and to write about. Somebody who has it all totally together…there's not a lot of conflict there, and for me as a writer, not a lot to tap into. You need some kind of major flaw and some major conflict in the character's life to really hook into, and that's where everything comes from. It's really just that they're more interesting characters. There's a more interesting psychology there.
Paste: Your other new ongoing series is Green Arrow, and lead character Oliver Queen's probably the most traditional superhero you've written yet. Was there a learning curve transitioning from your independent work to characters like Ollie and Animal Man?
Lemire: No, not really. Hopefully what makes people react to the stuff that I'm doing in the DC Universe is that I'm trying to treat it as if it's personal, and approach it in the same way that I approach my independent work. I'm just applying those same kinds of storytelling techniques to these superheroes in a shared universe. For me, when I do Green Arrow or Animal Man, it's just as personal. For Green Arrow, he's such a flawed character, there's so much emotionally for me to hook into. It's a guy who was born into privilege and had everything handed to him, yet in his own mind he can never live up to that. As soon as you can hook into something like that, you make these characters real, relatable people. That's when they become interesting to me. And all the superhero plot elements, they should all be metaphors or reflections of those central themes.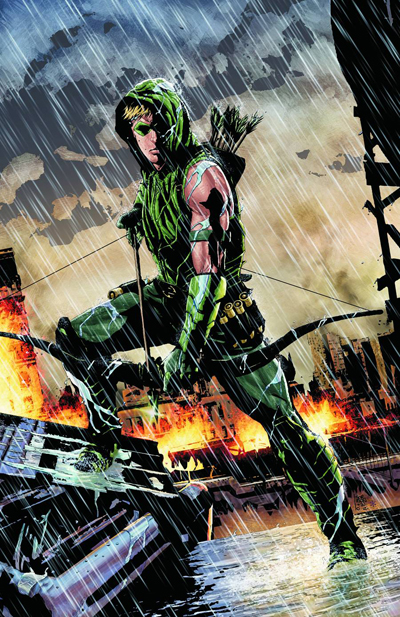 Paste: You stated previously that your run on Green Arrow is a fresh start. What are some of the benchmarks that you're looking to establish for the character?
Lemire: Even though he's a superhero who's closer to the center of the DC Universe, being a member of The Justice League, I still wanted to approach the book as a street-level crime noir story with a superhero at the center. I'm trying to make him a more relatable character, because the spoiled rich brat version of Oliver Queen isn't someone people really relate to or like. I'm trying to take that and make him more relatable, and also just do a really big, thrilling crime noir conspiracy story. He's fighting for the people rather than above them.
Paste: For a noir story, it'd be hard to find a better artist than Andrea Sorrentino. Did you ask for him?
Lemire: I did. As soon as I knew the tone that I wanted to strike, there wasn't anyone better working at DC. His stuff is so grounded and photorealistic, yet at the same time it's super stylized with so much black and so much mood. It's exactly what I wanted for the book. For what I wanted to write, he captures it beautifully. I couldn't be happier.
Paste: We're also excited for Trillium, the Vertigo book you're drawing that debuts this Summer. What can you tell us about it?
Lemire: It's funny, I actually started to draw the first page this morning. It's a good time to ask about it. I am really excited about this book. I wanted to do hard sci-fi for a while. Visually, it's such a rich playground. For design and world-building, it's something I was really looking forward to. I spent the last two months doing something that I don't usually have time to do, which is sit down and play around in a sketchbook. I'm usually so busy drawing a book that has to come out every month. I've just been designing this world and this future and all its technology. It recharged me. I really want to do an affecting love story as well. It's going to be a big challenge and ambitious. If I can pull it off, I think it will be the best thing I've ever done. It's how I approach everything I do, trying to improve upon what I've done and look at my weaknesses and push myself to overcome them. It's going to be quite a challenge, but a good one.
Paste: Is this a limited series?
Lemire: Yes, it's going to be ten issues.
Paste: I know there were shades of romance in The Underwater Welder and Sweet Tooth, but would it be accurate to call this your first love story? And what inspired you to write and draw this?
Lemire: I feel like there honestly haven't been many great love stories done in comics. Most genres have been mastered in one form or the other. There have been some really great crime comics, sci-fi comics, and superhero comics. But it's hard to think of truly great love stories that have been done in comics. Love stories in general are really tough to do. When Hollywood does them, they generally turn into really cheesy romantic comedies. It's a hard genre to tackle. For me, I felt like there's the potential there, that if I can pull it off, for something special. But it's also a real challenge. Those are the things that excited me.
Paste: Were there any personal motivations in this story?
Lemire: I'm sure there are, but nothing I want to talk about. It's about my love for Scott Snyder (laughs).
Others Tagged With