Details Revealed About Upcoming Doctor Who Episodes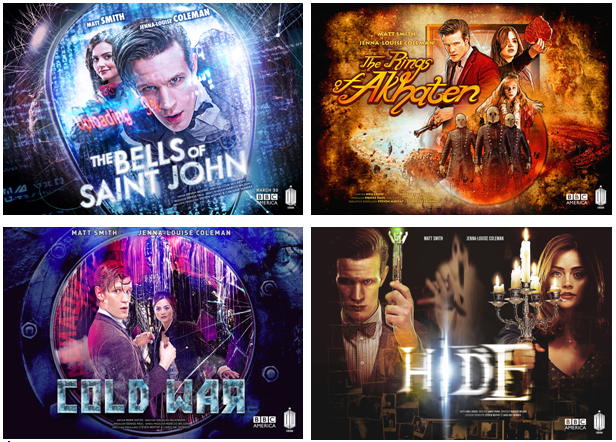 Considering Doctor Who showrunner Steven Moffat's tight-lipped nature when it comes to revealing plot points, fans often count themselves lucky if they know an episode title well in advance.
Now it appears the clouds of secrecy are beginning to part. With the March 30 premiere fast approaching, the BBC has finally released descriptions for the four of the eight remaining episodes of the sci-fi show's seventh season.
Where viewers were last left, the Doctor (Matt Smith) in the December Christmas special, he was looking to uncover the mystery of new companion Clara Oswald (Jenna-Louise Coleman), a girl he has seen die in two different time periods.
The new batch of episodes will open with "The Bells of Saint John," which will be written by Moffat and directed by Colm McCarthy. Here, after witnessing Clara's death in Victorian England, the Doctor meets up with a different version of her living in modern-day London. Filmed in the style of a "James Bond-esque urban thriller," the Doctor and Clara face a monster embedded in the city's Wi-Fi network as minds are uploaded by an organization run by the nefarious Miss Kizlet (Celia Imrie).
Typical of Doctor Who, subsequent episodes have no shortage of ambition. The next episode, "The Rings of Akhaten," follows Clara and the Doctor to a far-off planet where a traditional alien celebration quickly turns deadly. The episode is written by Neil Cross, who recently scored a hit with the Guillermo Del Toro-produced horror film Mama.
Written by comedy actor/Sherlock writer Mark Gatiss, "Cold War" takes the Doctor and his companion back to 1980s where a Russian nuclear submarine has been infiltrated by an alien creature. The Neil Cross-penned "Hide," meanwhile, has the two navigating a haunted house.
For his part, Moffat promises the return of the classic Doctor Who monsters The Ice Warriors, an appearance from the redesigned Cyberman (in an episode written by acclaimed novelist/Sandman author Neil Gaiman), a guest spot from legendary British television star Diana Rigg and the reveal of the "the Doctor's greatest secret."
Asked if he'd been raking up the stakes for the upcoming 50th anniversary special, Moffat says it certainly has motivated his writing.
"We try to make every year the biggest possible, but when you see that big, glittering 50 hanging above you, you start trying even harder," Moffat says. "I've been a fan all by my life and I know we have to deliver!"
Watch a trailer for the upcoming episodes below.
Got news tips for Paste? Email news@pastemagazine.com.
Others Tagged With