Drinks With Makoto Fujimura and Bruce Herman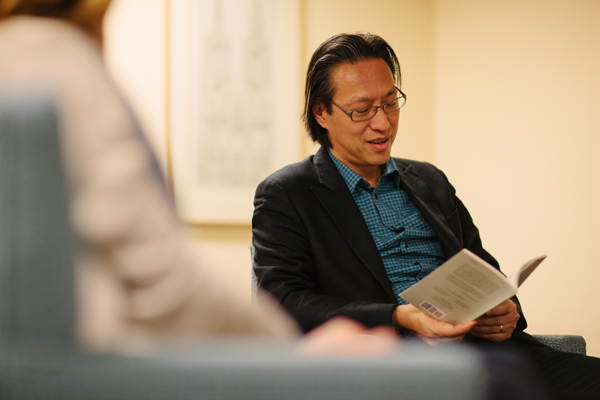 'Drinks With' is an interview series started by Skip and Timshel Matheny in 2009. The interviews are almost always done in person and typically discuss the creative process. This interview is the first in a series for Paste of speaking with authors and visual artists.
Timshel Matheny met up with painters Makoto Fujimura and Bruce Herman at Duke Chapel earlier this month to discuss their current collaboration, Qu4rtets. The project is a collaborative response to T.S. Eliot's 'Four Quartets' in 16 paintings, an original classical piece by contemporary composer Christopher Theofinidis and a series of critical essays by scholar Jeremy Begbie. There will be on exhibit at The ISM Gallery of Sacred Arts, at Yale University until March 8.
This is interview will be published in two parts. Below is the first of the series in which they discuss their favorite drinks, what can be said after the tragedy of Newtown, Conn. and the power of disintegration in music.

Matheny: What is your favorite drink?
Herman: There is this red wine from Umbria, and I know the vintner. It is called Clanco. And you can only get in one wine store in the United States and in New York. But if you go to Umbria, if you go to Orvieto, you can get it there. And it is not expensive. It probably translates as a $20 bottle of wine although it tastes like a $200 bottle of wine. It just has this wonderful quality to it. 
Fujimura: Well, since he went with wine, I'll go with with wine.  My 21grams, which is a project that kind of fell into my lap around five years ago. It is this winery in Walla Walla, Wash. They came to me and said that if I would donate an image then they would donate the proceeds to International Arts Movement, and so I said OK. And as it turned out this became this premium wine. This year my painting "Golden Sea," which is my retrospective painting, is on the label. And it just looks fantastic on it.
Herman: You know you've arrived when your painting is on the label of a good bottle of wine.
Fujimura: [laughs] Right. I also like the process of wine, though. The process of waiting. And thinking about when the first bottle was mature enough to drink—it was my son's graduation from NYU. So…you open these at a very special family occasion, and it [was] like really good wine. 
Matheny: Can you talk a little bit about the genesis of this project, your relationship to this poem and why you chose to base these works around it? I know that you each have had a longstanding relationship with Eliot's "Four Quartets." Bruce, you have been reading it and re-reading it since college. And Mako, you have said that you picked up this poem as a kind of companion as you were experiencing the destruction and disorientation caused by the tragedy of 9/11, which occurred only blocks from your studio.
Herman: Yes, something that did lead to the genesis of this project was the mutual destruction that both of us had experienced. In my case the studio and house fire in 1997—being struck by lightening. And in Mako's case, the 9/11 towers coming down. And living at Ground Zero.
Mako: Yes. Well, the person who introduced me to "Four Quartets" was my friend Greg Wolfe. It had been a very transformative poem for him. He had read it at Oxford while studying and then later it had played a role in his conversion [to Catholicism].  But I remember him saying that if you ever found yourself disoriented or lost in a dark woods, to read this poem. And that is why, after 9/11, I picked up "Four Quartets." I wrote to him and said, "Hey, I think I'm ready to spend some time with this poem."
Matheny: I love the fact that the materials you each use for your paintings actually decay over time: Silver leaf that oxidizes or ground-up pigments that shift with temperature and constantly react to their environment. And then as time goes by, because of these elements, there is a kind of transformation always happening, within the piece itself. Like the painting is never actually complete in some sense. Usually, as a painting or work of art is finished an artist must say "I've finished this. It is now in a frame, and placed on a wall." However, with these paintings, the work is continually transforming and completing itself. As you each approached your work, attempting to process some profound moments of destruction and disorientation, how much of this were you aware of, or thinking about? Was there a conscious connection between the materials, the process itself, and what you were responding to?
Herman: Well, yes. In these cases [points to his paintings] there is literal destruction. In the painting "Autum/Water/Adulthood" I had a male figure by the tree there in the beginning, and I sanded him out. I literally sanded him right off of the painting. And then, while I was sanding him off I saw that the cutting right through down to the white ground looked like a cloud form. And it looked perfect for her. It just sort of rose up. And so I started just taking the sander to all of those other places. That's what those white spots are..they are just missing pieces of the painting. It's the same thing in Mako's painting. He starts with that grinding of the mineral..pulverizing the mineral into something that can actually be used for color and paint. It is like a great metaphor for our lives, isn't it? 
Fujimura: Yeah. And not only that, it is not just that I am pulverizing the pigments…but then I heat them. So they must go through fire.
Herman: [quoting the poem] "From fire by fire."
Fujimura: So the azurite. What you are looking at is the same kind of azurite [in each painting] but a different tone of blue that you can only see if you let your eye stay with it a while. And it kind of opens up to you…like the wine. You have to let it breathe.
Matheny: You have to wait. 
Herman: Yeah. And in that way, losing is finding. It really is. 
Matheny: And so this transformation continues even into the exhibition process?
Fujimura: Yeah. The interesting thing about collaboration is that every exhibit that you are a part of, you do not get see the whole entire piece until all of the paintings are together. So, that is a level of discovery too. You know, even if you finish a painting ..it's not finished. Until it is exhibited. And so there is this ongoing sense of process and completion that gets repeated each time we install the exhibit. Each time there is this unique presence in the paintings that gets particularized in the space. So we just kind of behold in wonderment what can happen with each exhibit. It is going to Yale after this to join my retrospective, and that will be a whole other experience.  And then we add Chris [Theofanidis] into the picture—and it is just incredible. 
Herman: His music is absolutely incredible.
Fujimura: Yes. I know we are completely biased, but I think it is one of the landmarks of classical music. Because, what I was thinking after the Baylor performance, "What song can you play after Newtown?"
Herman: Yes.
Fujimura: You know? And after 9/11? There are very few pieces of music that you can play after those events.  But Chris' music, you can play that. Because it is disorienting. Because it's fragmented, it feels right to play it. It's a final breath. It just affirms what we are going through no matter how close you are to these events. And in this series of work, you know, I think the East Coker passages may not be my favorite, but they are certainly the most important passages in "Four Quartets," when [Eliot] speaks about the darkness. And that is why these [points to his paintings] are so dark, because that darkness is, to me, the most significant part of my own recognition of a voice that has experienced darkness—and is now affirming what I was going through. And therefore it was just comforting. Throughout the tour we speak to people about "Four Quartets" and their experience of reading it, and most of the time they say things like, "You know it is the most disorienting poem. It is so disjointed and fragmented," and I think, "No! It is the most comforting poem." And then I go back to read it and I think, "Wow, this is really disorienting" [laughs]. I think when I was reading it and I was going through post 9/11 trauma, it was comforting because it was disorienting, you know what I mean? Chris' music works like that.
Herman: Yeah. The voices that you hear in the four movements of Chris' piece are voices which I think most people would associate with pain. But I think there is, in the second movement in particular, a rising. The violins and the viola and the cello are all up in this upper register, and then the piano is dropping this slow descent. [He is] using the same aural materials that he has begun the piece with. And it is so poignant.
Fujimura: It is doing this drip.
Herman: Yes. This sort of coming down, coming down and coming down. And as he explains in his program notes, the grid that we have set up as you can see in Mako's piece ["Quartets III"] and in all three of mine, the grid is actually dissolving. Like the tick-tock, tick-tock of chronological time which is always playing out, is always breaking down. But there's another kind of time. There is time that has a storyline. A Kairos. Which it can slow down. It can speed up. It can disappear. You can penetrate into it. Like [C.S. Lewis'] Narnia, you can go through this magical door and suddenly you are in a different time period. Chris' music has captured that feeling of the breakdown of time and it's falling away and then there is this surprising re-entry of hope. In the midst of these painful kinds of chaotic sounds.
Fujimura: Yes. You know we both, when we first heard it in bits and pieces, it was kind of like this strange experience because we recognized our paintings in his music. And he did such an amazing job bringing these things together. We didn't even know this guy.
Herman: We didn't meet him until we started on this project.
Matheny: How did you decide to work with him?
Fujimura: He was recommended to us.
Herman: Everyone we had consulted agreed that Theofanidis would be the best fit for the project. It just emerged. And then we got a chance to meet Chris. I asked if he would be interested and he said, "Definitely." We had just a little bit of correspondence. I went out and bought some of his music. His most famous piece, "Rainbow Body," is just incredible. It might be the most-played piece of classical music by any living composer. They played it at Baylor, and I just wanted to jump up and shout. But in the middle of it you feel like your heart's breaking. It's just amazing.
Fujimura: At Baylor they have this student symphony, and they played this piece for the exhibit. And at the end, for the final climax, they started shouting. All of the students [in the symphony] just started shouting.
Herman: The screaming is actually part of the piece. It's written into the music. So the violinists are shouting.
Fujimura: Yeah. And there is just this joy…
Herman: It's just a total affirmation. It is a giant "yes."
Fujimura: Yes. Of life. Like a life force. It reminded me of what I imagined Aslan would sound like. Because there is this "grrrrr" and you don't even know what is happening.
Herman: It's almost like a howling at first. Yeah, I thought they were angels at first. They created such weird overtones on top of the instruments, I was like "where is this even coming from?" It was so bizarre.
Fujimura: Since the composer is there working with these students they will do that. When it is played at the symphony, that won't happen.
Herman: They won't do it. Even though it is written into the music.
Fujimura: Yes. But this is what Chris is like. He loves students. And he loves that youthful, inexact reality, and he wants to bring that out. And what composer does that? It is amazing.
Herman: He is also humble enough that he will let the musicians that refuse be and he won't push it. He is not a prima donna. He is really a humble man. He's young…he's like what? 45? [laughs] We think that's really young. I mean, as painters, if you live long enough, you don't even really hit your stride until you are 50.
Others Tagged With