Go On Review: "Matchup Promblems"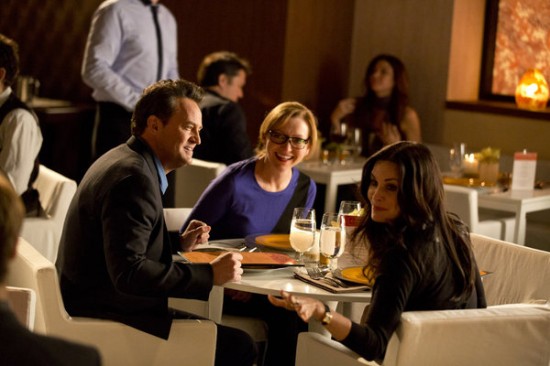 Go On is in the midst of a ratings nosedive. Luckily, the quality remains steady and is even growing in some areas. It didn't hurt that this week featured a guest spot from Courteney Cox. Even after all these years, she and Matthew Perry still have undeniable chemistry.
Ryan is introduced to Talia (Cox) in a graveyard by Anne. She's a recent widow, but is anything from normal. She's funny and enjoys Ryan's jokes. He asks her out right there on her husband's grave in front of Anne, but she assumes that he means the three hang out. That's when things get real interesting. Talia begins hitting on both of them, which confuses both Ryan and Anne. Talia says that people try too hard to recreate the past and that she's interested in both of them. "I'll be here tomorrow night," she tells them, saying that if either one is interested they should show up the next night.
Meanwhile, Yolanda is sent on an Asian single Christians cruise by her parents because they're tired of her being single—only, she's terrible at picking up guys. She uses video chat to have Lauren wingman her, only it still doesn't work and Lauren ends up hitting it off with a guy. This results in her inviting the Asian guy via Skype to hang out with her at their group sessions. It's not the greatest of B-plots, but it's fun to see Lauren act all flirty again (even though she's still getting married). It's clear that the show intended her to be Ryan's love interest, but then they realized that will never work out.
Later that evening both Ryan and Anne return to go on a date with Talia, and Ryan tries too hard to win for the sake of all men. The two compete to hit on and woo her, which results in an awkwardly funny and a sexually charged situation. It didn't hit on all of the right notes, but like I've said before, Ryan and Anne's dynamic is the real gem of this show.
If I have one complaint about Go On it's that the writers still don't seem to know what to do with the entire cast. A lot of the recurring characters go missing for complete episodes and will return for a solid outing—or they'll be in every episode and never contribute anything to the show. It's a case of the series introducing too many characters in the beginning in hopes of landing a terrific ensemble. Now that the show is deep into the season and is hoping for a second one, they'll need to consider condensing and focusing. Even with the nosedive in ratings, the show is moving to Thursday nights next week where it might pick up thanks to a still-solid lineup. It might give the show a chance to end on an upswing with the remaining two episodes.