Report Says Increasing Number of Women Prefer Craft Beer Over Wine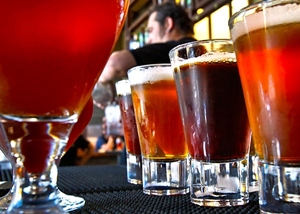 According to the Detroit Free Press, the men-know-beer/women-prefer-wine cliche no longer stands. Females are increasingly more inclined to choose a craft beer as their drink of choice.
Craft beer is a product of a brewery with a yearly maximum of six million barrels of beer. Julia Herz, program director for Colorado's Craft Brewers Association, told the Detroit Free Press that she believes pricing is a unique draw for craft beer: "The cost of a bottle of beer, usually less than a bottle wine, affords aficionados a chance to sample several craft beer flavors for a simple trade up in price compared to wine."
Herz also described female craft beer drinkers as "the same quality-minded people who are buying artisanal cheeses and fair trade coffees and who don't mind waiting for a bartender to shake a craft cocktail."
Barley's Angels is an international women's group for craft beer enthusiasts. The organization hosts tastings and events such a class to learn the best food and beer pairings. Sarah Booth, a Barley's Angels class attendee, explained her reasoning for choosing craft beer: "It's just what I like to drink. It feels more personal drinking something that's brewed in a small batch."
Marketing campaigns may also be a factor that causes women to gravitate towards craft beer.
"This is bold for me to say, but beer in the past has been marketed as a gender-specific beverage to men. While some macro beer producers use women in tank tops to sell beer, the 2,300 craft brewers in the U.S. generally market in a way that's not gender specific," Herz said.
Read the full article via Detroit Free Press here.
Got news tips for Paste? Email news@pastemagazine.com.
Others Tagged With