Jimmy Fallon Expected to Take Over The Tonight Show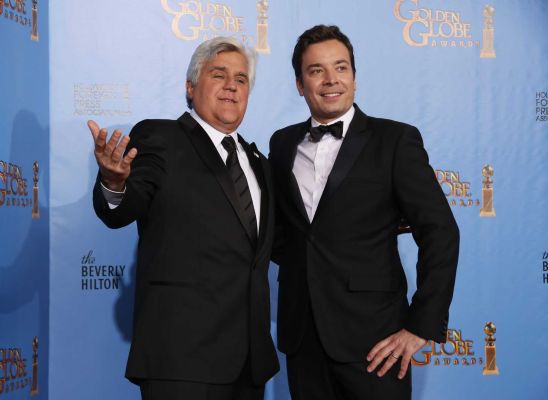 A New York Times report by Bill Carter states that NBC has moved forward with its decision to replace Jay Leno with Jimmy Fallon as the host of The Tonight Show.
What's more, NBC plans on moving the show from its current location in Burbank, Calif., to 30 Rockefeller Plaza in New York City, since such a move would better benefit the New York-based Fallon (as well as allow him to keep his house band, The Roots). The move would also return the show to its original roots. Both Jack Parr and Johnny Carson broadcasted from New York before Carson moved to Burbank in 1972 to allow for easier access to guests.
The article reports that NBC has not yet closed an official deal with Fallon, but anonymous executives say the deal is almost a guaranteed and will be announced soon. The main obstacle would be figuring out a timetable for the transition, with one executive pointing to fall 2014 "at the latest."
Many insiders have seen the writing on the wall, especially in light of Leno's recent monologues, which took pointed jabs at NBC brass and prompted a heated email reprimand from president Robert Greenblatt.
Fallon, in contrast, is coming off an astounding week on his show, which included a much-hyped, weeklong guest spot from Justin Timberlake. Moreover, Fallon's use of social media and creative, YouTube-ready skits has helped him garner a larger audience among young people than the more old-fashioned Leno.
Furthermore, NBC reportedly hopes that putting Fallon in the Tonight Show seat will help the network contend with CBS's Jimmy Kimmel Live!, which has also become a popular staple among young viewers.
The network's previous attempts at replacing Leno with Conan O'Brien ended in a highly publicized network battle that ultimately resulted in Leno being brought back and O'Brien being outed from his job and given a multi-million dollar compensation check. Bill Carter documented the drama surrounding this event thoroughly in his book The War for Late Night.
Got news tips for Paste? Email news@pastemagazine.com.
Others Tagged With