Music on Friday at SXSW: Time to Rock
In Case You Missed It:
Day 1: Sunday at SXSW Interactive: Jeffrey Tambor is a Spiritual Healer
Day 2: Following the Comedy on Monday at SXSW: Jesse Ventura Will Haunt Your Dreams
Day 3: A Film Study on Tuesday at SXSW: The Mythology of Muscle Shoals
Day 4: Music on Wednesday at SXSW: Nick Cave Owns the Night
Day 5: Music on Thursday at SXSW: Psych, Wayne Coyne and the Screamin' Eagle of Soul
On Friday the end of SXSW is in sight. It's also when severe lack of sleep and walking and standing constantly for five days straight starts to catch up with you. Some form of inspiration is necessary to power through the final two days and make it out of the carnival alive. Personally, I hit a wall sometime around 4 p.m., so I grabbed three shots of espresso and some Australian tim tam cookies, determined to see as much face-melting rock as possible for additional sustenance.
METZ > CAFFEINE
We saw METZ in the cramped Red Eyed Fly late in the afternoon, and they were just as good live as I'd hoped after listening to their debut LP, a Sub Pop throwback released last year. The venue was hot, swampy and perfect; I could feel the sweat on my skin as soon as I crossed the threshold. The band churned furiously in fifth gear throughout (and yes, they have a sixth), with frontman Alex Edkins singing every harsh syllable like it was his last. The entire experience was like taking a single punch to the face that had lasting effects for 15 minutes.
So jacked up were Metz that even their between-song banter was intense: "Thank you guys so fucking much for joining us and hanging out," Edkins said before taking a quick swig from an amp-top Heineken. His parting wish was for us all to "have a great festival and all that shit."
FYI: 30-DRUM ORCHESTRAS ARE LOUD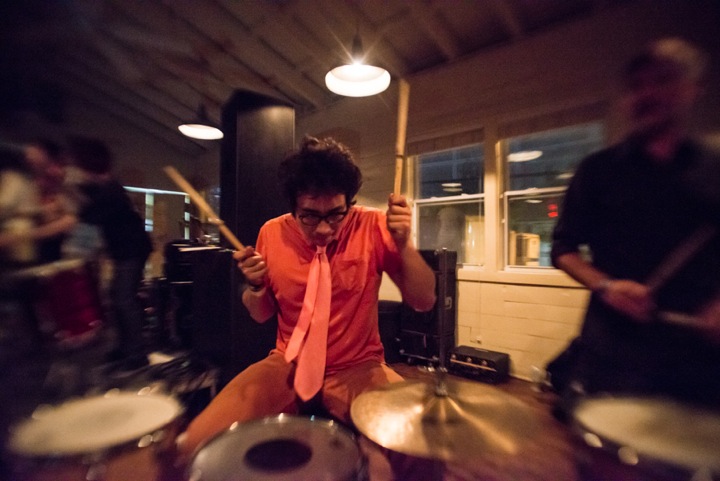 This was really cool. Using the name of his side project, Cy Dune, Akron/Family guitarst Seth Olinsky debuted a 30-drum orchestral performance at the Palm Door, with many of the drummers volunteering their services amidst their own busy SXSW schedules. How this worked was two rows of 15 drummers, most playing with a single tom and cymbal, lined up on opposite sides of the room facing each other. At the head of the room was a stage where Olinsky conducted the proceedings, eventually playing guitar and singing over the cacophony he summoned. Those of us in attendance were corralled in the middle of it all, percussion booming at us from every direction.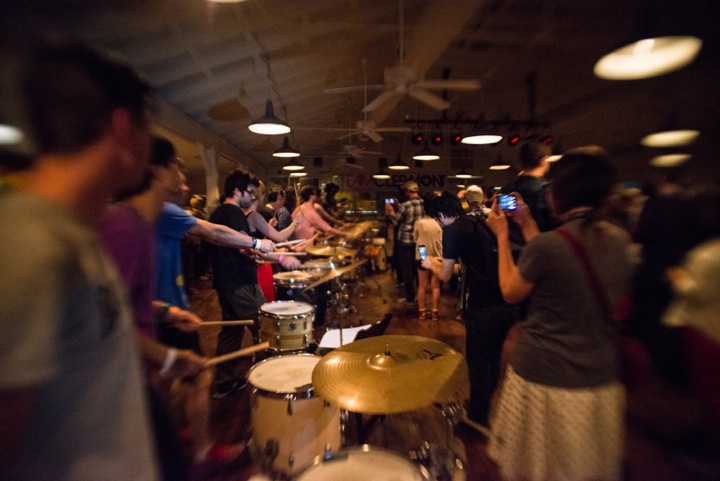 This was the first time this had ever been attempted; they hadn't even rehearsed. The drummers consulted both sheets of instructions splayed around their mini kits and the hand gestures of Olinsky to keep in time, and it all came together remarkably well. The best part of all this, though, was the excitment in the room at trying something that had never been done before. Prior to the performance's beginning, people were yelling "Let's do this!" as everyone took their positions and the audience was gathered in from their cigarette breaks and conversation on the porch. To see something so ambitious come together like it did was inspiring.
ROCKING AROUND RAINEY
Rainey is a street and nom-de-district southeast of the epicenter of all the Sixth Street madness. It's full of houses that have been converted to bars and venues, all in proximity to each other. Our plan was to crash every one of these, rock out and make it back up to Sixth Street with enough energy to take on the Friday night chaos.
We saw some young punks—FIDLAR and King Tuff—and a more polished power trio in The Joy Formidable. The most notable thing we ran into, though, was King Tuff's basisst, to whom I briefly considered dedicating this entire post. He wore white shoes, tight jeans, a white Detroit tank top, '70s style long blonde hair that looked like it was taken from the SNL "More Cowbell" sketch and a—well there's really no other way to describe it than a porn 'stache…Basically he looked like a Dazed and Confused extra, and I wouldn't believe it if you told me he drove anything other than a not-quite-street-legal Trans-Am. I think he might have been (he was) my favorite musician at SXSW.
There was good music, too, but observing it was often difficult because the converted backyards the bands were playing in were small and packed and full of obstructed views. The Joy Formidable were tucked toward the back of a tent behind the Lustre Pearl and a stack of speakers blocked our view. FIDLAR was similarly distant at Clive Bar. What we saw of both was great, though. Quick summary: On stage, FIDLAR has a ton of energy powered by cheap beer and Joy Formidable frontwoman Ritzy Bryan is a force. The JF's drummer rips, too, but I was disappointed we had to bounce before I could see him strike the large gong set up behind him.
…And aside from their bassist, King Tuff were probably the most impressive band we saw down around Rainey, but maybe that's just becuase we were actually able to get pretty close. KT's bratty croon is one of a kind and their songs are upbeat and just the kind of music that's fun to see live. I've already discussed my admiration for the bassist's appearance, but their drummer wore a camo tank top and King Tuff himself wore a black biker vest and throwback California Angels hat. Three band members, six arms, zero sleeves.
REIGNWOLVES AND WAMPIRES
Black shoes, black pants, black belt, black shirt, black leather jacket, black beanie, black hair, black guitar…
"Welcome to Reignwolf."
The unhinged Seattle blues rocker is known for his one-man show in which he plays kick drum, guitar and sings simultaneously. He's added a drummer and bassist/additional guitarist now, but came out to play a few solo songs to start his set at The Stages on Sixth. It's dishevelled, sloppy blues rock, but Reignwolf totally owns it and makes it work somehow. He was constantly adjusting his beanie; the mic stand would slip down in height and he'd just bend over to sing and keep rocking; if he had a free hand he was using it either to make noise or hold everything else together. At one point he went back behind the drum kit, where he played the kick with his foot, played the rest of the kit capably with a drumstick in his right hand and ripped along the fretboard of his gutiar with his left hand. No mic back there? No problem. Reignwolf just started belting unamplified, even if only the first few rows of people could hear him.
The show exploded, though, when he brought out his band. There's really not much to say other than that it rocked and rocked hard. Reignwolf and the other guitarist/bassist never stopped moving, the drummer furiously filling up any sonic space they happened to leave empty, which wasn't much. They would be on their knees shredding, they'd scoot around the stage, they'd bow over and bend back. It almost seemed like the physical limitations of the human body prevented them from rocking as hard as they really wanted to. See them live if you have the chance, and check out this badass '80s hair metal bro pose:
The last stop of the night was the Easy Tiger to see haunting Portland rockers Wampire, who will release their debut full-length May 9 on Polyvinyl. Already out is their incredible, driving single "The Hearse," and I told myself I wasn't going to leave Austin without having seen them play it live. Almost no one was at this show, though, which was cool because I was able to get up super close, but not cool because, what the hell? More people should be have been watching Wampire.
Wampire cover a lot of ground within thier very distinct haunting, psychedelic vibe. Some songs are up tempo rockers like "The Hearse," some are mellow and pop-y, some use eerie effects prominently, some don't. One thing their live show confirmed was that "The Hearse" is going to be only one of many great songs on thier forthcoming LP, which they told me after the show they've been waiting to release for five months. They toured in and will tour out of SXSW with Foxygen and Unknown Mortal Orchestra and should be back out on the road again after the album release.
Others Tagged With