Music on Thursday at SXSW: Psych, Wayne Coyne and The Screamin' Eagle of Soul
In Case You Missed It:
Day 1: Sunday at SXSW Interactive: Jeffrey Tambor is a Spiritual Healer
Day 2: Following the Comedy on Monday at SXSW: Jesse Ventura Will Haunt Your Dreams
Day 3: A Film Study on Tuesday at SXSW: The Mythology of Muscle Shoals
Day 4: Music on Wednesday at SXSW: Nick Cave Owns the Night
After logging our first full day of music on Wednesday, we learned which venues are going to have the longest lines, how long set start times are typically delayed and the most effective way to sweet talk our way past security. Now all that's keeping us from total SXSW domination is my need for a knee replacement…and some sort of back re-alignment. More sleep would be helpful, as well…All right, there are probably a lot of things keeping us from total SXSW domination, but that doesn't mean it wasn't time to take it up a notch on Thursday. Here's what went down:
AUSTIN PSYCH FEST KNOWS HOW TO DAY PARTY
The heart of the action at SXSW is on Sixth Street west of I-35, but east Austin, across the freeway, contains an entire new world of day parties, long lines and colorfully weird shops and places to eat that you'd like to check out but don't have to time to. It's where the massive FADER Fort is, it's where Pitchfork's setup in the 1100 Warehouse was and, a little farther west on Sixth, it's where the Austin Psych Fest was set up on the back patio of Hotel Vegas.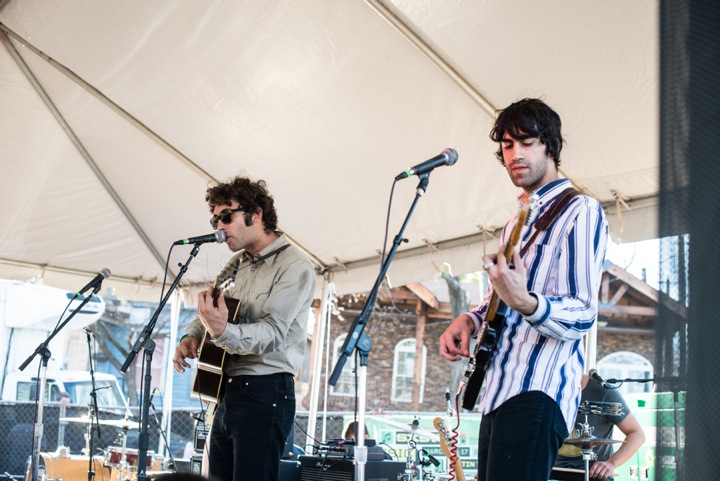 Supercool L.A. surf rockers the Allah-Las (above) were on stage when we arrived. Their music is tailor-made for a sunny outdoor stage and in addition to playing some prime cuts from their excellent 2012 debut they showcased a few new tunes, including a particularly catchy one with some "na, na, na, na" vocal harmonies and singer Miles Michaud on tambourine. I love this band.
The Black Lips were up next, and here's one reason why the Psych Fest party was awesome: The main stage was extra wide, which allowed the Allah-Las to play on one half while the Black Lips' gear was already set up on the other, ready to go. Delays are everywhere and they suck, and with this tradeoff format everyone is more or less on time, which means you can actually catch a full set from the band you walked a mile to see.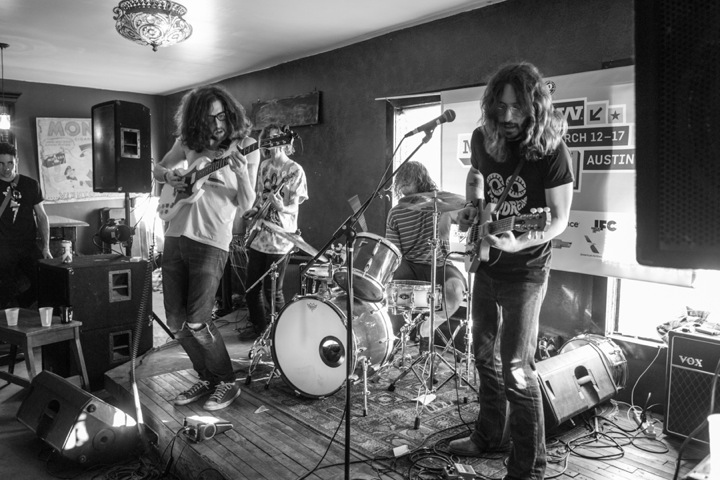 But when the Black Lips started I was inside—where there was another smaller stage where bands played during main stage set changes (another example of the Psych Fest nailing it)—watching Gap Dream, who hail from the psych rock capitol of the world, Cleveland, Ohio. They're a psych band through and through, but their songs are pop-y and a hold tinge of fornlorn Midwestern tenderness. Maybe it was the two frontmen's J Mascis-esque specs and long hair, but I was hearing a little Dinosaur Jr. in there, as well. That's them in action above. (Sample some songs here)
I came back outside to watch a few songs of the Black Lips and guitarist Cole Alexander was crowd surfing supine as he was shredding ↓↓↓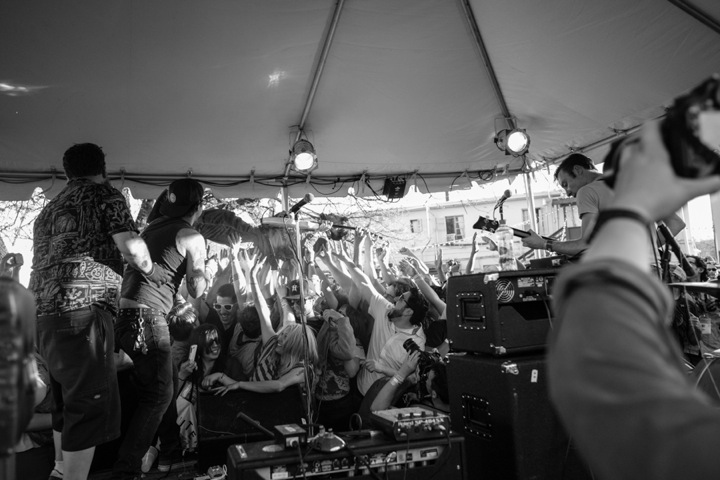 CHARLES BRADLEY IS A GOLDEN GOD
This is the first year Brooklyn funk and soul label Daptone brought a showcase down to SXSW. Hopefully it won't be the last. At their Super Soul Revue at ACL Live we saw dyanmite performances turned in by the Menehan Street Band (who also serve as the de facto house band for the label), sax master The Sugarman 3 and Sharon Jones and the Dap Kings (although, for her, "dynamite" is an understatement). Nothing, however, could top the unstoppable, inspirational force that was 64-year-old Charles Bradley.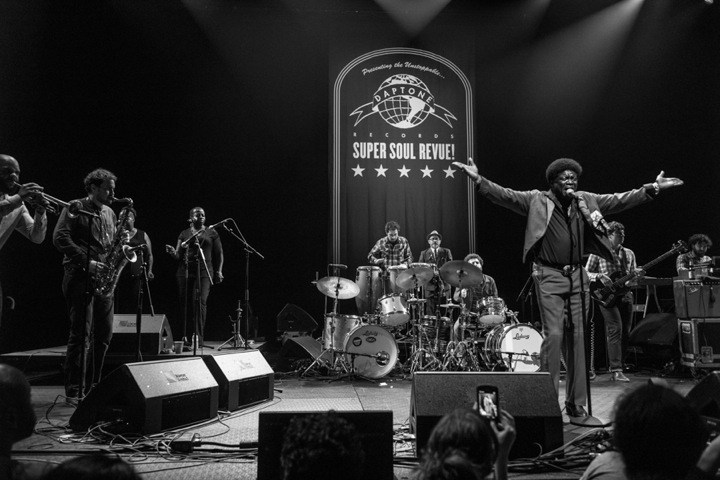 Introduced, as always, as The Screamin' Eagle of Soul, Bradley wore bright red pants and a matching red jacket with a silver puma emblazoned on the back. Bradley is an old-school showman of the highest ilk, whom Daptone head Gabriel Roth discovered only a few years ago when he was doing James Brown covers in a small New York nightclub. At ACL Live, Bradley worked the crowd with a number of impressive, totally unique dance moves—including some kind of funky version of the robot and a maneuver where he lets the mic stand fall to the ground only to yank it back up into his hand by the cord before it hits—as he and the Menehan Street Band rocked through some favorites from his 2011 debut album No Time For Dreaming.
The real "holy shit" moments of seeing Bradley live, though, were the sustained James Brown-style wails he regularly emits. Even if you've already seen him once, even if you've already seen him a thousand times, when the Screamin' Eagle rears his head back and lets one fly it's as if you're hearing it for the first time. Goosebumps are a common occurrence. After playing a handful of songs, he exchanged looks with the Menehan guitarist and left the stage.
Not for good, though, of course…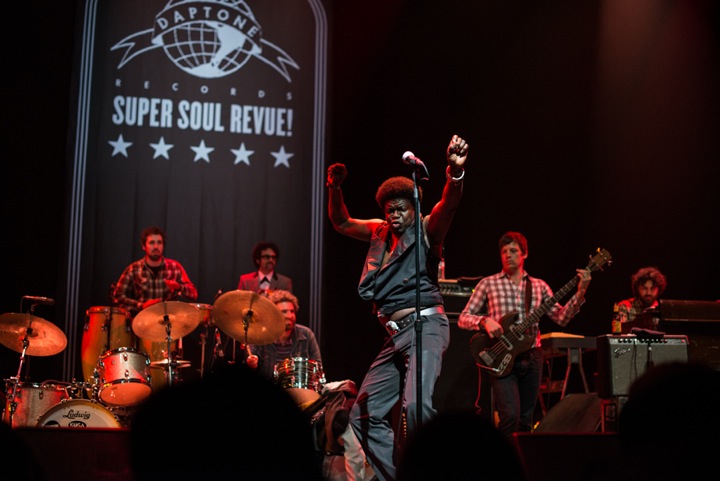 A few minutes later Bradley re-emerged with a new suit on, this one black, gold and with feathered sleeves. He broke into "Confusion," a new song likely off his forthcoming sophomore album, Victim of Love, and more of a growling rocker than the heartfelt soul that made up No Time For Dreaming. Halfway in he ripped off his jacket in one motion and JUST. PLAIN. GOT. DOWN. The Menehan Street Band kept the groove while Bradley reeled off twists, more funky robot moves, more girations, the splits and rampant thrusting. Again: This man is 64 years old. Paste editor Bonnie Stiernberg was in attendance as well and was so overcome that she couldn't help but email me her thoughts:
Dude was glistening on stage in a completely incredible way where you couldn't tell if he was sweating or crying or both. Like, there were several moments where I was asking myself "are those tears or sweat?" and then I realized it didn't matter because whatever it was, he was emoting so hard that it was literally pouring out of him, and there's something beautiful about that.
This is accurate. After the set was over, Bradley, visibly brimming with gratitude and appreciation, descended into the audience and spent 10 minutes just hugging people, tears in his eyes.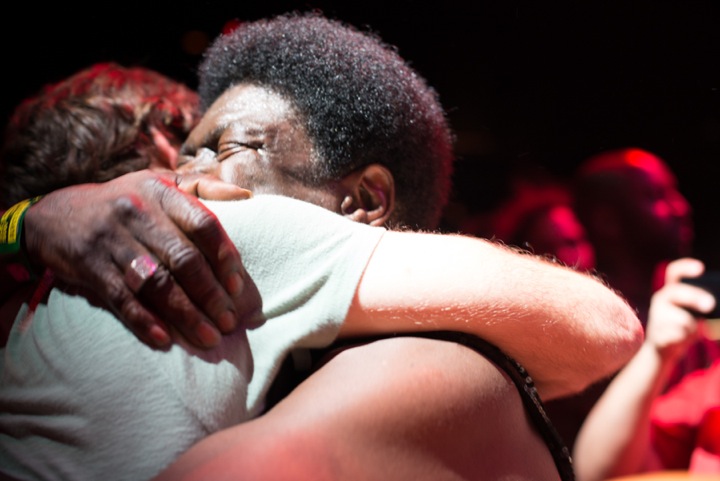 YES, WE REALIZE
Don't ask me how, but a little after midnight we were able to finagle our way into The Flaming Lips' "secret" show at The Belmont. Frightened Rabbit, The Joy Formidable and Alt-J had preceded them, so maneuvering room was slim. After some moderate squirming we had a clear line of sight. A thoroughly hammered man bobbed next to me throughout the entire show, his cocktail teetering and sloshing. I didn't think I'd be able to make it through the show dry, but there were bigger things to worry about…like The Flaming Lips playing on a small stage 50 feet away from us.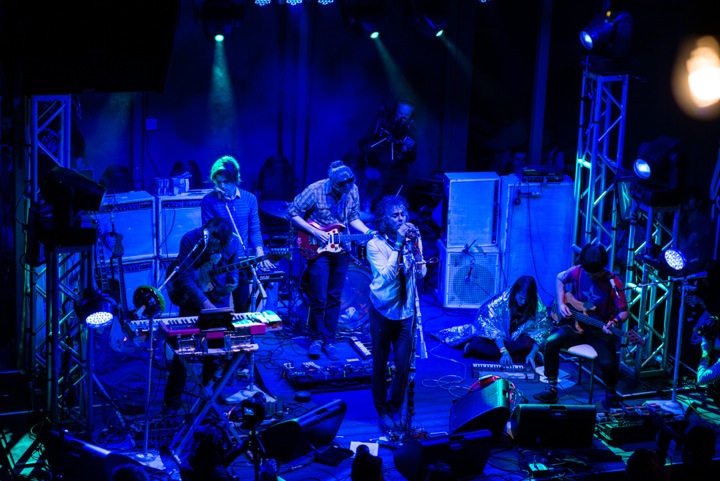 As noted, The Belmont's stage is small, so this was a stripped down Lips performance. And by stripped down I only mean no confetti cannons, no space bubble, no go-go dancers, etc. Their aim was to play as much of Yoshimi Battles the Pink Robots as possible before their time was up, and to help out they brought on members of Spaceface and New Fuse, with whom they had been rehearsing for weeks. Everyone was happy about all of this.
A cool story Coyne told: While listening to a German radio station while on tour overseas in '87, the band heard a song they thought was described as "Ego Tripping at the Gates of Hell"; the DJ was speaking mostly in German so it was hard to tell. For years they searched for the song they heard with that title but never found anything. Eventually they just decided that the name was too cool to let go to waste, so they wrote their own.
About an hour later the set was almost over and, by some small miracle, not a drop of my neighbor's drink had been spilled on me, despite it having hung precariously in his limp-wristed hand through repeated stumblings. Coyne had made a promise that even though they didn't have enough time to get through all of Yoshimi, they woldn't leave the stage without playing "Do You Realize??" The time to play it had come, and as the song's famous opening countdown began, my wasted friend thrust his fist in the air triumphantly, the same fist that was holding his drink, and a nearly full vodka/something found its way all over me, in its entirety.
I only laughed, because how can you be even remotely upset about anything while The Flaming Lips are playing "Do You Realize??" a few feet in front of you?
Others Tagged With