Music on Wednesday at SXSW: Nick Cave Owns the Night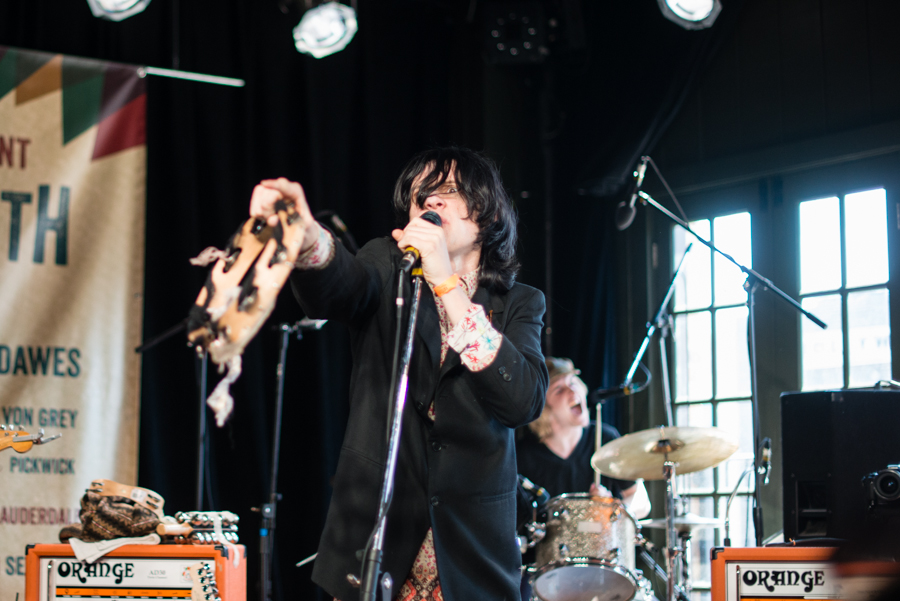 In Case You Missed It:
Day 1: Sunday at SXSW Interactive: Jeffrey Tambor is a Spiritual Healer

Day 2: Following the Comedy on Monday at SXSW: Jesse Ventura Will Haunt Your Dreams

Day 3: A Film Study on Tuesday at SXSW: The Mythology of Muscle Shoals

Wednesday. Music. Let's get it on.
2 P.M. IS TOO EARLY FOR FOXYGEN
Foxygen…so hot right now. Since releasing 21st Century Ambassadors of Peace and Magic, the cleaner and more polished successor to their raucous, overdub-laden debut, they've been praised almost universally as a modern blend of the Rolling Stones, the Kinks, David Bowie, and other '60s-era icons. The album has also been routinely called "Wes Anderson" music, which I'm not sure is a compliment or undesirable marginalization.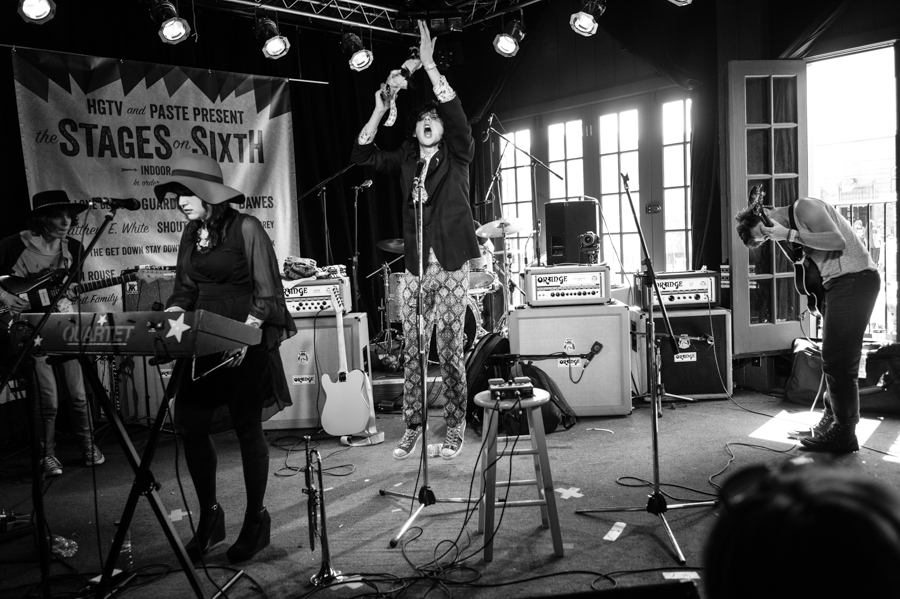 Their live reputation is something else entirely, though, and it's had people talking since they started touring in support of 21st Century Ambassadors. They're brash, they're out of control, they not polished, but they do it all with a certain youthful charm that's hard to argue with. Indoors at The Stages on Sixth they lived up to the hype and undoubteldy shocked some fans only familiar with their latest album. All of the craziness is derived from frontman Sam France, who yelped, howled, cawed and generally turned Foxygen's songs into unhinged, subconscious-cleansing expulsions of their former selves. He was Jim Morrison-level possessed, and I noticed some people in the audience look to one another and roll their eyes a few times when France would do or say something especially "out there." These people were lame; Foxygen was awesome.
Toward the end of the set, though, France apologized for lacking energy, blaming it on the fact that 2 p.m. was too early for him. If this was a down show, I can't imagine what they'd be like after midnight. Does France backflip into a stage dive? Are instruments destroyed? It's worth finding out if you have the chance. They'll be on tour for another few weeks following SXSW.
NOTHING CLEVER HERE. PHOSPHORESCENT IS JUST REALLY GOOD
There are two variables that make planning a nightly music itinerary difficult during SXSW. First, unless you're familiar with Austin's venues, it's impossible to tell just which shows you'll be able to get into. Some venues are tiny and run at capacity throughout the night, while others are surprisingly large and will never have a line regardless of who's playing. The second problem is that many of the showcases end up running behind schedule. You might get to a venue to see a band scheduled to go on at midnight, only to find that the band that was supposed to precede them is only in the middle of their set and it's 12:04.
Uncertainties these are, but sometimes they can work to your advantage, as they did when I made my way down to the Aquarium Drunkard party at the Hype Hotel to try to catch Phosphorescent, who will release their first album since 2010's Here's To Taking It Easy next week. I didn't have much hope. I imagined it would be a popular showcase, their set was scheduled to end at 10:45, and I showed up at 10:30. Fortunately, the venue at the Hype Hotel was practically the size of a warehouse and I walked right in. Even more fortunately, because of delays Phosphorescent were about five minutes away from starting their set when I arrived.
It's easy to forget just how good Phosphorescent is. They're live appeal begins and ends with rustic and charismatic frontman/songwriter/everything Matthew Houck, but the tightness of the band was equally awe-inspiring. The bass and drums were locked in-step, and guitar and keyboard lines weaved in and out of each other with Phosphorescent's distinctive country-folk rock nonchalance. Jams were sublime.
Like I said, though, it all begins and ends with Houck, who is a frontman in the truest sense of the word despite refraining from any ostentatious vocal or physical theatrics. His understated presence and pained rasp are magnetizing, and the mystique was only heightened at the Hype Hotel by the ethereal glow of white backlighting and, of course, his beat up ballcap, aviator glasses, cowboy boots and the microphone cord slack lassoed up in his free hand as he sauntered around the stage like it was his living room.
ALL BLACK EVERYTHING
When Nick Cave took the stage he gave the audience a quick "hello," foot-tested the resiliency of the row monitors lining the front of the front stage and then was ready to go. He was wearing black shoes, black pants, a black shirt, a black blazer, and slicked-back, shoe polish-black hair. It was dusk. "Hi," he said again. "We're going to start with a long one and when it's over hopefully it will be…DARK."
He stepped up onto the monitors, where he remained for the rest of the show, and the Bad Seeds broke into "Higgs Boson Blues" from their new album Push the Sky Away. For the next eight minutes, Cave preached slow and dark as molasses, the Stubb's canopy bathed in red light above him and his congregation offering up their badder selves in front of him. I know it sounds grandiose, but it'd be wrong to say that some sort of communion wasn't taking place; Cave operated like some sinister preacher out of a perverted Old Testament. It was hard not to believe.
…And sure enough, by the time "Higgs Boson Blues" was over the sky was pitch black. I'm going to go ahead and attribute Cave's opening sermon to snuffing out what was left of the sun for good and bringing on the night. For the rest of the hour they played more from Push the Sky Away, but also plenty of classics. This was the comprehensive Nick Cave and the Bad Seeds experience, and no one could have walked away from Stubb's on Wednesday night without believing they were some of the most badass mofos to ever walk the earth. Getting there early to wait in line was a small price to pay.
Others Tagged With