Sunday at SXSW Interactive: Jeffrey Tambor is a Spiritual Healer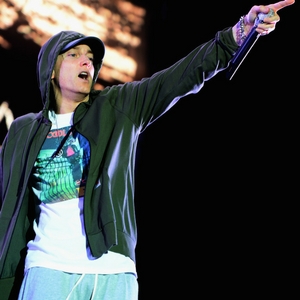 The Austin Convention Center during SXSW Interactive is a beehive corporate logos, attention-grabbing promotional displays, flustered journalists, Mac-toting tech networkers, long lines that have no apparent beginning or end and pop-up podcast tapings. Basically it's the physical incarnation of the Internet. There is an enormous trade show I was scared to enter; there are innumerable conference rooms of varying sizes and importance; there are weary attendees with dwindling battery power huddling around outlets to charge their iPhones for 10 minutes at a time. So overwhelming is the in-your-face stimuli that there are even meditation classes at the end of the day so that those of us whose souls have been crushed can float back down to earth…or maybe farther away from it. I actually attended one of these at 5:00 p.m., with mixed results. Though Melodie, our flower-in-her-hair instructor, was pumping Enya for us, it was no match for the unrelenting white noise of SXSW forcing its way through the walls and into our "quiet space." The sweet tea I grabbed afterward was probably more refreshing. Thanks, though, Melodie!
Despite its more objectionable qualities, real value can be found at SXSW Interactive, but seeking it out can be a trial and error process. You have to swim through a sea of lectures on telepresence (?), panels on crowdfunding, outsourcing, crowdsourcing, sourcefunding (I made the last one up, but it's probably a thing), integration, data mining, YouTube racism and a lot of other stuff you don't understand and are kind of afraid to find out about. Should you attend "Eat. Blog. Publish.," "Libraries: The Ultimate Playground," or just try to find someone handing out free breakfast tacos? The number of possible decisions is daunting. I made some poor ones, but here are some highlights of the "good" that went down on Sunday:
THE POLITICOS
Exhibit Hall 5, if you can't tell by the name, is the Austin Convention Center's main stage for SXSW Interactive. It's where Al Gore spoke on Saturday, and it's where MSNBC's Rachel Maddow and data-driven Nostradamus Nate Silver both gave insightful speeches on Sunday.
After introducing herself as Twitter-famous New Jersey mayor Cory Booker, who was giving a speech at the same time in Dell Hall, Maddow promoted her new book, Drift, speaking mostly on the gross misappropriations of defense spending in the U.S. Not surprisingly, she got in plenty of suble and not-so-subtle jabs at pretty much every Republican president since Nixon. Dick Cheney, of course, was not spared, either; both in her book and on stage she begged for a chance to interview him. Maddow also revealed that her favorite thing to do on the Internet is watch vidoes of hedgehogs eating carrots. It was also her 40th birthday. A few people up front sang to her.
Nate Silver took the same stage a few hours later. The statistical wizard garnered press last fall through his confident and often brash assertions that not only would Barack Obama win reelection, but he would do so convincingly. He'd crunched the numbers, and this was what was going to happen. On election night, of course, no one was smiling wider than Silver, whose poll aggregations correctly predicted the results of all 50 states (I'm sure Obama was smiling, too).
Silver's speech at SXSW focused on how data analysis needs to be used in a way that is actaully beneficial to the world and not just for predicting election outcomes or winning fantasy baseball leagues. It's a challgenge far greater than we even realize, though, as Silver pointed out, and in many ways data is working against us. The more widely information is proliferated, the more conflict ensues, which both Silver's numbers and history prove. He pointed out that after the printing press was invented in 1450 and literature became readily available, the 1500s were Europe's bloodiest and most war-torn century. For a more recent example, Silver pointed out how House republicans and democrats are farther apart than ever before. According the his metrics, the vast divergence began to take shape in earnest 30 years ago, right around the time when CNN was founded. The split widened further in the early '00s, when Fox News and MSNBC started to gain popularity.
Is it wrong to have kind of wanted to attend a conversation with Matthew McConaughey on the other side of the convention center instad of listening to Silver? It doesn't matter because the room reached capacity before I could even think about it. Photog James Joiner was able to sneak in. Here's a picture of McConaughey with his shirt on:
AMBITIOUS TECH STUFF WITH AIRBNB CEO BRIAN CHESKY
Airbnb CEO Brain Chesky was the subject of a conversation held in the gold standard of generic hotel ballrooms at the Hilton. Chesky is the kind of prolific, forward-thinking Silicon Valley entrepreneur that can make you feel especially worthless for not doing more with your life and inspired at the same time. He approaches concepts like design, functionality and consumer needs from an innovative, outside-the-box perspective a la Steve Jobs, whom he referenced several times throughout the conversation.
FUN FACT: He funded Airbnb by selling a cereal he and his partner Joe Gebbia developed called Obama Os. Selling the cereal at $40 a box, they made $30,000 and eventually landed an interview with potential investor Paul Graham. Chesky was determined to distance himself from the cereal, though, and insisted on not bringing it up in the interview. Gebbia snuck in a box of Obama Os just in case, and when it was clear Graham wasn't interested in the idea, Gebbia took the box out and gave it to them
"What's this?" Graham said.
"Obama Os. This is how we funded the company."
This is what sold Graham. "In an investment nuclear winter," Chesky explained, "You look for people who aren't going to die. You look for the cockroaches." If they could make 30 grand to fund a company by selling novelty cereal for $40 a box, Graham reasoned, they were worth paying attention to. More words of wisdom from Paul Graham that helped guide Airbnb: "It's better to have 100 people love you than a million people that really like you."
FUN FACT 2: Chesky has been homeless since founding Airbnb. He only lives in places put up for rent on the site.
AMAZING FACT: The prince of Liechtenstein jokingly put his entire country up for rent on Airbnb for $70,000 a night but took it down when Snoop Dogg tried to rent it for a music video shoot.
JEFFREY TAMBOR SAVES LIVES
I feel slightly ashamed that I only know Jeffrey Tambor from his role as Geroge Bluth on Arrested Development. I'm certainly not in the minority on this, though, which means I couldn't have been the only one in attendance at Jeffrey Tambor's Acting Workshop who expected Arrested Development-style hilary. I couldn't have been more wrong. It was a very serious, very passionate study of the craft of acting, and was also infinitely more rewarding than I could have ever expected. Tambor was funny because Tambor is a funny person, but the takeaway was far greater than a few laughs.
The workshop centered around Tambor guiding a male and female actor he'd never met before through a reading of a Harold Pinter scene about betrayal. It took a few minutes for both the audience and the two actors to realize just how serious Tambor was about the process. He even reprimanded the male actor for continually trying to make funny remarks. Once it was clear to everyone just how passionate Tambor was about the craft of acting, the life of the actor and bringing out the art inherent in it all, the workshop took off and he had both the audience and actors the in palm of his hand for the next hour plus. He was almost alarmingly comfortable on stage, continually interrupting the actors' reading of the scene whenever he felt like it to tell stories and to give the actors notes. "Alright STOP…Now you're drunk…Now do it in a French accent…Now start jumping up and down…Start laughing…Where are your people from?…Do you know how damn sexy you are? Be that! Let loose! Do the unexpected!" It was awe-inspiring. He was like a hands-on orchestra maestro pushing and pulling and kneading the actors into their true selves…or a hopped-up tent preacher exercising the demons of restraint from his subjects. He stripped them of all their inhibitions, all of their precoceived notions, all of their insecurites. He broke them down piece by piece and built them back up again. He was bombastic and brutally, brutally, brutally honest in his criticism and praise. It's hard to convey in words just how powerful this experience was, what Tambor was able to do to these actors and what he made them realize about themselves, their craft, their career, and what it takes to make ART as an actor.
Standing ovations have, to a large degree, been cheapened by overuse. People see them as a perfunctory obligation after an enjoyable show. Applause is always polite, but to be compelled to stand up and applaud at someone should be the result of a peformance having a deep, vierscal impact, to the point where you can't HELP but stand up and show your appreciation. What Tambor received at the end of his workshop was a genuine standing ovation. As someone who had only seen him as the conniving patriarch of the Bluth family, I was taken aback.
Lastly, here is a picture of a guinea hen, which you can spot running wild throughout the streets of Austin, if you're lucky. I also saw my first pair of Google Glass in the wild, but don't have photographic proof and wasn't nearly as impressed.
Others Tagged With