Top of the Hops: Paste's IPA Challenge - Round 1 Northeast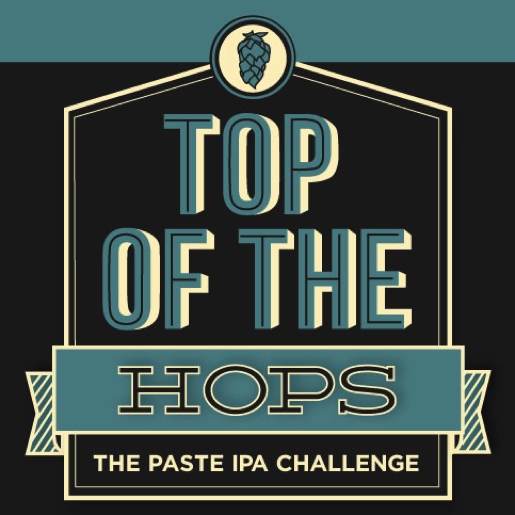 If there's one thing our first eight head-to-head matchups taught us about our IPA Challenge, it's that tasting 16 IPAs in a day amounts to a lot of beer. We also learned that some iconic breweries were going to exit pretty quickly. We tried to avoid massive head-to-heads in the first round, but with blind tasting, a respected name on the bottle doesn't really help.
To avoid any bias, assistant editor Tyler Kane, whose tastes lean more towards sours and stouts, graciously volunteered to handle the pouring so that we didn't even know which two beers we were drinking. First up was Bell's vs. Weyerbacher.
Bell's Two-Hearted Ale vs. Weyerbacher Last Chance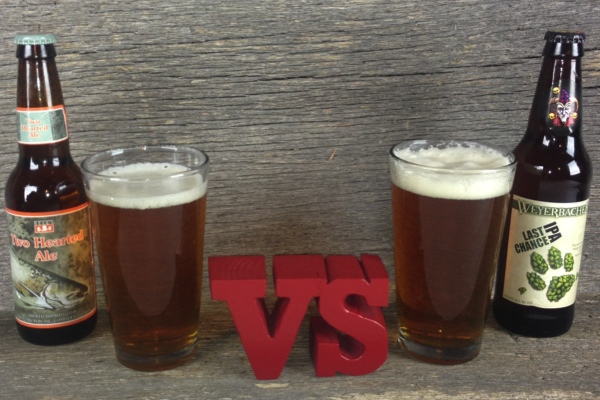 Beer A: Bell's Two Hearted Ale
City: Kalamazoo, Mich.
ABV: 7%
Beer B: Weyerbacher Last Chance
City: Easton, Penn.
ABV: 5.9%
Weyerbacher has become one of our favorite breweries out of the Northeast, but that's due more to dark, malty beers like the Quad and Blasphemy than its IPA. And going against Bell's in round one was like a pitting some tiny directional school against North Carolina in hoops. There was to be no Cinderella story here as Two Hearted (floral, clean and crisp) was the day's only unanimous winner and an early favorite to go far. The Last Chance had an unpleasant aftertaste in comparison to the hoppy-but-smooth IPA from Bell's.
Bell's Two Hearted Ale wins 7-0
Brooklyn East India Pale Ale vs. Smuttynose Finestkind IPA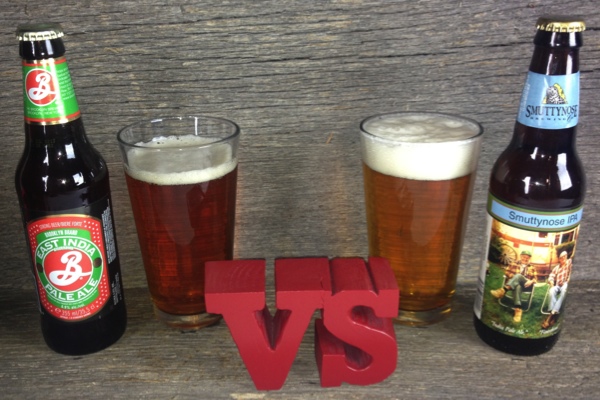 Beer A: Brooklyn East India Pale Ale
City: Brooklyn, N.Y.
ABV: 6.9%
Beer B: Smuttynose Finestkind IPA
City: Portsmouth, N.H.
ABV: 6.9%
I was in the minority picking Brooklyn's IPA over Finestkind. It was the most unusual of the first four beers we tasted, but I loved the rich, buttery flavor. The Smuttynose stood out on the strength of the hops, luring the biggest Hop Heads among the other judges. I feel like I was the real winner here. With Brooklyn out of the race, I've been free to drink the remaining stash this week.
Smuttynose wins 5-2
Dogfish Head 60 Minute IPA vs. Harpoon IPA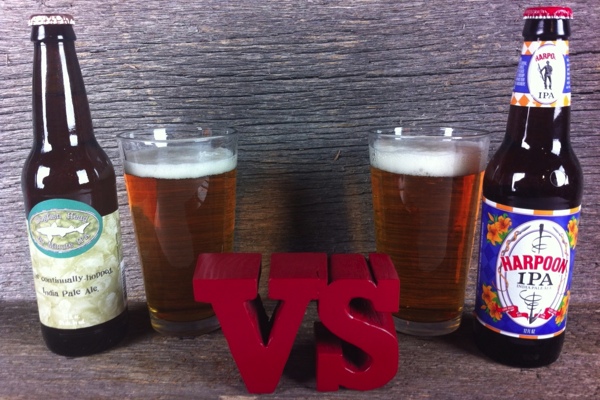 Beer A: Dogfish Head 60 Minute IPA
City: Milton, Del.
ABV: 6%
Beer B: Harpoon IPA
City: Boston
ABV: 5.9%
Dogfish Head is an early tournament favorite and didn't disappoint in Round 1. While the 90 Minute is special and the 120 Minute is something you really should taste before you die, the 60 Minute is the brewery's workhorse. The Harpoon is a solid, straight-down-the-middle IPA, but it was fairly meek compared with the more complex Dogfish Head, which smacks you on the nose as soon as you raise the glass. The Delaware Brewery will face a tough test in Round Two, though.
Dogfish Head 60 Minute wins 5-2
Founder's Centennial IPA vs. Peak Organic IPA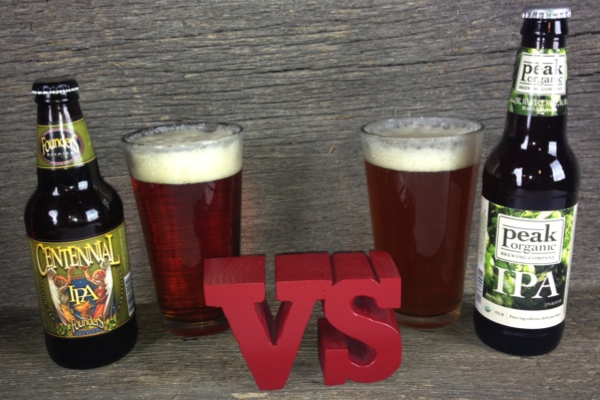 Beer A: Founder's Centennial IPA
City: Grand Rapids, Mich.
ABV: 7.2%
Beer B: Peak Organic IPA
City: Portland, Maine
ABV: 7.1%
Peak Organic is a very good beer—crisp, clean and a solid example of an IPA. But it got stuck with one of the toughest draws in Round One. Founder's knocked me—and several other judges—out with its rich, hearty flavor. The Michigan brewery made the biggest impression out of this first batch of 16.
Founder's Centennial IPA wins 6-1
Southern Tier IPA vs. New Holland Mad Hatter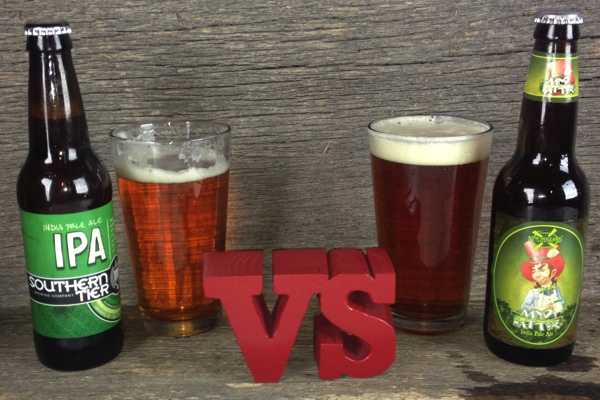 Beer A: Southern Tier IPA
City: Lakewood, N.Y.
ABV: 7.3%
Beer B: New Holland Mad Hatter
City: Holland, Mich.
ABV: 5.25%
I fell in love with New Holland Brewing Company when it began distributing Dragon's Milk to Georgia last fall. But the Mad Hatter—which brands itself for "Hop Heads Only Please!"—tasted off-balanced, even for an IPA. The Southern Tier, on the other hand, seemed to be shooting for the center of the East Coast IPA bullseye with a "triple hopped" ale whose edges were rounded by tasty malts.
Southern Tier IPA wins 5-2
Schmaltz He'brew Hop Manna vs. Blue Point Hoptical Illusion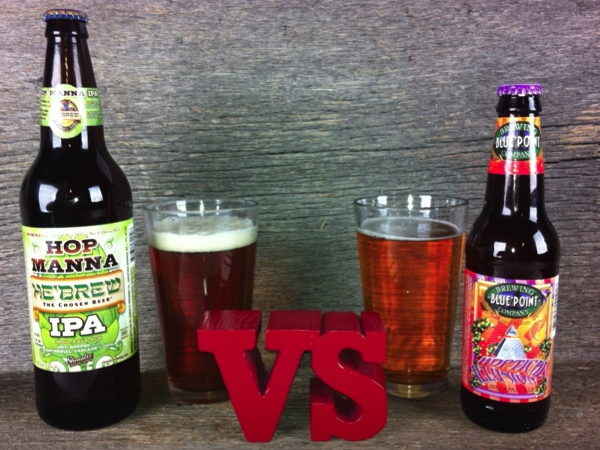 Beer A: Schmaltz He'brew Hop Manna
City: Saratoga Springs, N.Y.
ABV: 6.8%
Beer B: Blue Point Hoptical Illusion
City: Patchogue, N.Y.
ABV: 6.8%
It's Long Island vs. Upstate New York in a battle of two solid, very similar 6.8% beers in a match-up that had almost none of the judges declaring a clear winner. Both beers had a bit of a spicy kick, but in the end He'brew was indeed the Chosen Beer.
Schmaltz He'brew Hop Manna wins 4-3
Lakefront IPA vs. Sixpoint Bengali Tiger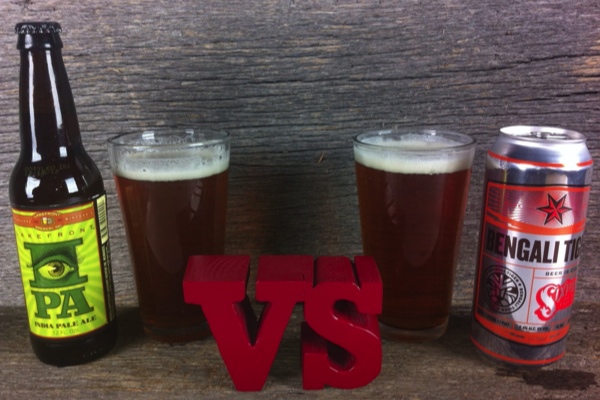 Beer A: Lakefront IPA
City: Milwaukee, Wisc.
ABV: 7%
Beer B: Sixpoint Bengali Tiger
City: Brooklyn
ABV: 6.4%
Both Sixpoint and Lakefront believe in balancing generous hops with a solid foundation of malts. But where the Bengali veers towards flowers and honey, the Lakefront heads in a more citrus-y direction. I thought the Tiger was winning, but my vote wasn't enough.
Lakefront IPA wins 4-3
Victory HopDevil vs. Short's Huma Lupa Licious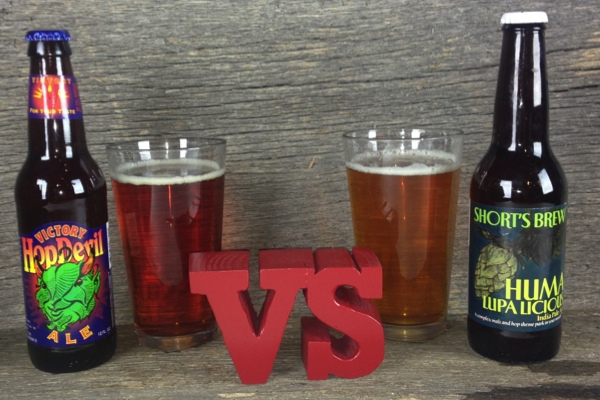 Beer A: Victory HopDevil
City: Downingtown, Pa.
ABV: 6.7%
Beer B: Short's Huma Lupa Licious
City: Bellaire, Mich.
ABV: 6.8%
The biggest upset of the region saw an early exit for beer that we all thought had Final Four potential. But we underestimated Short's Brewing Co.—the prince of Bellaire, Mich. It was our last pairing of the day, but neither Short's nor Victory had any problem making an impact on our tired tastebuds. I cast my vote for Victory, but it wasn't enough for the…ahem…victory.
Short's Huma Lupa Licious wins 4-3
This round's judges were Nick Purdy, Josh Jackson, Bonnie Stiernberg, Sean Doyle, Dacey Orr, Logan Lockner and Randall Smith, who also carved the wooden "VS." Check back tomorrow for results from the Northwest.
Here are the results from the Northeast. Click to enlarge:
Others Tagged With