Allison Weiss: Say What You Mean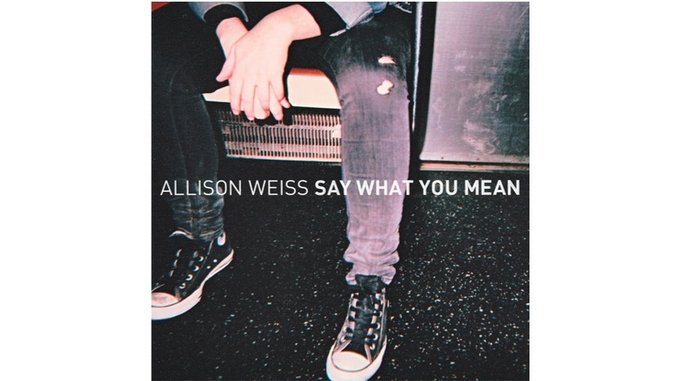 Allison Weiss got her big break by leveraging the power of the Internet for self-promotion and successfully using Kickstarter to fund her first full-length album, Was Right All Along, which was mostly made up of your standard guitar-and-drum pop songs and sentimental acoustic ballads characteristic of the majority of indie-rock singer/songwriters, meaning the album didn't really do much to demonstrate Weiss' unique personality.
Since then, she's signed to No Sleep Records, and now, on her first release for the popular punk/emo label, she's begun to embrace her pop-punk influences more overtly to craft a record that succeeds by coupling its infectious melodies with a few pointed words and a lot of feelings.
Following in the footsteps of the pop-punk-tinged indie rock of earlier Tegan and Sara records, Weiss sets herself apart from many of her contemporaries (and her earlier material) on Say What You Mean by adding more energy, greater diversity and sleeker production that includes incorporating a variety of instruments into the album that allow Weiss and producer Chris Kuffner to create elaborate songs with intricate arrangements.
The album's opening track, "Making It Up," begins with some bouncy power chords over a brusque bass line, before launching into its big, bold chorus and introducing a catchy synthesizer that adds a distinguishing mark to an otherwise pretty standard pop-rock song. These little flourishes appear elsewhere on the album, such as the upbeat fifth track, "How to Be Alone," where she utilizes layered background vocals, synthesizers, a banjo and even a glockenspiel. These nuances really help each track feel more like a fleshed out, complete idea—particularly the lush string arrangement on the folksy acoustic ballad "Wait for Me" that establishes a heartfelt, sentimental tone to match the lyrics of longing and regret.
And one of the more impressive things about Say What You Mean is Weiss' ability to stretch her songwriting to give each track its own distinct vibe that keeps the album fresh over multiple listens. Without straying too far from basic pop songwriting tropes, Weiss covers an impressive amount of ground on this album. While the first half sticks mostly to standard pop-rock/pop-punk songs, the latter portion adds a little more variety with songs like the aforementioned country-inspired "Wait for Me" or the more aggressive rocker "Hole in Your Heart." Neither of these feel terribly out of place or even unexpected, but they do help make the whole listening experience dynamic and interesting.
However, Weiss' real skill is in her ability to sufficiently articulate the angst and restlessness of the modern 20-something, especially in the wake of a broken relationship, since pretty much all of these songs are about heartbreak in one way or another. On Say What You Mean, Weiss expertly displays the urgency and emotion that can really only be captured by a young artist bent on being earnest and open with her audience (someone who wants to say what she means, if you will). It takes real talent to be able to put a voice to such a disparate collection of anxieties, but she succeeds more often than not.
For instance, on "Wait for Me," Weiss' narrator is "praying for patience" and flip-flops between feelings of wanting to get out and have an adventure ("I forgot what it felt like to feel so alive"), but wanting the person (or people) she's leaving to wait for her, as well, an idea that pretty much sums up the basic plight of bored young adults everywhere. As a final statement of reassurance, the album ends with the somber acoustic track "I'll Be Okay," where Weiss sings, "I'm stuck in this place/I kinda don't mind it/but I'm losing my mind." But then, almost acting as the spokesperson for a generation, Weiss takes a bold leap toward maturation by singing, "It's time to grow up/Face the choices you make," before ending the song by repeating "I'll be okay" over and over again.
Others Tagged With