Archer Review: "Sea Tunt: Part II" (Episode 4.13)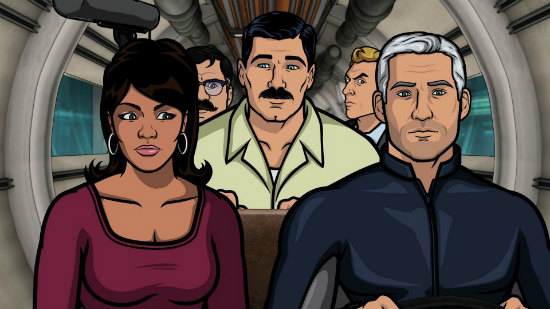 If one were to dissect both episodes of the "Sea Tunt" series from the scope of the entire fourth season, it would arguably be one of the better story arcs that Archer has done. But unfortunately, "Sea Tunt Part II" comes at the end of a fairly tumultuous fourth season for Archer, where ideas have sprung up without any payoff, leaving plenty of beginnings with no endings.
I am primarily talking about the lack of Barry and Katya, who were hinted at having a larger presence this season at the very beginning, showing up in stories where they didn't even really make sense, almost guaranteeing a conclusion based around them. But as "Sea Tunt" and the fourth season of Archer came to a close, this arc didn't receive any sort of conclusion or even acknowledgment, in what seems like a fairly poor move.
That being said, "Sea Tunt" is one of the better episodes of Archer's fourth season. As usual, the writing and editing are killer and some great guest performances from Eugene Mirman, Kristen Schaal and a fantastic Jon Hamm add to the already amazing Archer cast. I was also slightly worried that I wouldn't laugh as much at this episode as I did the first part, being that this is a clear Sealab 2021 homage. Yet I found plenty of humor throughout the episode and never felt like the Sealab references overwhelmed the episode, much in the way that "Fugues and Riffs" wasn't overloaded with Bob's Burgers references.
"Sea Tunt: Part II" also does two things I've missed throughout this season: set up a definite plotline that will clearly be addressed in future episodes, and have Archer care about the rest of the team.
The big twist of season four is that Lana is pregnant. Besides the fact that this will clearly interfere with her job, it also raises plenty of great questions to be addressed in the fifth season. We learn that the child is not Cyril's but that it was created with donor sperm. Who wants to bet that the donor is someone we know? (My hope is for a Krieger/Lana baby.) It'll also be interesting to see how this works with Lana's less-than-enthusiastic take on ISIS lately, especially since this episode once again shows the ineffectiveness of the agency. Also, we see an incredibly aggressive and pissed-off Cyril. Making Cyril the biggest douche of the office should be a unique direction.
Speaking of big douches, the other thing that "Sea Tunt: Part II" does so well is show the humanity of Archer. Sterling may be a self-absorbed prick, but when it comes to the safety of the rest of the ISIS team, Archer is willing to literally die for a few minutes to save the lives of Cyril, Ray, Lana and her child. It's this compassion for the rest of his team that makes Archer a great character, and seeing the look in his eyes when Lana announces she's pregnant, Archer clearly loves this group more than he puts on.
"Sea Tunt: Part II" is a strong conclusion for a season that has been all over the place. However, with all the unexpected emotion and great humor, it also does make glaringly clear how fantastic this season could have been with a little more of a steady plotline. That being said, "Sea Tunt" sets up what should be a much more cohesive fifth season overall that will hopefully fix many of the problems this season has had.