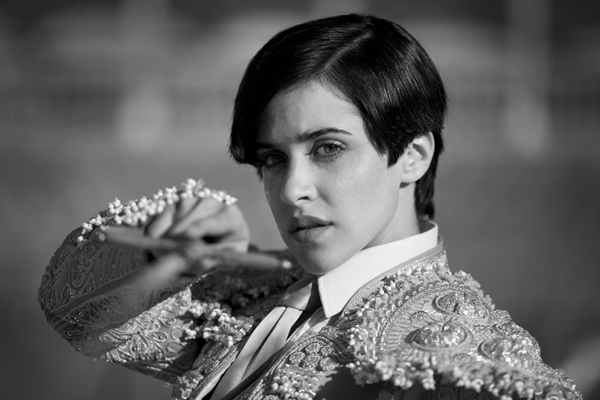 As enjoyable as it was before, powered by the Weinstein awards machine, it started barreling toward the Oscars, The Artist was a little obvious, wasn't it? A black-and-white silent movie about … a black-and-white silent movie star? The greater challenge is to make a black-and-white silent that isn't meta but is still relevant in the 21st century. Pablo Berger's exquisite Blancanieves is that film.
With a heroine with snow-white skin, blood-red lips and ebony-black hair who pals around with, er, six bullfighting dwarves, Blancanieves—literally, "Snow White"—is an inspired adaptation of the Brothers Grimm fairy tale set in 1920s Seville. Antonio Villalta (Daniel Giménez Cacho) is on top of the world—a famed matador with a gorgeous flamenco star for a wife and a child on the way. But in a scene of excruciating tension leading up to an awful attack, he's wounded and paralyzed by a bull. While he's in surgery, his wife dies ignominiously giving birth.
Grief-stricken, Antonio can't bear to even look at his daughter, but when her guardian dies, Carmencita (the luminous Sofía Oria) goes to live with her depressed father and his opportunistic new wife in their sprawling country estate. An evil stepmother if there ever was one, Encarna (Maribel Verdú) isolates her husband and enslaves Carmencita as she engages in lavish shopping excursions and kinky sex games. Father and daughter meet and bond in secret, though, and he teaches her his trade.
Finally, when Carmen (the stunning Macarena García) comes of age, Encarna drives her out. Rescued by a half-dozen mini matadors, she joins their act and achieves her destiny—only to draw the attention of the vindictive Encarna.
Obviously, there are limitations to the form. Sans dialogue and with limited title cards, it's not immediately clear that Carmen has suffered from amnesia when she's discovered by the dwarves. (And why one of them takes such a particular dislike to her is puzzling.)
But Berger's arresting visuals provoke a truer emotional response than any rousing climactic monologue. His close-up camera caresses his actors—as Norma Desmond says in Sunset Blvd., "We didn't need dialogue. We had faces." And what beautiful faces they are. Meanwhile, steep camera angles emphasize religious iconography and celebrity alike, and editor Fernando Franco wittily uses imagery to transition between scenes.
The pièce de résistance in Blancanieves, though, is Alfonso de Vilallonga's clever score, as expressive of the story as Tchaikovsky's Swan Lake. The soundtrack not only develops character motifs, assigning each a particular set of instruments (flute for Carmencita, trombones for the dwarves), but doubles as the film's sound effects, using clanging bells to announce the presence of Carmencita's agitated pet chicken. A flamenco record on the gramophone bursts forth with the voice of Antonio's dead wife, and stretches of percussive clapping not only represent the applause of an appreciative audience but build tension in scenes and in the viewer.
It should be obvious by now that Berger's adaptation of Snow White takes plenty of poetic license, and that's no less true of this fairy tale's ending. By turns delightful and disturbing, Blancanieves, which was Spain's entry to this year's Academy Awards and swept the Goyas, is a visual feast, a musical masterpiece and a heartbreaking romance.
Director: Pablo Berger
Writer: Pablo Berger
Starring: Maribel Verdú, Daniel Giménez Cacho, Ángela Molina, Pere Ponce, Macarena García, Sofía Oria, José María Pou, Inma Cuesta, Ramón Barea, Emilio Gavira, Sergio Dorado
Release Date: Mar. 15, 2013
Others Tagged With