Born Ruffians: Birthmarks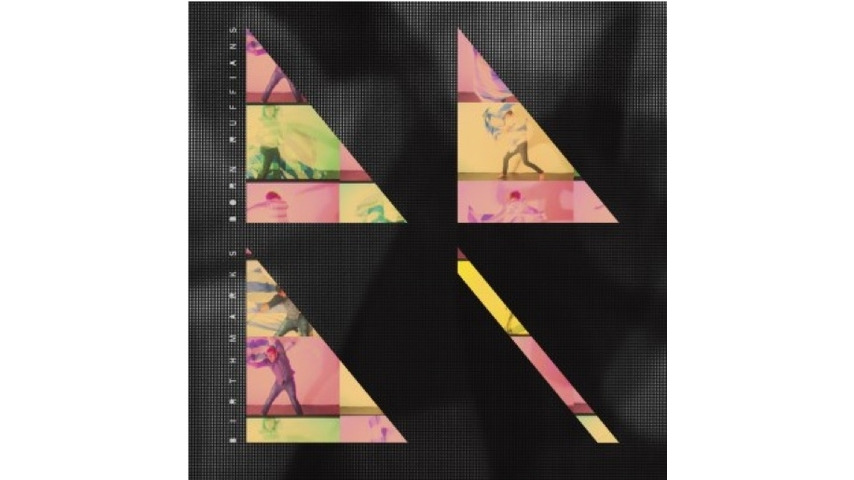 Luke Lalonde is an artist in his mid-20s, and it's confusing! Maybe it's because I'm also in my mid-20s. Maybe it's because I spend a lot of my time reading Things On The Internet. Maybe it's because I'm a bipolar barista in North Brooklyn by day and fancy myself a writer by trade. (Definitely because I am narcissist.) But I get what he says and applaud the way he says it. He's not whining, he's winking. With Birthmarks, Born Ruffians bring us a deeply personal album discussing all the delicious, masturbatory parts of Puberty Part II (the transition from "not adult" to "kinda adult"). There are all the unsavory various shades of grey as well—of course—but hand-tossed with sincere joviality.
Screwball dating tactics play a central theme through the album. "Cold Pop"'s freezing-rain guitar drips to quench an animalistic thirst. Both "Permanent Hesitation" ("Is it cheating if I call you sweetheart? / Is it cheating if you call me your man? / I'm receiving wayward glances from your wondering eye / And pretending not to know you're there") and "Ocean's Deep" ("You said you can take it / When they break your sufferin' heart / And they seem to believe it / When you say you're holding strong / I guess that's what they call moving on") stress the importance of playing it cool—whatever that means—to a dancey pulse. Then of course there's The Bad Idea Person, this time in the form of "With Her Shadow," ("She always liked her shadow more than her reflection / It's a better understanding") complete with a falsely comforting Paul Simon vibe.
Let's pull "Cold Pop" aside for a second. Because it's steamy and hot, so you better drop and expect it before you scorch those paws. "I've got nothing but lust for you / I want you / That's if you want me, too," Lalonde sings. It's a little contradictory, but not really. More than anything else, it's a glimmer of boyish innocence—an inexperienced stab at a "casual sex pal relationship" (a real term I definitely didn't just make up). Neither party can let on to a hidden pursuit because that isn't "chill." You gotta be chill, kid, even if it's a poorly veiled attempt—at one point Lalonde notes her nerves and effort: "Now you're shaking slow / Lipstick and eyeshadow." But that doesn't slow anything down… "As I go below / Feel flow / Let's go." Then the band bursts into a harmony I could liken only to the fantasy Carefree Island's premier choir. ("Orgasm"?)
Then there's all the less sexy stuff. Like all "Golden Promises" covers. The beginning pools out like a Disney lullaby: "There was a promise to be good / When did that sunlight turn to gold? / When I'm halfway around the sun / With a hash pipe and a machine gun / Oh lord shoot me / Oh lord shoot me." You know, child-rearing in the late '80s and early '90s very much favored the YOU'RE SPECIAL! approach (remember?). Eventually all the bottom-patting diminished. I think that starts the first time—like a tiny drunk person guiding a tiny bicycle—you, on your own bike, turn around and don't see your dad hunched behind you, squat-running. (In my case, I responded by steering into a neighbor's mailbox.) Life focus shifts to "winning," "the gold." Stay on the bike. Bike to the tippy top of Suicide Hill. Get into a good college. Stop running into all those mailboxes. Study. Jobs are things. The pressure tamps tighter when we create unrealistic expectations and grow blue when they take too long or don't happen. Suddenly you're threatening diamond-creating circumstances. And really, why? It's all trivial in "the end."
I recently made a hilarious-to-me comment while filling a mug with hot water at the coffee shop. Across the counter a baby girl erupted at random in a symphony of sobs. I raised my eyebrow to the woman cradling her and jokingly scolded, "Now why did you go and warn her about her mid-20s like that?" The only ensuing laugh came from me and it was of the nervous variety.
Everyone is tired of reading/hearing/-DANG-writing about this mememe, tumultuous chunk of age. Including me, and probably you. But that doesn't mean it doesn't still suck. And it definitely doesn't mean that Birthmarks didn't find a way to rephrase it in a way that tears the first word from the phrase "pity party," leaving and glorifying the second with this solid release. Because they did and they do.
Here's to the next decade. Right, gang? Pass the $6 champagne. And tip your barista.
Others Tagged With