Catching Up With Mary Gauthier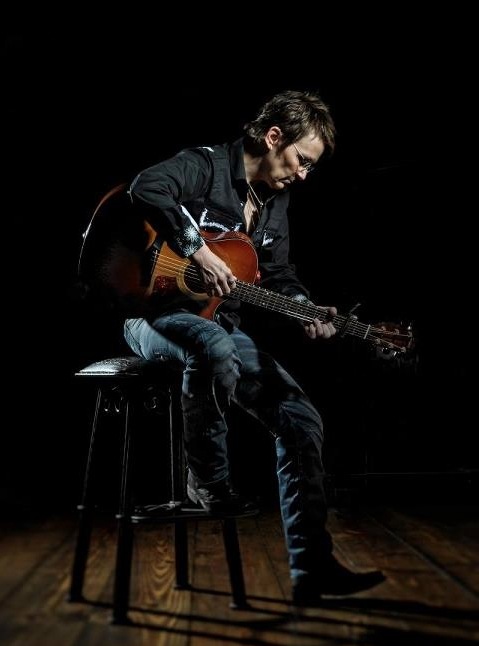 Song by song and mile by mile, Mary Gauthier has spent the last dozen or so years building a hard-earned reputation as one of the best singer/songwriters on the circuit today. As an entertainer and weaver of songs and stories, she is an artist in the tradition of Woody Guthrie and Bob Dylan, who sings of losers that sometimes win and of situations where the hurting's real and rescue isn't always possible. As someone who wrote her first song well into her 30s, Mary Gauthier is the exception to F. Scott Fitzgerald's assertion that there are no second acts in American life as over the years, her warts-and-all portrayals of scenes from the underside of the American dream have attracted a growing number of fans that include Tom Waits, Bonnie Raitt and Robert Plant. Mary Gauthier's songs have been recorded by Boy George, Jimmy Buffett and Tim McGraw to name a few, but those who have heard her perform live—whether at a small club or opening for Willie Nelson at a big stadium show—know that there's nothing like hearing her sing them herself.
Paste recently caught up with Mary at her home in Nashville where she was recovering from yet another tour that took her to Europe and the east coast of Canada in support of her new Live at Blue Rock CD. The unaccustomed down time gave her the opportunity to reflect on events of the last year of her life that included parting ways with her longtime manager, going fully independent as an artist and taking control of all aspects of her career. When we spoke, she still sounded elated from playing a tribute concert for the legendary country producer Cowboy Jack Clement that also featured John Prine, Kris Kristofferson, Bono and the First Lady, Michelle Obama.
Paste: I just finished watching a video of you singing at the Cowboy Jack Clement tribute last night. He was such a great producer and a legendary figure, so I wasn't surprised that so many artists came out to celebrate his work, but what struck me when I was watching the footage is how happy and comfortable you looked up on that stage surrounded by all of those great artists. You looked like you were having the time of your life.
Mary Gauthier: It was a joyful, joyful night. I've had a year of being welcomed by my peers, which included some of those amazing artists on that bill. I was beaming. When you see validation for a life's work and dedication, it's a beautiful day. I had a great day.
Paste: It hasn't always been so great, has it? I know that you've made a lot of changes recently. You've left your manager and you're a free agent now.
Gauthier: It turns out that was a good thing. At the beginning, it was rough. But when I decided to go full indie and get rid of everyone who was commissioning me, I started to take control of my career personally. Since then, despite a few bumps, every day has been more joyful than the day before.
Paste: It's a big decision to go out on your own at this stage of your career.
Gauthier: It was what I had envisioned all along—to run it up the flagpole of the music industry and then at some point take my business back because I'm a natural entrepreneur.
Paste: Your career hasn't been typical in any way. You started into music late—it wasn't an outgrowth of teen rebellion or a childhood spent taking guitar lessons.
Gauthier: I wrote my first song when I was 35, after I'd been sober for five years, and I dedicated my life to music at 40. I had always wanted to be a songwriter, but I had a drug and alcohol problem that I had to deal with first. I couldn't finish anything. I had to learn how to become still and finish things. That took me a while because I was nearly dead from drug and alcohol abuse. I had to learn to put sentences together. When I first got sober, I hadn't read anything for six or seven years. I didn't have even that much focus.
Paste: What turned the tide for you? Did you simply wake up one day and know you'd had enough?
Gauthier: I woke up one day in jail and it was enough. It was a kind of spiritual awakening to say the least, and I saw myself for what I had become. I was determined not to die that way, so it began a long process of recovery of which I'm still in.
Paste: Your story is a lot different than that of many other artists who fell into their addictions as a side effect of indulging in the rock and roll lifestyle. Do you feel that you avoided a certain amount of pitfalls by beginning your musical career as a more mature person who had already overcome her addictions?
Gauthier: I feel as though I came to music with something to say. It wasn't like that when I was younger. I didn't have the ability to articulate what it was I wanted to say. As an addict, I didn't have much to say except for "this is painful." None of it was a fun or a big happy party for me. I was using drugs and alcohol to medicate myself because of the pain I was in. When I got sober I had to learn to deal with the pain instead of medicating, and that has been one of the compelling reasons why I come back to songwriting. Songwriting is my medicine now; it used to be heroin and alcohol. Songwriting, traveling the world and connecting with folks in a way that matters to me is what gets me through.
Paste: With song titles like "I Drink" and "Drag Queens and Limousines" you're not writing easy-listening music for people to enjoy while they're shopping. Do you have an idea of who is in your audience? Do you write for anybody specific out there or is songwriting a strictly personal journey?
Gauthier: I am writing for beauty and truth and I don't know who the audience is. I never know who the audience is. The audience decides to be an audience; I don't decide that they're going to be an audience. If I write for beauty and truth, the songs will find their way to me. Then, it's the songs that speak to the audience and they can become part of the tribe that is into what I do. If I lose them, it's because I went down another street and they didn't want to go down it and that's a natural part of the process. People come and go. It's a living, breathing thing.
Paste: For people who have never heard your music, can you give them an idea of the kinds of themes and subjects you are drawn to when you write songs? What should people expect when they hear Mary Gauthier sing?
Gauthier: Well, I'm a storyteller at heart, so fundamentally I'm looking for great stories to sing. A great story usually involves a situation where some character is in trouble and we don't know if they're going to make it. Those are the stories I'm drawn to and understand. Those are the stories that have been my life. I'm sure there were a lot of people who looked at me over the years and wondered if I was going to make it. A good story usually has a redemption moment. What is so compelling to me in that is how we find our redemption. I tend to not write pop songs and write about characters that you would probably find in a Raymond Carver or Flannery O'Connor short story. People call it Southern gothic.
Paste: When you begin writing one of your songs, do you know how it's going to turn out? Do you know if your subject is going to "make it"?
Gauthier: I'm going through the journey as I'm writing—just like Flannery O'Connor did. The story tells you what it wants to say; you don't tell it. My process of discovery involves creating, but I'm more looking for something that's already there.
Paste: You've been doing this for quite a while now. Has it become easier to surrender to the songwriting process as time goes on, or is it something you try to consciously control?
Gauthier: When I write, I surrender totally. But, actually I think oftentimes we go the other way as we age, and the young writers tend to have a greater sense of surrender. Old writers tend to struggle with the "daddy knows best" bullshit. I think ego is always a struggle especially if you're succeeding at what you do. It's a challenging job. And for an ego that has alcoholism and drug addiction attached to it, it's a really big challenge. It can be a treacherous journey.
Paste: Do you still feel vulnerable when you get up and perform? It doesn't seem as if you hold much of yourself back. How do you do that without drugs or alcohol to insulate you and create a little distance?
Gauthier: If I'm not vulnerable, I'm not doing my job. If I'm not taking risks, I'm nothing more than an oldies act who can only repeat what I've already done. I'd be no longer creating something that is vital. An artist must be vulnerable or she's not an artist.
Paste: We've really been enjoying your new album Live at Blue Rock. Now, industry logic often dictates that live albums are put out to gain a little time or to fulfill a contractual obligation. This one doesn't seem like that's why it was released. It seems designed to show off your greatest strengths as an artist.
Gauthier: I'm a journeyman now. I've put in my 10,000 hours. I've done 12 years of heavy, heavy touring all over the world under any and all situations and conditions. I've reached the point where I'm ready to present a live record because I know that I've done my time. I put out my live album because I was ready as an artist to do so. I have no obligations other than to truth and beauty and to my own self.
Paste: It seems to me that a huge part of your appeal has to be in the stories you tell and the way they weave all of your songs together as a whole in a live setting. Why do you think people react so strongly to stories well into adulthood?
Gauthier: When you listen to a storyteller, your age disappears. Oftentimes I'll look into the eyes of someone in the audience and what I see is a little kid who's saying "tell me a story." I think the need for stories is very, very primal in human beings. Lord knows I love being told stories; they tell me who I am. They give me something to bounce my experience off of so that I can know that I fit into the human race. Because I'm like an old fashioned troubadour, stories are a very important part of what I do. The stories I tell in between the songs are a way of introducing the songs, but they also provide a way of connecting with the audience.
Paste: They're a wonderful bridge between songs, between you and the audience.
Gauthier: Sometimes I have to pull out every trick in the book to connect with an audience, so I have to be vulnerable and know which stories I should tell. And that's taken me 10,000 hours and 12 years on the road to get to. Every story started spontaneously, and I have spun them into vignettes. New ones start all the time and they get built line by line. do have a repertoire now of stories that fit with songs, and I keep these stories on heavy rotation and add new stories as I go along.
Paste: Your last studio album, The Foundling, was an artistic and critical triumph, but I notice that there are only a few of those songs on the live album. The subject matter on that album was so heavy; do you feel that you need a hiatus from performing those songs?
Gauthier: I do need a break from them and I don't sing them often. I needed to make that record for me because I needed to know my own story. It was about adoption, and it was a sad and difficult story of traumatic loss that began on the day I was born. It's a story that we want to rewrite and "Disney-fy." How can you pretend like there was no loss when there was a complete loss of identity and every ancestor you've ever had, your mother and your father? Yes, a new family comes in and yes it's significant that the child can be adopted and love. You can't ever move into freedom if you act like there's been no loss, so that's why I had to write the record.
Paste: It's an amazing record and must have been a heckuva relief to get it out in some ways. Have you been writing new songs or thought about what you'd like to do next?
Gauthier: When you allow yourself to free and experience the emotions of your journey and you get to the other side of the same story, it changes how you feel about it. I had to go through it as a writer and a human being and experience sorrow. I went through the same thing John Lennon did when he wrote the song "Mother." He got to the other side of it; I got to the other side of it. Getting to the other side doesn't change your story, but it can change how you feel about it. It's liberated me. There's a lightness to me that is fantastic now. That lightness came from looking under the bed and staring at the monsters and saying "come and get me" and they came and got me and they didn't beat me, so I'm on the other side of it. I don't know what's going to be next, but it's going to be very different than what I've been through up to this point.
Paste: How exciting.
Gauthier: It really is. Thank you so much for taking the time out to talk to me. I've got two weeks off and then I'm going out to hit the road really hard for the rest of 2013.
Paste: We'll make sure to catch you out there somewhere.
Gauthier: Thanks so much. I look forward to seeing you.
Others Tagged With