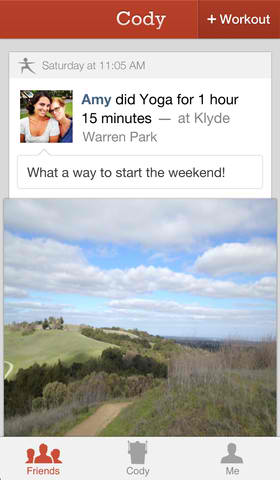 Platform: iOS
Developers: Paul Javid and Pejman Pour-Moezzi (Cody Inc)
Price: Free
Cody is the least intimidating fitness coach you'll ever encounter.
It's a new virtual coaching app that creates a social platform for casual exercisers (people who work out sporadically and don't want to be bothered with—or may be intimidated by—the exercise metrics in other fitness apps). The app has a simple interface and intuitive navigation to make it ideal for less-than-tech-savvy users as well. Founders Javid and Pour-Moezzi created Cody to be a "social-first fitness app" based on the power of community support – that's apparent from the very first glance.
With a cutesy robot smile, Cody walks you through a short "What to expect from me" orientation to get you started. After choosing one (and only one) of the listed fitness goals (lose weight, get toned, focus and destress, or work out more frequently), you are set to create your community and log your workouts. The options for workouts are Gym, CrossFit, Barre, Yoga, Running, Cycling, Walking, Swimming, Hiking and Other. The casual form includes options to list time, distance and notes. You can also add pictures, locations or share on Facebook. The only metric measured is, "How did it go?"
Cody responds to your workouts with words of encouragement and adjusts coaching over time. After I logged my walking, running and swimming workouts, for example, my coaching list included walking and gym workouts, an introduction to CrossFit, and a motivating playlist. Although I appreciated being able to list my half hour of rolling wooden logs (a legitimate workout) under the "Other" category, it made me wonder how well the app adapts. How does Cody gauge at what level of intensity its suggested workouts should be?
At its most basic, Cody functions as a personal exercise journal. Having accountability and visual representation of progress through calendars and various statistics can certainly motivate good habits all on their own. However, the strength of this social app lies in the community of friends you build on it. Friends can like your workouts and cheer you on through positive encouragement (or competitive taunting of course). You can also mention your friends in your workouts. The drawback is that you need to have friends with similar fitness goals and patterns to build a Cody community.
The team behind Cody seem to really understand people who don't consider themselves athletes but still value fitness (as evidenced by its Twitter feed). Despite that, the apps' coaching material still may intimidate its target audience in some ways. For example, you have to scroll to the bottom of exercise-specific content to reach introductory articles and easy workouts. Cody also suggests activities for "rest days" that some users may consider significant workouts. And while the sample workouts can be helpful, they don't always explain each exercise (one had a picture of a "V-up", but I had to google "burpee"). These important details are distracting, but ultimately don't get in the way Cody's ability to build a motivating and fun community that celebrates fitness and good habits for everyone.
Monica Villa is a writer and lover of all things science. Her adventures in the Portland, OR area involve running mossy trails, volunteering, and working her way through delicious eats and drinks. Follow her on Twitter at @iraisbloom.
Others Tagged With