Introducing Facebook Home: A People-Centric, Android-Powered Mobile OS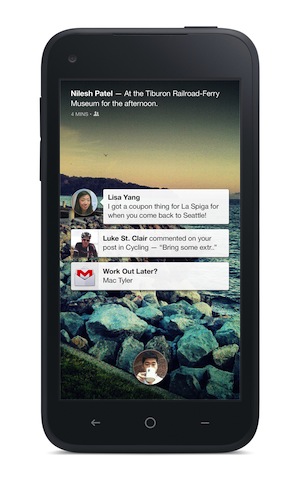 It's not a Facebook phone, but at this point it might as well be.
Facebook, in conjunction with smartphone-maker HTC, wireless service provider AT&T and Android, launched a mobile OS of its own called Facebook Home.
Facebook Home, simply put, is a social-networking-focused, Android-powered mobile operating system, that is, for now, only for Android phones. One of these eligible phones happens to be made by HTC.
HTC introduced its newest smartphone today as well. The HTC First is billed as "the first and only smartphone built to feature Facebook Home," according to an HTC press release.
Facebook Home itself comes with four distinctive features. (If you get the HTC First, the fifth feature is that HTC First is the only phone that comes pre-loaded with Instagram.)
The four main features of Facebook Home are the Cover Feed, Notifications, Chat Heads and the App Launcher.
The Cover Feed, according to Facebook's press release, replaces your phone's home and lock screens. So every time you turn on your phone, you're automatically immersed in your friends' and family's updates.
Facebook Home's Notifications feature shows you your Facebook notifications alongside your friends' profile pictures. This is notable because it's part of Facebook's push to create a new mobile experience that is people-focused, not app-centric.
The Chat Heads feature boasts the ability to allow you to chat with your friends while using other apps. It's called "Chat Heads" because every message you receive comes with a mini circular photo of the friend who messaged you. Chat Heads also combines both Facebook messages and SMS text messages, since SMS is already integrated into Facebook Messenger.
The App Launcher essentially contains all of your favorite apps and allows you to post a photo or status update to Facebook from it as well.
Beginning April 12, the HTC First will be available for purchase exclusively from AT&T. Other Android phone users can download Facebook Home onto their devices that same day.
You can see how to use Facebook Home's Cover Feed, Notifications and Chat Heads in the 20-second videos below.
How to Use Cover Feed on Facebook Home
How to Use Facebook Home's Notifications (On an HTC First)
How to Use Chat Heads on Facebook Home
Got news tips for Paste? Email news@pastemagazine.com.
Others Tagged With