Pharrell: Places And Spaces I've Been by Pharrell Williams
Earth To Space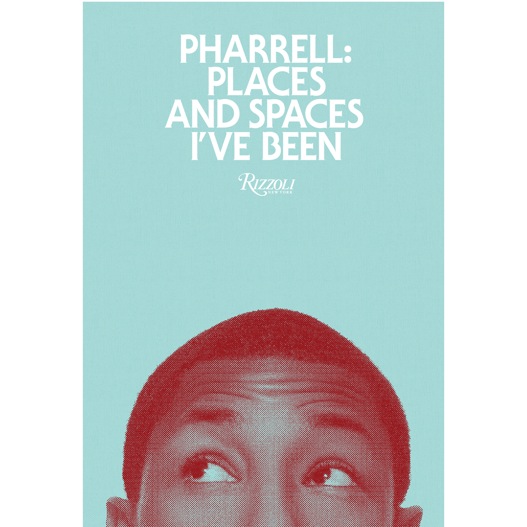 What do Buzz Aldrin, an astronaut famous for walking on the moon, and the musician Pharrell Williams, famous for his work as a member of the production group the Neptunes, have in common?
This sounds like the start of a bad joke. . . with a possible punch line about planets. But in Pharrell's elastic, self-referential and occasionally random new book, readers find out that Aldrin and the author share some interests. Aldrin once "did a rap song, sort of," getting the rappers "Snoop Dogg and Talib Kweli to help with the beat and the music."
Oh, and Pharrell loves outer space.
Pharrell's best-known (and best) work comes from his days in the Neptunes, a production group he formed that ruled the charts in the early '00s. (Only the producer Timbaland might have given the group a run for its money.) Adept at working with stars in rap, pop and R&B, the versatile Neptunes produced songs like Britney Spears' "I'm A Slave 4 U," and also helped the rap group Clipse put together a debut album of tough, cocaine-story hip-hop.
The sound of Neptunes productions can be described as technological-funk-minimalism, a descendant of Prince's pioneering work in that field. Songs the group produced, like Jay-Z's "I Wanna Love U," Snoop Dogg's "Beautiful," Justin Timberlake's "Senorita" and Nelly's "Hot In Herre," all share the same smoothly blurping funk backbone—a short, jabbing rhythm usually played electronically.
The Neptunes also like using weird, unusual sounds. Their hit "Drop It Like It's Hot" amounts to not much more than Snoop Dogg rapping over an assortment of slinking percussive noises, one of which might be made by someone mouthing a click into the microphone. "Grindin'" features Clipse on top of a sequence of drums and finger snaps, with the occasional addition of a weird, hollow, keening scooting over the beat. Kelis's "Milkshake" coheres around industrial whirring and strange "la-las."
If you aren't into the radio-friendly fun, the Neptunes also put together darker songs, including a series of threateningly bare, cracking beats for Clipse's second album. (Though even that album showed their slippery qualities, sneaking in "Nightmares," basically a bluesy, organ-driven soul tune.)
Pharrell's work with the Neptunes demonstrates his malleability and flexibility. He easily operates in different worlds and sounds.
Such success would be a dream for most of us. For Pharrell, it's only one slice of his life. He also recorded in the band N.E.R.D. and released music as a solo artist. He still contributes musically (often without the rest of the Neptunes), recently helping the singer Frank Ocean with the song "Sweet Life," from his Grammy Award-winning album Channel Orange.
Pharrell refuses to be just a musician. He sees himself as a visionary and an aesthete, pushing numerous art forms in numerous directions. He owns several fashion lines (Billionaire Boys Club and Ice Cream), displays art work in Venice, pops up at Art Basel in Miami.
Rizzolli, publisher of Places And Spaces, also published singer and artist M.I.A.'s recent book M.I.A. Pharrell's book follows a similar format—minimal text, maximum display, music mainly a sideshow to Pharrell's forays into fashion and art.
Text consists of interviews and conversations, mostly among the non-musical who have worked with Pharrell, although Jay-Z, Kanye West and other Neptunes show up. Some non-musicians may be known to you—Anna Wintour, editor of Vogue, and Mr. Aldrin. Others may prove more obscure to readers who don't keep a close eye on the fashion and art worlds: Masamichi Katayama, "the founder and lead designer of Wonderwall, an interdisciplinary firm based in Tokyo." Takashi Murakami, who collaborated with Pharrell on his Art Basel exhibit. Zaha Hadid, a famous architect.
The interviews vaguely discuss art and its creation. Pharrell believes in self-reinvention and ignoring traps of repetition: ". . . in order to do great things, you must be unafraid to detach yourself from where you think you've had some interesting successes, because you've got to recreate yourself again and you can't do that holding on to a glory from yesterday." What inspires him? "'All the things that don't exist.'" What separates Pharrell and Kanye "from a lot of folk"? They have "decided to listen to that inner voice, and a lot of people don't."
As noted, space appeals to Pharrell—he helped create t-shirts that "juxtapose images of key NASA technologies and programs, and the acronyms employed by the space agency to describe them." Why? "Once you figure out nothing really matters on a cosmic scale, "that's when the world starts to speak to you. You start to realize, 'Oh my god. How could you possibly think about trivial things anymore? How could you possibly have menial attitudes anymore? You start to look at life in a different way.'"
Another possible outcome of this realization: You shut down, paralyzed by an existential crisis about your place in an unimaginably huge universe. Pharrell's got no time for that. He's a mover and a shaker.
The book's photographs seem all over the place. If you're into Pharrell's fashion lines, enjoy the plentiful shots of shirts, hats, sunglasses, hoodies and shoes. You'll also relish a view of the Hong Kong branch of Pharrell's Ice Cream clothing line, where couches look exactly like huge ice cream sandwiches.
In the Anna Wintour interview, Wintour describes American elegance "as refined and classic." So we get photos of Sidney Poitier, Steve McQueen and Robert Redford. (Also, randomly, shots of Pharrell hanging out with and videotaping the French actress Catherine Deneuve.) Elsewhere, we find many photos of Pharrell captured in performance, and others of Pharrell modeling … often mid-jump on stage or shoot.
Why this book? Perhaps it seemed natural to move into the medium, since Pharrell already had music, fashion and art under his belt. Maybe it serves as a victory lap, a moment to reflect on accomplishments and flex hard-won cultural muscle. Or it could be an attempt to cement a legacy by creating a sort of personal greatest hits, condensed into literary form.
In a promotional video for his book on YouTube, Pharrell says, "I didn't want to do a book that celebrated me, I wanted to do a book that celebrated. . . my moments of enlightenment."
The book certainly testifies to the diversity of Pharrell's reach and the heavy-hitters in his phonebook … but he grabbed a diverse group of people and things, then went out of his way not to make a book about himself. He ended up not getting much traction on anything.
We have more colorful interviews of Kanye, and better places to learn how Jay-Z approaches his craft (his book Decoded). It's hard to imagine you would buy the book—initially priced at $55—just to check out what's available through Pharrell's clothing lines.
That being said, the interview with Aldrin must be one of a kind.
Elias Leight is getting a Ph.D. at Princeton in politics. He is from Northampton, Massachusetts, and writes about music at signothetimesblog.
Others Tagged With