Rowan's Creek Bourbon Review & Mint Julep Recipe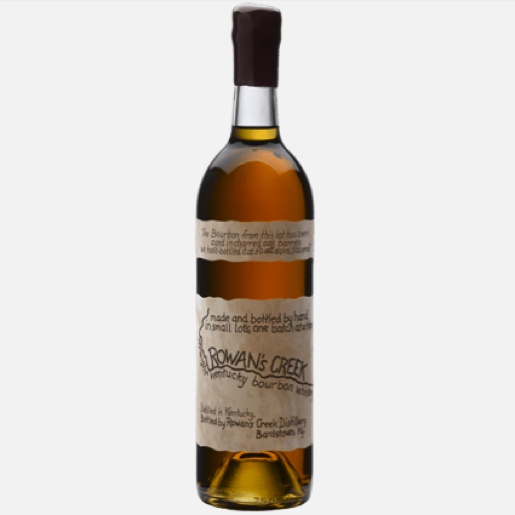 Of spring water, whiskey and juleps
An elegant amber whiskey with heady hints of cherry, oak and vanilla and a velvety mouth feel, Rowan's Creek is a small-batch bourbon made by the Willet clan of Bardstown, Ky. Aged in charred oak barrels, it's hand-bottled, pasted with a label that connotes its namesake creek ("the best limestone spring water there ever was for making good bourbon"), and topped with a cork stopper sealed with brown wax (kinda like Maker's Mark but without the over-the-top red drips). Willet Distillery also cooks the like-minded small-batch Noah's Mill and a veritable stable of other brands (Johnny Drum, Old Bardstown, Willett). At 100.1 proof (50.05 percent alcohol by volume), Rowan's Creek makes beguilingly potent cocktails. Sipped straight up from a snifter, it fills the nose with glimmers of rich caramel and tingly mint.
Yes, I said mint.
As in juleps, silver cups and The Kentucky Derby, which falls on May 4 this year. Now Mint Juleps come in all varieties. But the essential ingredients are sugar, mint, bourbon, crushed ice and nothing more. If you must add water, purists insist the way to go is spring water. For those of us who don't have a limestone creek just outside the door, keep in mind that there's plenty of bottled spring water at the grocery store. I like a julep using 3 ounces of whiskey, 1 tablespoon of sugar (you can start with a teaspoon and go up if you like) and mint from the garden. Tip: The famously invasive herb is easy to grow, in the ground or in a pot on a high-rise balcony. (I've done both.) A chilled glass or silver goblet and plenty of crushed ice are the key; this freezes the cup and slows the melting of ice. You can use a hammer to pound refrigerator ice in plastic bags (but you'll want to double or triple up the thickness, because the plastic will tear), a cut-off pillowcase or a Lewis Bag, which is a canvas pouch used by bartenders for crushing ice. By the way, I don't mean gently cracked ice; I mean slivers. When you swirl the icy drink around the chilled vessel, it should freeze on the outside. So you'll want a napkin to protect your hand and keep the glass from heating up.
If all this sounds idiotic, consider the folks who insist that the mint never touch the whiskey and thus roll the herb in cotton cloths (Hanes T-shirts, even!) to wring out the juice. I will never go that far. That said, simple syrup (or even simple syrup infused with mint) is a good thing to have on hand for adding sweetness to the icy concoction. A sprig or two of mint in the finished drink enhances the nose.
Now back to the bourbon: If you like carelessly watered down or fruit-flavored juleps, you may not want to use the most expensive bourbon you have on hand (Bulleit, Woodford Reserve or Maker's Mark all make terrific juleps). But I find that Rowan's Creek is perfect for an intense, straightforward, gentlemen's julep. Plus: The spring water—and the minty flavor—are built in. Start the Derby with one, and if your horse loses, have another.
Classic Mint Julep
6 to 8 fresh mint leaves
1 tablespoon sugar
3 ounces Rowan's Creek (or other bourbon of choice)
Finely crushed ice
Mint sprigs for garnish
Chill a glass or julep cup in the freezer (at least 10 minutes). Place the mint and the sugar in the glass, and muddle. Top with ice. Add the bourbon, and stir until the glass freezes on the outside. Top with a sprig or three of mint. Drink up.
Notes: If this recipe is too hard-core, add 1.5 ounces of water and carry on. Next time, try the drink with 2.5 or 2 ounces of bourbon. If you want some simple syrup on hand for adding sweetness, bring 1 cup of water and 1 cup of granulated sugar to boil, and stir until the sugar is dissolved, 3-5 minutes. Store in an airtight jar in the refrigerator. Keeps for two weeks or longer.
Southern bon vivant Eugene Walter on how to drink a julep: "Sip slowly; don't use a straw. Between sips, think of someone you love."
Rowan's Creek
Distillery: Willet Distillery
City: Bardstown, Ky.
Proof: 100.1
Price: Around $35.99