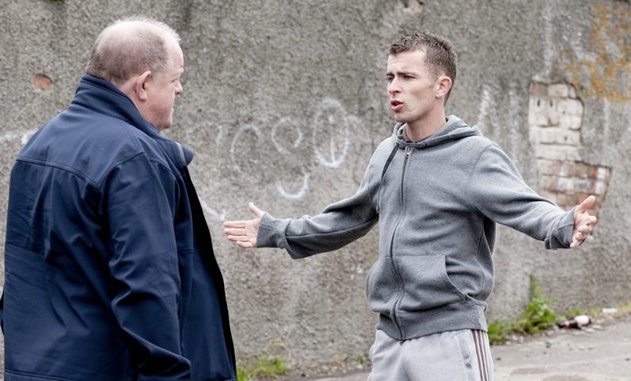 Winner of the Jury Prize at the 2012 Cannes Film Festival, Ken Loach's The Angels' Share revisits the themes the prolific director first explored in 1969's Kes and later in 2002's Sweet Sixteen. With the number of unemployed young people reaching more than a million in Britain, here is a heist comedy set in the harsh reality of contemporary Glasgow, where youth who get off to a rough start see no way out and harbor no hope for the future. In an indirect indictment of a society that fails them, a small crew of petty criminals gets a fresh start by gaming the system rather than playing by the rules.
At the heart of the scheme is Robbie (Paul Brannigan), a young thug who's already served jail time but lucks out when his latest bout of violence results in 300 hours of community "payback" rather than another prison sentence. Shortly into his service, his girlfriend Leonie (Siobhan Reilly) gives birth to his son, and Robbie is more determined than ever to make a new life for himself and his wee boy.
Discovered by screenwriter Paul Laverty as he researched the film, Brannigan brings life experience to his very first role. Like Robbie, the actor grew up amid violence and crime, served time as a juvenile, and as an adult found himself bitter and unemployed. Skinny and scrappy, with piercing blue eyes, he doesn't just portray a thoughtful, intelligent, resourceful kid frustrated with and frightened of his own assaultive outbursts—he is that kid, bringing a depth of regret to a character whose circumstances aren't entirely in his control.
Just as Loach saw potential in Brannigan, so does Harry (John Henshaw) see it in Robbie. As his community-service supervisor, Harry witnesses firsthand Robbie's desire to make a better life for his son and the obstacles in his way—namely, Leonie's father, a gangster who's moved up in the world with a couple of clubs and moved his family to the suburbs. Harry takes Robbie under his wing and introduces him, along with his other charges Albert (Gary Matiland), Mo (Jasmine Riggins) and Rhino (William Ruane), to his favorite pastime: whiskey.
Indoctrinated into the erudite world of fine malt, the motley crew of petty criminals hits upon a bold idea: siphoning off a few bottles from a keg about to sell at auction for upward of $1 million—a victimless crime that could finance the fresh starts they're all looking for.
This is a lot of territory to cover—introducing Robbie and his pals, initiating them into the world of whiskey, hatching and carrying out the scheme—and Loach does so leisurely. The central plot, as it were, isn't even broached until almost an hour in. But as an examination of social situation—one that we can't ignore now that we've grown to know and love the characters mired in it—The Angels' Share is a stellar bit of activist cinema with a light touch.
Director: Ken Loach
Writer: Paul Laverty
Starring: Paul Brannigan, John Henshaw, Gary Maitland, Jasmine Riggins, William Ruane, Roger Allam, Siobhan Reilly
Release Date: Apr. 12, 2013
Others Tagged With