The Good Wife Review: "The Wheels of Justice" (Episode 4.19)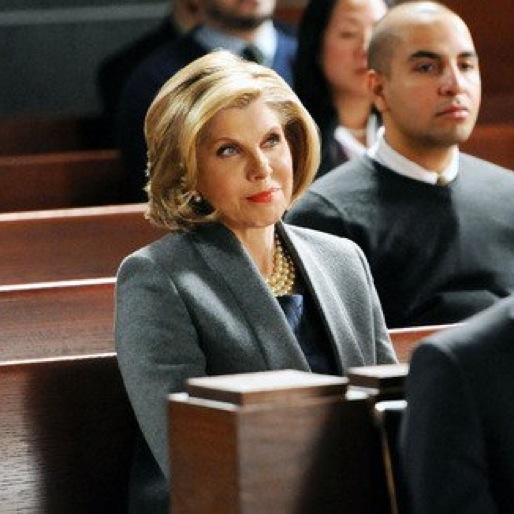 Last week CBS picked up The Good Wife for a fifth season. While I wasn't too worried about the fate of this stellar drama, I'm relieved we can go into the homestretch of season four episodes knowing we will continue to enjoy the shenanigans and legal machinations of Lockhart/Gardner.
Because, it doesn't get any better than this: Last night on The Good Wife, Kalinda read The Vampire Diaries fan fiction to Diane.
It was one of the best The Good Wife moments—ever. And it was the kind of moment that brilliantly showcases what a fantastic show The Good Wife is: it was relevant to the current pop culture, slyly humorous and played to perfection by Archie Panjabi and Christine Baranski. On The Good Wife, even the throwaway moments shine.
Colin Sweeney (returning guest star Dylan Baker) was back in "The Wheels of Justice." The firm got Sweeney off for killing his first wife and has been stuck with him and his gads of money ever since. This time he's being charged with disorderly conduct, but really the state is trying to drag out his case until a Supreme Court ruling comes down that could get him life in prison.
Sweeney is a great character, and Baker clearly has a blast playing such a dastardly role (for proof of what a versatile actor Baker is, check out his return as Karen's dad on Smash tomorrow night). Morena Baccarin also returned as Sweeney's girlfriend Isobel Swift. What fun for Homeland fans to see Baccarin in such a different and hilarious role. My favorite moment came when she deadpanned under oath that she wasn't sure she would marry Sweeney because he killed his first wife. By the end of the episode, Alicia is telling Colin he should have a prenuptial agreement if he marries Isobel. To which Colin responds that he'll just kill her if she tries to take his money. So I think it's a safe bet that we'll be seeing more of Colin Sweeney (but maybe not more of Isobel) next season.
The episode also brought back Gary Cole as ballistics expert and sometime Diane paramour Kurt McVeigh. The Good Wife raises its game when it has this many great guest stars, and "The Wheels of Justice" was a terrific episode.
Diane continues to consider accepting the nomination to the Illinois Supreme Court should Peter get elected governor. Wanting to know what to expect, Diane asks Kalinda to investigate her and learns that her father wasn't necessarily who she thought he was. It was a poignant moment and a much more vulnerable Diane than we normally see. Kalinda also shows Diane a tape of McVeigh talking about his right to bear arms and seceding from the union. She advises Diane to end her relationship with him at least until she's on the Supreme Court. Diane responds by telling Kurt she doesn't want to wait to get married and they should commit to one another. The moment ended on a cliffhanger, but I saw it as her way of pushing him away without having to tell him why she was pushing him away.
She wasn't the only one using this tactic. Laura (returning guest star Amanda Peet) tells Will that an old boyfriend has come back into her life and ends their burgeoning relationship. But we know she's only ending it because she can tell there's something still between Will and Alicia.
Meanwhile Alicia is having hot and heavy dreams about Will (who wouldn't, really?). There are only three episodes left this season. The show is off next week due to the Academy of Country Music Awards and then will run uninterrupted until its season finale on April 28. Love triangles, gubernatorial elections, possible coup attempts—we have a lot of ground to cover until then.
Other thoughts on "The Wheels of Justice":
• Alicia gets $10,000 to redecorate her office. Seriously, have they learned nothing from their bankruptcy?
• Cary was immensely helpful to Alicia's case but I still think he's plotting to leave the firm with many of his colleagues in tow. Diane telling him he is "highly valued" falls a little flat when they are sticking him in a cramped office.
• I still don't trust Robyn or her sweet, wide-eyed shtick.
Others Tagged With