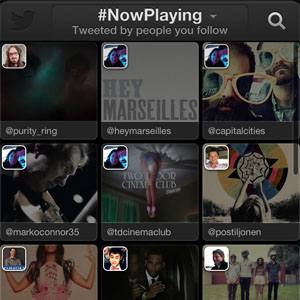 Developer: Twitter
Platform: iOS
In the last seven years, Twitter's steadfast hold over social media and online communication has been a marvel to watch. Slowly rising from the ashes of a decaying Myspace and competing with an exploding Facebook, Twitter has always been something different. While Facebook trades in layouts and features like they're out-of-fashion clothes, Twitter make its moves slowly and decisively, handled by the steady hand of founder Jack Dorsey.
Twitter #music is one of the biggest moves the platform has made to cater toward a particular industry or user. At its core Twitter #music is still interested in capturing and discovering trends in real time—but now, it's all about the music.
The app is simple, giving users the ability to swipe between five different screens: Popular, Emerging, Suggested, #NowPlaying and Me. Each screen has a grid layout of artists who are using Twitter. Once you link your Twitter account, it's just one quick tap to follow artists and another tap to listen to their music.
Because Twitter doesn't have any way of integrating music directly, the #music app bypasses that problem by playing songs directly from services like iTunes, Spotify and Rdio. The feature works pretty seamlessly, giving you the music of the artists you are viewing in the app (assuming you have accounts with one of those services). Along with the iOS app, #music launched yesterday as an in-browser service as well.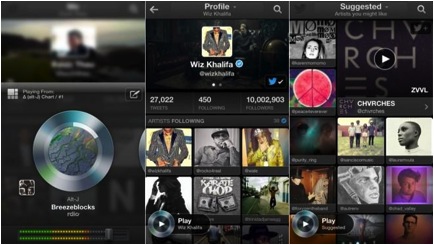 Honestly, Twitter #music doesn't do much outside of that. But that might be okay.
From its beginning, musicians have been an important part of Twitter—probably more than people realize. Out of the 10 most followed Twitter users, eight of them are pop stars. That's huge, especially considering the other two are Barack Obama and YouTube. In that sense, a #music app feels like a no-brainer for Twitter. At the same time, this is the first time that Twitter has ventured out into fragmenting their core product with a separate, standalone app. The strength of #music is that as an extension of Twitter, it doesn't change the core experience for Twitter users who could care less that Justin Bieber still has the most Twitter followers in the world.
In the end, Twitter #music might not have a significant impact on the industry. It probably isn't the best tool out there for discovering music. However, it's an impressive maneuver that makes Twitter even more useful for some, without obscuring its functionality for the masses. #music just might be the start of a new direction for Twitter. From what we can tell, it's a good one.
Others Tagged With