Arrested Development Season 4 Premiere Review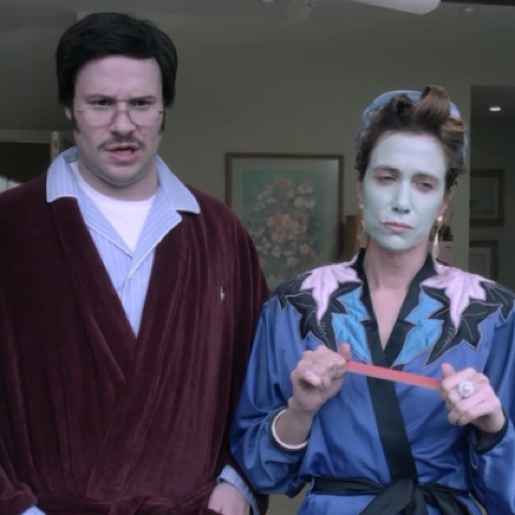 The expectations couldn't be any higher. There is certainly no other TV show whose series premiere would have me up at 3am on the East Coast moderating a live blog. But Arrested Development's first three seasons amounted to the Single Greatest Sitcom of All Time. How could a fourth season—filmed seven years after a family's future was abruptly canceled—live up to the hype of its cult-like fanbase or sites like this one who fanned those flames?
By beginning with a flashback to the birth of Cinco de Cuatro. Seth Rogen provides a chuckle as young George Bluth Sr., but Kristen Wiig is absolutely inspired as a young Lucille, mimicking Jessica Walter's delightful villainy as she complains about the "Mexican war on May 5th." She only gets better as she then channels Lucille channeling The Grinch Who Stole Christmas, plotting a way to ruin Cinco de Mayo for the Hispanics.
It's the kind of ridiculous, clever layering and self-referential in-joking that has created such a rabid following.
But this first episode isn't about Lucille, it's about Michael Bluth and just how far he's fallen since we last some him sailing into the sunset. We meet him again at his lowest, celebrating Cinco de Cuatro by becoming the third and final Bluth son to sleep with Lucille Austero. But that's just one example of how sad a story Michael has become. After breaking ties with his family to finally finish Sudden Valley, he runs out of money before building a road—or cable and Internet—to what is now a ghost town. He's reduced to living with in his son George Michael's college dorm room while taking online classes to finish his law-school degree.
The character who began Season One as the everyman hero, the sane anchor to a crazy family—"the one son who had no choice but to keep them all together"—was always a victim of his own hubris. He was just self-aware enough to realize when he's made the same kinds of mistakes as his siblings—lying, compromising, letting down his son—but never enough to actually change. Now, any trace of self-awareness has vanished. He can't see how uncomfortable he's making George Michael, even when he joins him in the shower. "No one likes to share his identity," he says, just before asking his son for his meal plan card.
Michael Cera, for his part, brings the same deep discomfort to the role George Michael he did as a teenager. George Michael is a nice kid who can't bear to hurt his father's feelings—and seems to be dating cousin Maeby. But the Michael vs. P-Hound (George Michael's actual roommate) rivalry is a bit of a lull in an otherwise energetic first episode, and Michael is sent packing.
The show has always made great use of surprising cameos, and the cast of Workaholics appears as unhelpful airline employees as Michael tries to track down a copy of the April-September issue of their inflight magazine, featuring the profile he hopes is going to get him back in the real estate game. Of course, that too is a letdown for the once-favorite Bluth son. The episode ends with his blue-sky arrival in Phoenix—and then his return to his parents old apartment, which has been destroyed by an ostrich.
Was the Season Four premiere worth the 3 am encounter? After seven years with only the same three seasons to rewatch, absolutely. There were certainly enough moments of familiar glee to satisfy legions of fans. But the highlight of the new season premiere was that opening scene with Seth Rogen and Kristen Wiig. Mitch Hurwitz and his team have managed to both look to the past and try something new, and it works. Part of me was afraid I'd be referencing Gob in this review, "I think I've made a huge mistake." But that line is still reserved for Fox, who canceled Arrested Development in the first place.
Others Tagged With