Catching Up With Mad Men's Kevin Rahm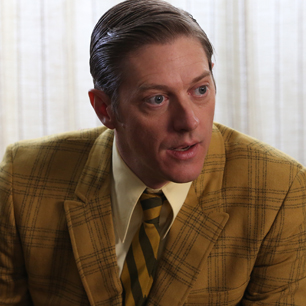 He's Don Draper's nemesis. Peggy's boss. And suddenly is the lynchpin in one of Mad Men's biggest plot twists.
Kevin Rahm's Ted Chaough first appeared on Mad Men in August 2010. This season Rahm joined the cast as a series regular. In last Sunday's surprising episode, Ted's firm merged with Sterling Cooper Draper Pryce.
Paste recently caught up with Rahm, whose varied acting career has included roles on Desperate Housewives, Judging Amy and Jesse, to chat about his role on the AMC drama, his career and why he thinks Ted is a good guy.
Paste: When you first were cast in Mad Men, how many episodes was it for?
Kevin Rahm: When I had the audition I was told two, maybe three episodes.
Paste: It's turned out to be a lot more than that. When did you find out you would be a series regular this season?
Rahm: Obviously when Peggy is going to come work for me a warning sign went up in a good way and then [series creator and executive producer] Matt [Weiner] said, "Depending on what happens with the show, we have big plans for you." But, in this business, you never know what that means. So it wasn't even until they started making offers for me to join the cast that it became clear.
Paste: Mad Men might be the most guarded TV show on the air right now. Could you even tell anyone you were going to be a series regular this season?
Rahm: I couldn't tell anyone until after the season premiere had aired. I had friends who knew I was working, and I think they assumed it was on Mad Men because I had been on it before and I had stolen Peggy. But I couldn't tell anyone but my agents, my managers and my wife. That was it.
From top to bottom everyone who works on the show is so excited to be a part of the show. Any other show you'd be promoting yourself. Back in the day you'd send out postcard to casting directors. Now it's after the fact everyone is on Facebook and Twitter saying, "Did you watch tonight? Please watch the rerun."
Paste: Have you ever been on a show this secretive?
Rahm: When it came to big cliffhangers, Desperate Housewives guarded like one or two scripts pretty close to the vest, but this is a whole different thing. Matt gives a speech before every table read and is like, "You are part of the family now. Do not post this. Do not put it on Twitter. Do not put it on IMDb. Once the show airs we will help you get press from it but if you tell anyone, bad things will happen to you."
Paste: The merger is a huge plot twist. Can you talk at all about what might happen now that the two advertising firms are one?
Rahm: I read the script of the episode and was surprised as everyone else. I had no idea it was coming. [Don and I] both have very different styles, so obviously that's going to be very interesting to watch. I'll refer to the Paste Magazine review of last Sunday's episode, which is "it can't be easy." That way I'm not telling you anything somebody hasn't already written.
Paste: Ted and Peggy also kissed in this last episode. Ted's married. Peggy has a boyfriend. Did you know this is the turn their relationship would take?
Rahm: Neither [Elisabeth Moss or I] saw it coming. When we were shooting that scene [at the end of the season premiere], [executive producer and season premiere director] Scott Hornbacher was like, "Just look at her a little longer, no a little longer. Now don't look at her while she's looking at you." We were like, "What are you doing? What is this? What does this mean?" Neither of us had any clue that that was going to be part of the storyline. I got a glimpse of "oh there's something going on" but I didn't think it was romantic. I thought it was more, and we kind of played it more, like it was a mutual respect when it comes to work. Their working relationship was so good that they bonded on a deeper level than he had with other creative people and that's what excited him, which is part of what he says to her when he offered her the job. He wanted it to be more than just advertising; he wanted it to be art. I thought of it more as a really cool working relationship.
Paste: How would you describe Ted?
Rahm: I definitely don't see him as other people see him. I had a couple of friends who were like, "That guy's an asshole." And I'm like, "What are you talking about?" But he's being an asshole to the hero, so he's seen differently. I'm like, "No, Don's the asshole. Ted's just being competitive."
Ted is the guy who wants to be the best at what he does, and he wants to play against the best, and he wants the best out of everyone around him. I think he's very driven. His ego is dependent upon the work. I see him as a good guy, a good boss, a motivator.
Paste: You've been on so many TV series, are you getting recognized more now?
Rahm: I started getting recognized on Jesse. On Judging Amy my joke was "if you don't know me, your grandmother loves me." And Housewives, guys would come up and say, "Don't tell anyone but I love the show" and a lot of women loved the show.
But this is a whole different level of appreciation. It's seen as something different, the show itself. It's taken as something different and given a little more clout. It's funny because I feel like I'm doing the same work each time, it's just perceived differently.
Paste: You've also done comedies and dramas. How were you able to do both genres without getting pigeonholed?
Rahm: The industry has a very short memory of what's possible, and they like to typecast you. I've been lucky in the sense that I haven't become famous. People sometimes recognize me, but they don't know me as that guy from that one show, so I think that's allowed me to be a little more flexible up until this point.
Paste: When you played Lee on Desperate Housewives, you were one of the few gay characters on primetime television. Did you feel the weight of that?
Rahm: I think I would have felt it more if I had known what I was getting into. It was another one of those things where it was supposed to be three episodes and I did 50-something. It's not like my managers called me and said "OK, you've been offered to play a gay character for the next five years on this huge TV show."
Paste: What kind of feedback did you get from the gay community?
Rahm: I got a lot of love from the gay community. [Co-star] Tuc [Watkins, who played Lee's husband Bob] and I early on, we made a conscious effort not to reveal whether we were gay or not. When the question got asked in press we would just kind of skirt the issue. To not make that an issue as well—the straight guy playing the gay guy. I got a lot of love from people about that. I got ripped a lot from straight friends, ones who were still a little behind the times, but it didn't bother me. I saw it as a great opportunity. It was a great job. It was really funny. For me it's about character and writing and when that's good, that's what I came to do.
My wife's best friend sold her house to a gay guy, and she loved to bring up the fact that she knew me…And he said to my wife's friend, "Oh honey he's gay. He's really gay. Tell your girlfriend to break up with him now because that's trouble." I was like, "Thank you. That was the best compliment you could give me."
Others Tagged With