Daft Punk Fans Shell Out Big Bucks as Helmet Demand Rises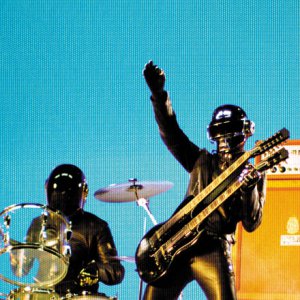 Fans caught up in the groove of Daft Punk's latest album Random Access Memories might "get lucky" enough to secure themselves a replica of the French duo's famed helmets…if they're willing to drop four figures, that is. Demand for the group's various space-age headgear have skyrocketed and since the group has declined to sell their own, creators of Daft Punk memorabilia are reaping big profits.
The band's distinctive robo-gear is definitely hip enough to accompany their wildly catchy electronic dance music, but as to the question of "why," Daft Punk member Guy-Manuel de Homem-Christo sets the record straight. In a recent Rolling Stone interview, he said, "It would not be enjoyable for humanity to see our features, but the robots are exciting to people."
The magazine reports that the group's latest helmets were made by a Hollywood special-effects shop "that worked on the new Spider-Man." Although the shop has signed a non-disclosure agreement, fans and even people unfamiliar with the band's music create their own versions of the helmets and sell them on sites like eBay—simpler versions can cost hundreds and more complex models can sell for more than a thousand dollars, The Wall Street Journal recently reported.
Atlanta-native Harrison Krix, for example, became a full-time prop maker after offers he received from a replica he created of de Homem-Christo's iconic gold helmet with rainbow LED lights overwhelmed his business.
Another option, created by Mexico-based fan Mauricio Santoro, is a helmet made from chromed urethane plastic. The helmet includes a Lexan visor with programmable LED message scroller. It also comes with a black balaclava to cover the neck, along with chromed glove plates. The helmet is available for $500 through Santoro's Etsy shop.
To read more on Daft Punk helmet makers and their wide fan base, see the Wall Street Journal.
Click an image to see it full size. To move to the next image, click on the image or use the right arrow key.
Got news tips for Paste? Email news@pastemagazine.com.